In the wake of the release of Prince Harry and Meghan Markle's Netflix documentary series and his memoir, Spare, the Duke and Duchess of Sussex have faced massive public criticism. After releasing these two bombshell tell-alls, many royal experts and authors have shared their opinions on the Sussex couple's negative remarks about the British Royal family. In an interview, a royal commentator criticized Meghan Markle for her Netflix documentary, Harry & Meghan, alleging that the entire production was motivated by 'hatred and jealousy' between the Duchess of Sussex and Kate Middleton.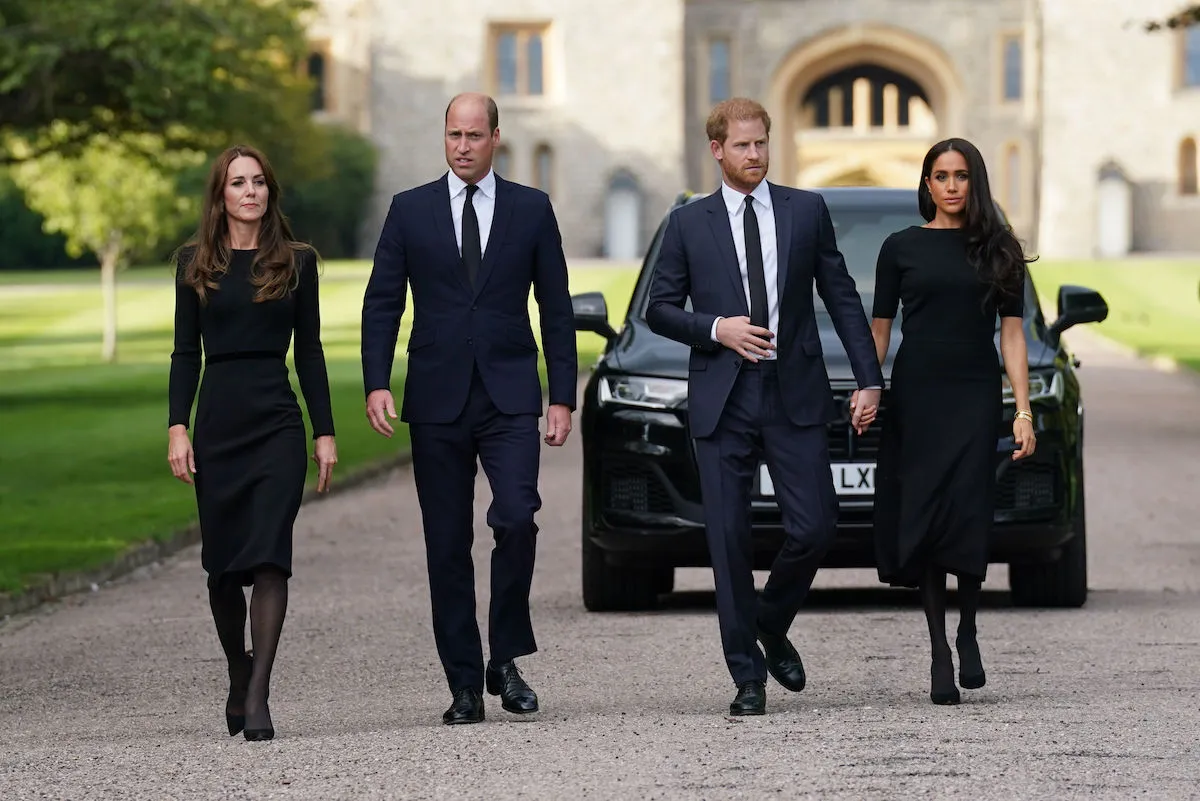 According to reports, the Sussex couple continuously attempted to gain sympathy by portraying themselves as victims of the palace and the people's favourite, but the opposite happened. Since the Duke and the Duchess of Sussex left the palace in 2020, the spouse theory has increased in negative implications. The allegations against royals have fractured the bond between both royal sisters-in-law, and the blame game will likely continue. Reports of Kate Middleton quarrelling with Meghan Markle surfaced shortly after she joined the royal family as the Duchess of Sussex, but as many witnesses are involved, as many scenarios are possible of the reality.
Also Read: "I pleaded with Meg to stay calm": Meghan Markle Begged Police for Help After Getting Harassed by Paparazzi, Collapsed After a Traumatic Experience
Meghan Markle Hated Being Compared And Being A Second-Rate Princess To Kate Middleton
Author Tom Quinn's new book Gilded Youth – An Intimate History of Growing Up in the Royal Family claimed that Meghan Markle did not appreciate following royal protocol and playing second fiddle to Kate Middleton. According to a Kensington Palace staff member, the Duchess of Sussex struggled with the royal protocol when she stepped inside the building as Prince Harry's wife and Kate Middleton's sister-in-law. In the wake of her withdrawal from royal duties in 2020, the Duchess of Sussex has complained of a constant lack of guidance from the Palace regarding how to be a royal.
An excerpt from the book published in the Mirror suggested that the Duchess was overwhelmed by worldwide fame and disliked being compared and playing a secondary role to her sister-in-law. Kensington Palace staffer said in the book,
"She was dazzled by the worldwide fame that being a princess would bring, but she was shocked by the palace protocol and by the fact that she was not and never could be first in the pecking order."

"She hated the constraints and the rules; she hated being a second-rate princess — second to Katherine Middleton, I mean."

"Most of all she hated the fact that she had to do what she was told and go where she was told in the endless and to a large extend, pointless royal round."
The staffer continued in the book,
"She is basically a very nice, smiley, super-positive person, but having always felt in control of her own destiny and with the sort of personality that strives to be the best, she suddenly found herself in an institution she found she couldn't influence and that assigns roles to people that do not change.
According to Quinn's new book, the Duchess of Sussex had difficulty controlling her own life after joining the royal family and adjusting to being a member of an institution where she had no influence.
Also Read: "I'd promised her that I'd keep her safe": Prince Harry Confesses He Felt Helpless While Dating Meghan Markle, Says He Put Meghan and Her Family in Danger
The Duchess of Sussex Was Frustrated When Palace Officials Ignored Her Modern Ideas
According to reports, Meghan Markle was resentful of being rejected for her 'thoughtful proposals' for modernizing the British royal family. It became increasingly difficult for her to persuade the royal family to listen to her concerns regarding the palace's regular decisions. During an interview with a media outlet, a royal commentator discussed the Duchess of Sussex's early days in the royal family after her marriage to Prince Harry in 2018 and her desire to implement her modern ideas.
In an interview with GB News in November 2022, royal commentator Angela Levin said,
"She always wants to run everything. She thinks she knows better. She was very angry that the Palace didn't listen to her ideas about modernization within the first few weeks she was there."
Levin added,
"She thinks she knows a great deal; she also talks globally. I reread something…you have to read through the lines sometimes."
According to reports, Prince Harry's wife had difficulty convincing members of the British royal family to consider her modern ideas and became frustrated. This behavioral pattern of palace officials also weakened the royal sister-in-law's bond.
Also Read: After Meghan Markle Fails Miserably to Harm Kate Middleton's Reputation, Kate is Considering to Seek Revenge in a Tell-All Interview About Prince Harry's Family
Source: Mirror