Evan Rachel Wood has been making some splashes in news headlines for a defamation case involving domestic abuse by ex-boyfriend Marilyn Manson, who ironically happens to be a close friend of Johnny Depp as well. But on a positive note, she recently left a mark on the audience's heart when she made an appearance on The Tonight Show Starring Jimmy Fallon. The Westview star left everyone speechless with her flawless rendition of classics from Madonna and Alanis Morissette.
Also Read: 'Fake Feminazi Puppet': Johnny Depp Fans Defend Marilyn Manson, Claim Evan Rachel Wood Is Just as Evil as Amber Heard
Evan Rachel Wood and her talent for musical impressions
Evan Rachel Wood showed off that there is more to her than just acting, as she showcased how good her vocal skills are. The actress performed Madonna's 1984 smash 'Material Girl', perfectly capturing her vocals and mannerisms. But that's not all that she had in her bag. She later sang the empowerment anthem 'You Oughta Know', showing how she had a grip on Morissette's emotive range. She capped off her performance with an exceptional impression of 'Piece of My Heart' by Janis Joplin.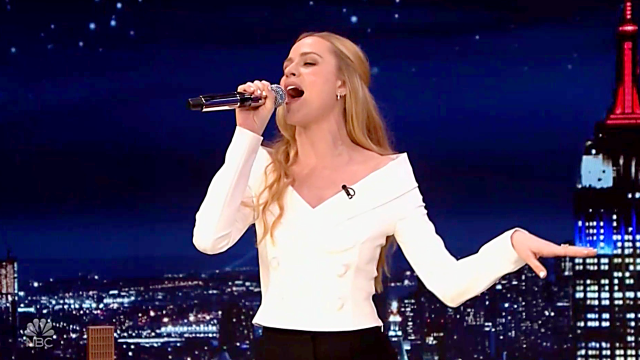 These voice musical impressions are incredible! If anyone asks "Who sings that?" My answer: "I bet Evan Rachel Woods does." #FallonTonight

— Ryan Bartholomee (@RyanBartholomee) June 24, 2022
Evan Rachel Woods is so talented she killed those musical impressions loved it!!👏🏼👌🏼 #FallonTonight

— Elisa❣ (@lisaaa_jf) June 24, 2022
My impression of last night's West World: Evan Rachel Woods is a very convincing bad ass.

— If Katharine Hepburn Was Raised By Wolves… (@splashthatcat) November 1, 2016
Also Read: 'What's This Man-Hating Bullsh*t': Brad Pitt, Johnny Depp, Marilyn Manson Fans Unite to Address 'Husband Suing' Trend
All set to play Madonna
The actress is set to portray Madonna in the upcoming Weird: The Al Yankovic Story. So it is quite poetic how the on-screen Madonna can mimic the original one. But she didn't get the chance to show off her skills in the movie. The entire crew was unbeknownst to her skills, until the wrap party for the film. It was at that party that the entire crew, including director Eric Appel, learned of this latent skill.
She shared her memories of the party, saying, "We had a karaoke wrap party and I sang Madonna and the director goes, 'Why didn't I make you sing in this movie?'"
Having Evan Rachel Woods play Madonna in the Weird Al biopic is brilliant! 💯 #FallonTonight

— Ryan Bartholomee (@RyanBartholomee) June 24, 2022
She lost this chance. But who knows, she might appear in the long-gestating Joplin biopic when it finally sees the light of day. And with the string of stars set to portray the late vocalist for decades falling through, Wood could easily take the stage for the venture if it ever gets off the ground.
The 34-year-old actress also had the chance to perform on stage back in 2007 for the Beatles musical Across the Universe and Frozen II. She also started the band Evan+Zane in 2018. So it's safe to say that she knows a little about singing.
Also Read: Amber Heard BFF Eve Barlow Warns Evan Rachel Wood Toxic Depp Fans Support Her Ex, Fans Say 'Shut Your Hole, Barlow'
Source: Entertainment Weekly