There may still be a few Jennifer Lopez fans who remember the hilarious slap scene between her and Jane Fonda, which was turned into the iconic one in the movie Monster-in-Law. Although it was a scripted slap scene, the singer-actress almost blinded Jane Fonda as she delivered a real slap accidentally. During an interview, the 85-year-old actress opened up about the iconic scene in the film and explained what exactly happened during the whole incident.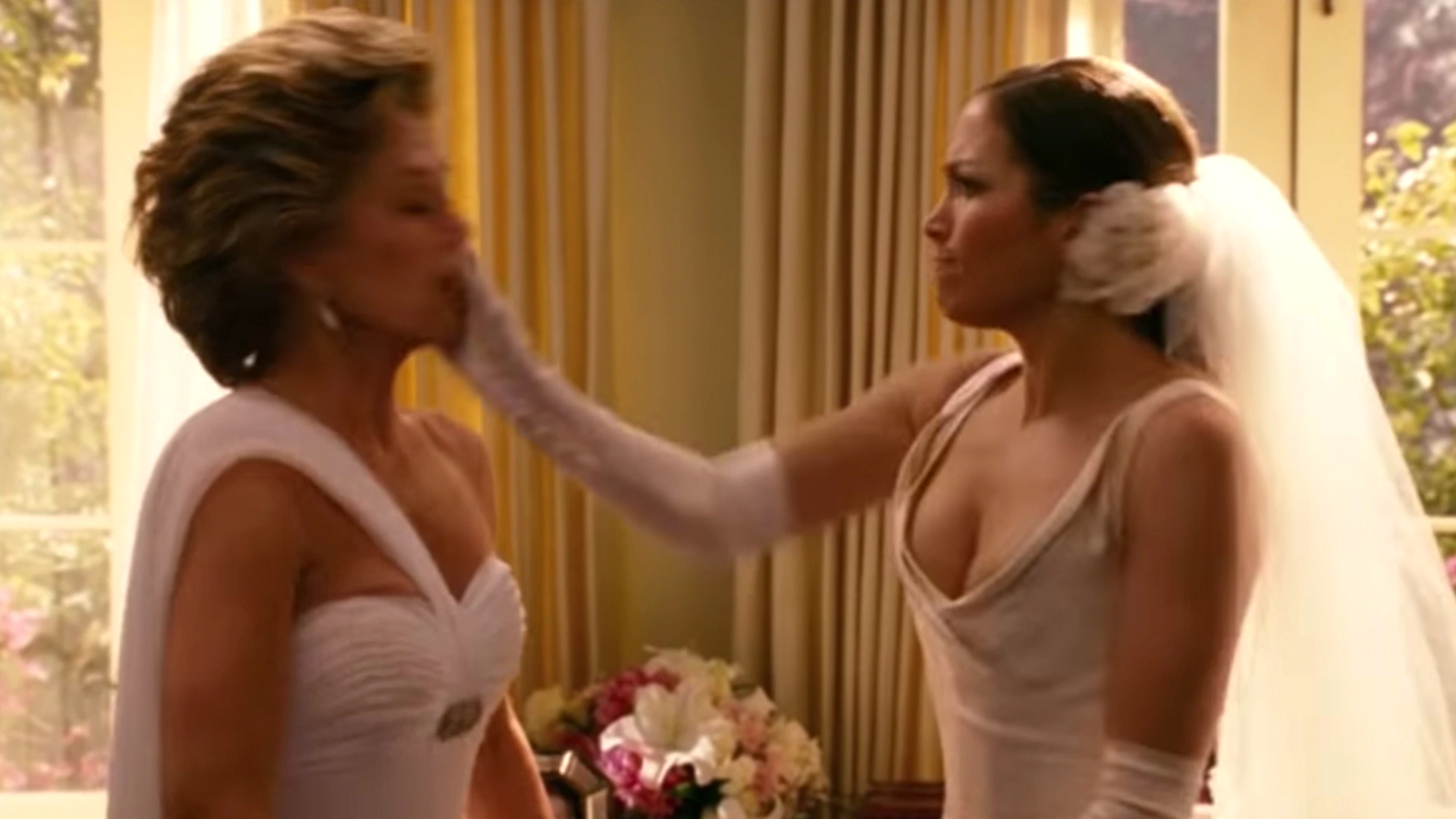 Among the star cast of Monster-in-Law (2005) were Jennifer Lopez, Jane Fonda, and Michael Vartan. Unfortunately, the onscreen daughter-in-law and mother-in-law in the film failed to deliver funny punches, but the classic relationship between them was depicted. Let's take a look at what happened during the process of filming the slap scene and how Jane Fonda got injured.
Also Read: "When you work with JLo, you don't do that": Shotgun Wedding Costume Designer Was Forced To Be Extra Careful With Jennifer Lopez's Dress So That She Looks Glamorous Enough
Jane Fonda Opens Up About The Slap Scene Between Her And Jennifer Lopez During The Monster-In-Law Film
The 85-year-old actress Jane Fonda, one of the most famous and revered actors in the world, sat down for an interview recently with The Hollywood Reporter, where she discussed some of her most memorable moments from iconic films, including 9 to 5, On Golden Pond, The China Syndrome, Barbarella, and Monster-in-Law.
THR tweeted a video clip from their interview about one particularly hilarious incident of Jane Fonda, in which she discussed the iconic slap scene between her and Jennifer Lopez happened in Monster-in-Law, which reads,
"THR cover star @JaneFonda breaks down slapping Jennifer Lopez in her film #MonsterInLaw."
THR cover star @JaneFonda breaks down slapping Jennifer Lopez in her film #MonsterInLaw pic.twitter.com/KhoGLLXvDT

— The Hollywood Reporter (@THR) January 29, 2023
Fonda recalled,
"The scene that was Monster-in-Law, I'm the Mother-in-law of Jennifer Lopez who's going to get married to my son, and she comes into my room I've gotten ready for the wedding and of course I'm dressed like a bride Oedipus anyone. So we get into a fight, I slap her, and then she slaps me back."
She added,
"But she had a diamond ring on, so when…when she slapped me, it cut me here. Oh, that was a fun scene. Jennifer Lopez, we actually are friends and like each other. But it was a got a big laugh in the theatre, the two of us slapping each other."
The 85-year-old actress revealed in the interview that when Lopez acted out the slap, she had a diamond ring put on her finger that was her actual engagement ring from her ex-husband, Marc Anthony, which cut her eyes. Her engagement ring from her ex-husband was an 8.5-carat blue cushion-cut diamond ring estimated to be worth $4 million.
Despite that, Lopez's new rom-com Shotgun Wedding gives fans of her another wedding drama a joyous experience with her delightful romance and tragedies in the wedding. As for Jane Fonda, she will appear in the upcoming film 80 for Brady, produced and starring the NFL player Tom Brady.
Also Read: Jennifer Lopez Is Not Too Happy With Ex-Husband Marc Anthony Getting Married To Nadia Ferreira After Only Six Months Of Dating
Jennifer Lopez Was Married To Marc Anthony When She Filmed Monster-In-Law
Jennifer Lopez married Marc Anthony in a secret wedding ceremony in 2004 while she was filming her movie Monster-In-Law, which was released in 2005. In her engagement with Anthony, Lopez received a gorgeous 8.5-carat blue cushion-cut diamond ring valued at approx $4M. Her engagement ring was brought to light again during Lopez's iconic slap scene with Jane Fonda in the movie Monster-in-Law where Fonda got a real cut on her face during the shot.
According to reports, Anthony and Lopez met for the first time on the set of Paul Simon's 1998 Broadway show The Capeman, where Anthony starred as the lead character. In the years 2000 to 2002, both of them separated and linked up with other individuals. However, in 2004, the ex-couple reunited again, and they got married in a secret ceremony. Later, in 2008 the couple welcomed their fraternal twins, Emme Maribel Muñiz and Maximilian David Muñiz. They split up in 2011 and finalized their divorce in 2014.
In 2022, JLo married her old love, Ben Affleck, and in 2023, Marc Anthony got married to Nadia Ferreira in the Pérez Art Museum in Miami on January 28th, 2023.
Also Read: "I almost went over the cliff, that wasn't fun": Jennifer Lopez Almost Died While Shooting a Stunt Scene in 'Shotgun Wedding'
Source: Twitter, The Hollywood Reporter