In the wake of Gisele Bündchen's divorce from Tom Brady, the footballer is concentrating on football and his family. Despite her divorce from Tom Brady, Gisele Bündchen also believes he is a "great dad." The celebrity couple married in 2009 and have two children, Benjamin, 12, and Vivian, 9. Tom Brady has another 15-year-old son, Jack, with his ex-girlfriend Bridget Moynahan.
Earlier last week, the couple announced that their divorce had been finalized and the dissolution of their 13 years marriage. The kids, however, have reportedly been "slowly getting used" to the idea of their separation for some time. In their separate statements on Instagram, both stated that they would co-parent their children despite their split.
Also Read: Tom Brady Gets Serious About His Kids Post Gisele Bündchen Divorce, Trashes 'Bad Father' Rumors as NFL Legend Took Them for Movies Despite Struggling With Himself
Gisele Bündchen Debunks Rumors of Tom Brady Being an Absent Father
Despite being divorced from Gisele Bündchen, Tom Brady remains close to his children. According to the couple's separate statements about co-parenting, he will have a strong relationship with his kids.
According to a source, an insider told them, "The kids love Tom; He is a great dad."
Source reports said, 
"Tom is always happy with his kids. The kids have slowly been getting used to spending separate time with Tom and Gisele. They lived separately for months."

"When the kids are with Tom, he tries to make it fun with various activities. He is a very involved dad. You can tell that he loves being a dad.

"[Gisele] worked with Tom to ensure their divorce was as smooth as possible. The focus is on their kids. Gisele knows the kids will be okay when they are with Tom. She thinks he is a great dad."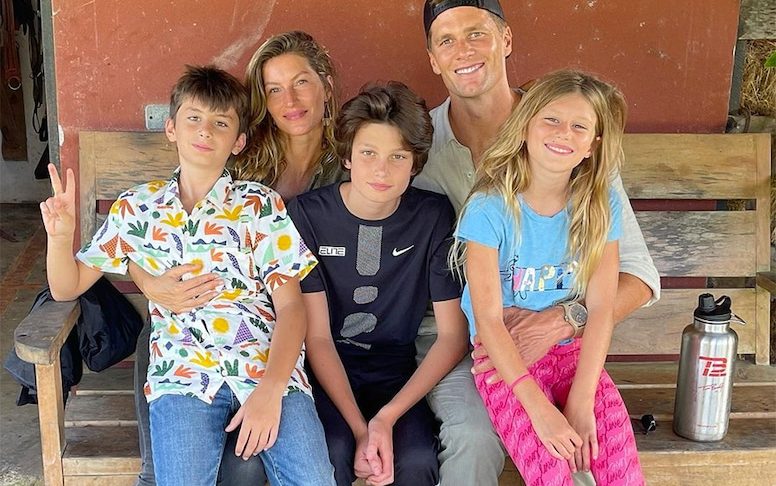 The insider explained that even though the two "don't have the same goals" when it comes to their marriage, they do have the same goals when it comes to their children, and Bündchen is grateful to be married to the Tampa Bay Buccaneers quarterback for the time she has spent with him.
According to the source, "Gisele couldn't be prouder of her kids. She tries to stay in a positive place and grateful for all the years with Tom. She is ready for a new chapter now, though."
The comments came after Brady explained on his Instagram story that he and Bündchen had split "amicably" and insisted their children would remain at the center of their lives. Also, Brady and Gisele Bündchen will continue working together as parents to ensure their kids receive the love and attention they deserve.
Also Read: "It's a difficult lesson to learn": Tom Brady is Failing His Own American Dream Amidst Losing Brazilian Model Wife Gisele Bündchen For Failing Career Claims Jason Whitlock, Blames Entitlement Culture
Fans Trolled Gisele Bündchen For Shading Tom Brady Right After Their Divorce
Announcing her divorce from NFL player Tom Brady, Gisele Bündchen wrote a lengthy statement on her Instagram story right after the divorce. She emphasized her kids in her post and put them first in her life. In addition, she wrote that ending this marriage is never easy for them, but they will keep co-parenting because their children deserve nothing less.
Also, on the same day, Tom Brady posted an Instagram story in which he announced his divorce from Bündchen, but her statement differed from Brady's, which was the triggering point for fans her for shading the father of her children.
After the divorce was finalized, Tom Brady concentrated more on football and his family, especially his children. It would be nice if the ex-couple went through a smooth co-parenting process.
Also Read: "People go through stuff every day": Antonio Brown Claims He's Being Unnecessarily Targeted For Taking Digs at Tom Brady Amidst Gisele Bündchen Divorce
Source: 1 News