According to reports, just days after rumors swirled suggesting the couple had split up, Johnny Depp and his alleged girlfriend Joelle Rich were spotted together again over the weekend. Lawyer Joelle Rich and Johnny Depp still appear to have a love connection, as the couple has not separated.
In Las Vegas over the weekend, the actor and his British lawyer girlfriend reportedly had a rendezvous, squashing breakup rumors. A recent story suggested the couple had split, but she appeared in Vegas last weekend to contradict that. Joelle Rich, married but estranged from her husband, represented Johnny Depp during his U.K. libel case. According to a source, Johnny Depp and attorney Joelle Rich started dating in September 2022.
Also Read: "He Does Enjoys His Women": Johnny Depp and His New Girlfriend Joelle Rich Are Still Crazy About Each Other as They Shut Down the Breakup Rumors
Are Johnny Depp And Joelle Rich Still In Love?
Johnny Depp has been making much noise about his personal life lately. He was rumored to be dating his lawyer Camille Vasquez after his controversial case with Amber Heard. Later, it was revealed that he is indeed dating his attorney, but she is Joelle Rich, from the UK libel trial. According to the most recent update, the couple is still very much together, despite reports of a split.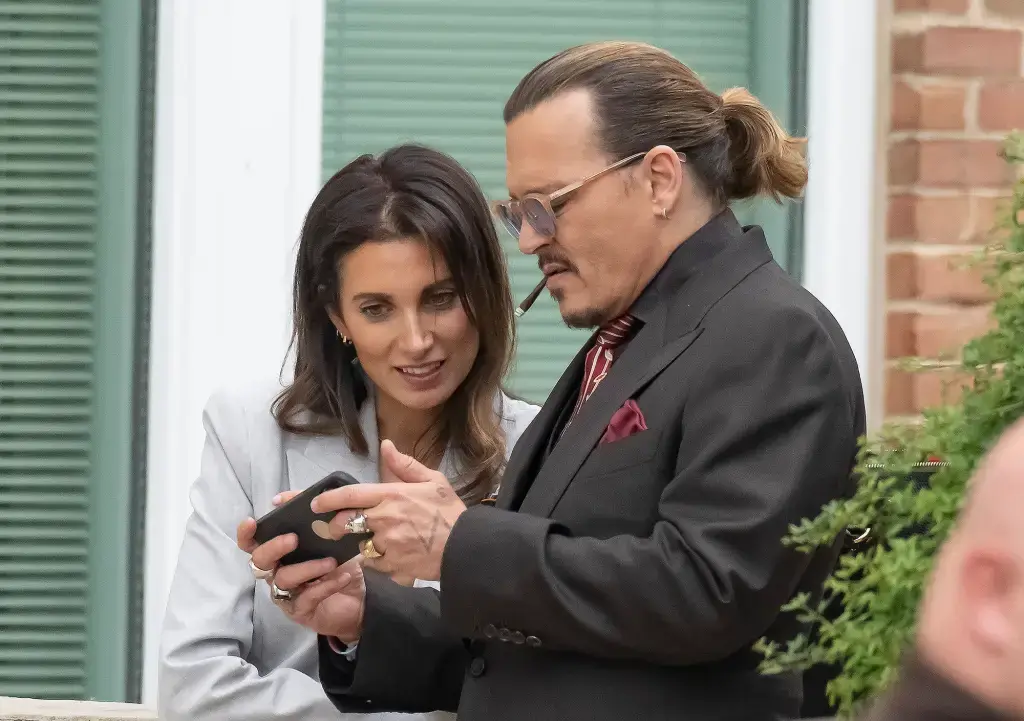 According to Daily Mail, on Friday night, the 59-year-old actor Johnny Depp played a show with Jeff Beck at the Palms Casino Resort and was photographed with Rich afterward. The outlet reports that the 37-year-old British lawyer is "crazy" about Depp and flew into Las Vegas to watch him perform.
A source told the outlet,
"They took Joelle to the VIP room to check in, and she was at the concert on Friday night. We saw her take some YouTube people backstage [after the performance]. It looks like they didn't break up!"
Another source added,
"Oh, they're still on all right. She was front and center with him backstage at his concert in Vegas on Friday night. She's crazy about him. And he's into her too – but he does enjoy his women."
On Friday night, Rich posted a photo of Depp on stage while she watched from the side. The image was captioned with a large red heart which raised the eyebrows. After the British newspaper accused Depp of being a "wife beater," Rich represented the actor in his defamation suit against the Sun. She appeared alongside Depp during his recent defamation case against ex-wife Amber Heard in Fairfax, Virginia.
Also Read: Amber Heard Reportedly Manipulated World's Richest Man Elon Musk To Marry Her Using 'Same Johnny Depp Strategy' – Twitter Owner Refused To Accept Her and Her Daughter as Family Due To Obvious Red Flags
Johnny Depp's Alleged Girlfriend: Joelle Rich
Fantastic Beasts star is dating attorney Joelle Rich, according to a source who spoke to a media outlet in September 2022. The two originally worked together during his 2020 U.K. libel trial against The Sun. However, during Depp's subsequent Virginia defamation trial against Heard, Rich was not on his legal team.
A source confirmed that Rich was married but estranged from her husband during her relationship with Depp. Additionally, she is a mom, sharing two children with her estranged husband. According to her LinkedIn profile, Rich is a partner at the international law firm Schillings based in London.
According to her bio on the company website, Rich "helps individuals and families in the public eye protect their privacy and reputations" and "is an expert in libel, privacy, and copyright disputes." In print, online, and on social media, she defends [clients'] reputations from false and defamatory allegations.
After hearing the rumors about their breakup, Depp and Joelle Rich were shocked. Rich, however, dismissed their separation rumors by attending Depp's recent concert in Las Vegas.
Also Read: Are Johnny Depp and Winona Ryder Back Together Now? Jack Sparrow Actor Looks as Happy as a Clam After Split From Lawyer Girlfriend Joelle Rich
Source: Daily Mail