The British singer and songwriter Adele's son doesn't know his mother is famous. The talented singer has the title of the world's best-selling album of the 21st century under her belt. Songs like Rolling in the Deep, Someone Like You, and Set Fire to the Rain cemented her name in the industry permanently. Name an award and she probably has won it. She is truly a legend!
But her son isn't aware of her being a global phenomenon. In a conversation with Oprah Winfrey, the star revealed what her son thinks of her in comparison to Taylor Swift.
Also Read: "As an adult I do not know if it is funny or not": In a Bizarre Admission, Adele Says Her Father Put a Trash Bag on Her Head
Adele's son thinks Taylor Swift is a bigger star than his mother
Adele's special Adele: One Night Only, featured an interview with Oprah Winfrey. During this, she was asked if her now 10-year-old son Angelo Adkins recognizes her as a star yet. Unfortunately, nobody thinks their parents are cool when they are young. And he is no exception to that. He is just starting to get it but does not realize the intensity of her success yet, said the phenomenal singer.
"He's starting to get it a little bit, but not really," 
He was kind of convinced when he saw people's reactions to her on social media,
"and then he was like, 'people really like you.'"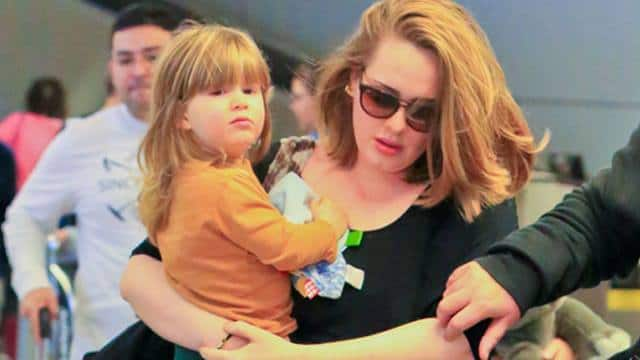 Adele revealed she once took her son to a Taylor Swift concert where he had the time of his life. And if one doesn't live under a rock, one would know what the turn-up usually is at a Taylor Swift concert. He was stunned to see the sea of people there. Adele's son usually joins her during her rehearsals where he sees the auditoriums to be empty. He also has never seen Adele perform live. Therefore, he naively thought his mother is a smaller star than Taylor Swift. Bless his innocent heart. Adele said,
"Because he used to come to my stadium shows for my rehearsals and it'd be empty. He's like, 'So many people come to her shows,' cause I'd make him leave before they all arrived,–It was so cute and so funny."
Although he is very proud of his mother, he still thinks she is yet to be as successful as Taylor Swift.
Also Read: "Whoever started that rumor is a d*ckhead": 15 Time Grammy Winner Adele is Furious With Lies About Her
The first time Adele's son saw her in a concert
The intimate concert held at the Los Angeles' Griffith Observatory was the first time Angelo Adkins actually saw Adele perform on stage. In fact, the Oprah Winfrey interview was in celebration of the concert. Later, both of them were combined and aired as a CBS special, Adele: One Night Only.
The who's who of the industry were in attendance for her show. Nobody wanted to miss her return after six years with the album 30. Thus, everybody she invited was present. From Drake, Seth Rogan, Tyler Perry, Aaron Paul, Gayle King, and James Corden to Ellen DeGeneres. Lizzo and Melissa McCarthy were seated in the front row and were proud of every move Adele made on stage. Despite the show being star-studded, nobody's presence mattered to Adele as much as her son's. She addressed her son from the stage saying,
"It's the absolute honor of my life to have you here tonight baby," 
It was truly a special moment for the mother-son duo. In fact, this album was also a love letter to her son in some way as she created it to convey her feelings and emotions when she when through the divorce from her husband. She said in the interview,
"And I knew that as an adult, Angelo would be livid with me for doing that. I knew that when he became an adult that he'd be furious at me. And I didn't want that either. But it was, it was hard work.—I just wanted him to hear me talking madly deeply about who I am and how I feel, like you know, and I don't know if I'd ever be able to have that conversation with him in real life."
Her son might be too little to understand now, but she wishes he will understand its true meaning once he gets old enough. The only way she could ever explain her side clearly was through music and she just did that.
Also Read: "It terrifies me, fills me with dread": Adele Falls Back to Therapy After Traumatizing Divorce, Wants to Bounce Back into Singing Career Again
Source: CBS