Squid Game has created a lot of buzzes since it has premiered. The show is very intriguing but is occupied by violence. The plot is so unique that it instantly makes us tempted to complete the episodes and then get up! Right? Squid Game is about 456 players coming together to compete for a grand prize. But at the cost of? Their lives. The game soon turns out to be deadly. All of these players have only one thing in common- they're all under tremendous debt and need money to continue living. Hence, they roll in for such a game because of its prize. Fans have been noticing a lot of things about the show. One such thing is- How did Mi-nyeo pass the marble game?  Check it out:
Squid Game: How Did Mi-nyeo Pass The Marble Game?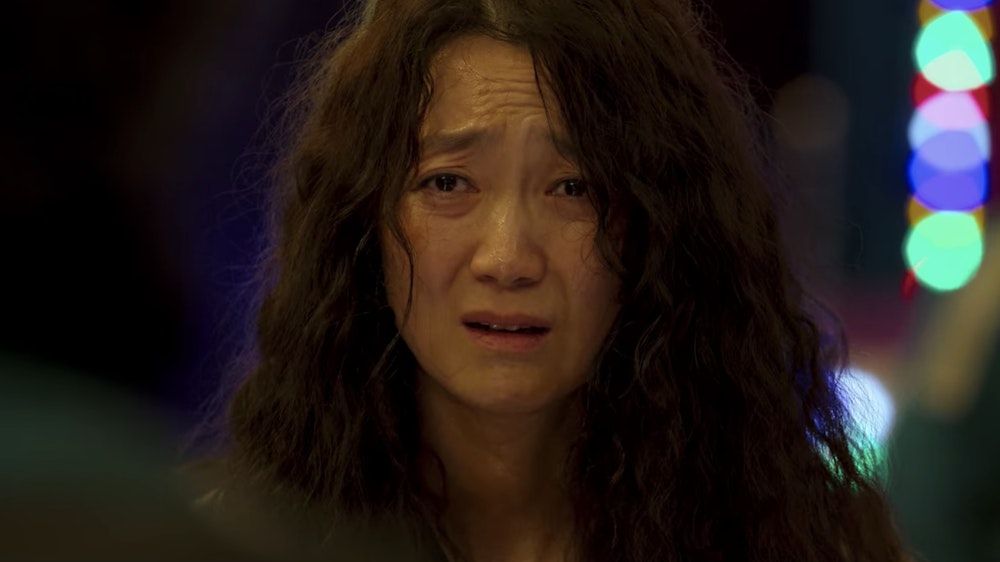 Mi-nyeo or as we know her as Player 212 has managed to catch the audience's attention with her performance in Squid Game. She is known for her opportunistic behavior. Throughout the game, she didn't leave a single chance to grab an opportunity and turn things in her favor. She is strong-headed and she has made it crystal clear that she can do anything to win the grand prize. Jang Deok-su promises to help her but shortly betrays her. When it comes to playing the Marbel game, they were supposed to choose partners. However, they were in odd numbers AND Mi-nyeo was the one who was left out. Yet she wasn't eliminated. Why?
The Fairness Of The Game
When left alone, she begged others to pair up with her but she fails. Therefore, she is dragged away by the guards. We all thought that its the end of her. But no! She survived. After the game, most of the characters were dead. The remaining were shocked to see Mi-nyeo alive. What could've happened? Just like them, we also wondered. But, not anymore. Here's the answer.
The Squid Game is known to be fair and equal. It completely stands against injustice. Mi-nyeo was left out not because people didn't like her or something. Well, this could be one reason but secondary of course. She couldn't find a partner primarily because they were odd in number. This was not her fault. Even if Mi-nyeo could have managed to find a partner, someone else would have been left without one. Therefore, eliminating and killing Mi-nyeo merely because she couldn't pair up due to numbers being odd, wouldn't have been fair on the Squid Game organizer's part.
It's funny how the game that's killing people for not passing game levels being fair and just. But anyways, rules are rules, ethics are ethics. Squid Game is streaming on Netflix. Enjoy!
Source: Screenrant