Heidi Klum is vacationing on the tropical island paradise in San Bartolome, close to Puerto Rico with her partner Tom Kaulitz, who is part of the Tokio Hotel band. The 49-year-old supermodel has been judiciously updating her fans, as she basks in the sun, with the visuals of her vacation. Some might say, she's giving her fans TOO visual a sneak peek into the vacation, with incessant bikini and topless shots. It does seem like what she calls her "hot girl summer" but netizens have a different take about it.
You May Also Like: Demi Moore Models New 'Playful' Andie Swimwear Collection: 'Women Don't Want to Look Matronly'
Heidi Klum in her "hot girl summer" at 49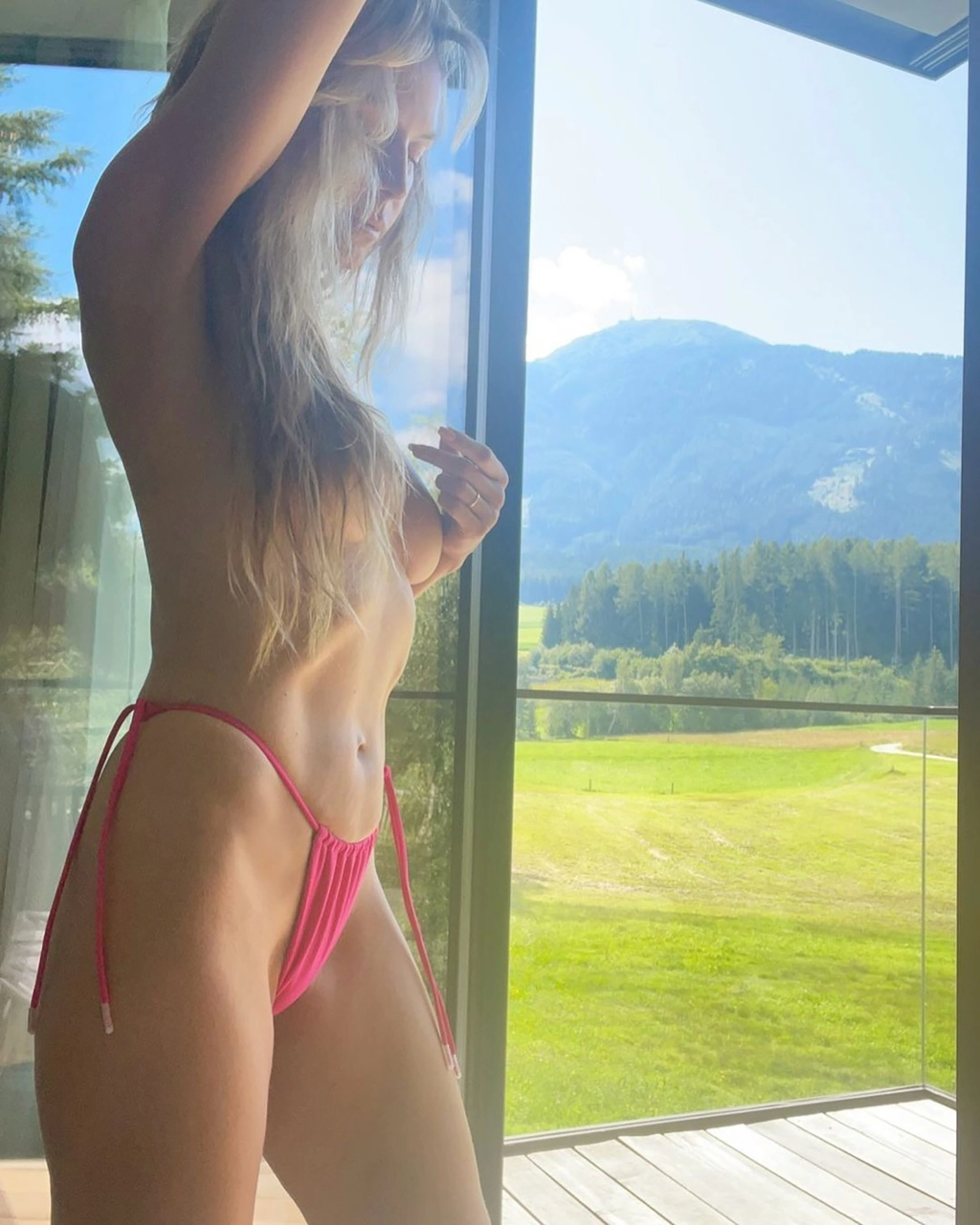 This Monday, Heidi Klum shared a video of herself in an orange and pink rainbow bikini set and as several fans have voiced out, it leaves very little to the imagination. The video, captioned, "Monday", showed the former Victoria's Secret Angel sitting cross-legged under a palm tree, stretching out and soaking in the sun. Klum has often shared snaps of herself in bikinis and topless, but this particular video taken from a fairly low angle calls something else to attention. Her face isn't visible in the video because she's looking up but from the looks of it, the face was not the part that Heidi Klum wanted to highlight here.
Heidi Klum, 49, shares eye-popping images of her bikini body https://t.co/a6ZRbEjaK9

— Daily Mail Celebrity (@DailyMailCeleb) August 1, 2022
Also Read: 15 Bizarre Things Done By Celebrities At Their Parties
This is not the first bikini shot from this vacation that the supermodel made privy to her followers. Over the weekend, Klum had also shared a picture of her topless wearing nothing but a string-tied white bikini bottom. She captioned the snap, "My hot girl summer 2022". 
Also Read: 10 Pics Of Celebrities' Kids That Are Their Actual Younger Versions
While the pictures have garnered quite a number of likes as is expected from revealing pictures of a celebrity, and a supermodel at that, there have been a few people who seem tired of the trend. For many, the first reaction when they saw the America's Got Talent judge sharing the sensual video was… a yawn.
Maybe sounding like an old lady, but why do these women get thrills from these bikini photos. When we've seen them a thousand times? yes, she looks fabulous but yawn. https://t.co/LmvOwsfMSk

— Jules (@julievriahi) August 2, 2022
I'm sorry but really? Another celebrity crotch shot? Yawn!!

— [email protected] (@jenniebosthotm1) August 1, 2022
Netizens couldn't help but point out that no matter how gorgeous you are, there comes a time when one needs to look beyond what's outside and it's high time for celebrities like Heidi Klum to consider that.
49 years is enough- time to stop hoarding attention from the younger gals and reorient your life to mature woman stuff. Aging is a disease and babe you got it.

— Adam Smith (@JohnMil53829369) August 1, 2022
It's time for Heidi to retire that crotch

— Daisy (@daisycdj) August 2, 2022
Heidi Klum's pictures definitely do justice to her status as the first German model to become a Victoria's Secret Angel and it is indeed commendable, the way she has maintained herself at the age of 49. However, people have already seen everything that is there to see, and their only advice to her is to stop using her body for clout.
Also Read: 15 Celebs Who Trolled Back Trolls Like Pros
Source: Twitter