Kelly Ripa has been very much vocal about her personal and professional life. Her career in Live! gave her lots of experience which she did not forget to add in her memoir, Live Wire: Long-Winded Short Stories. Her memoir also included the time she spent with her late co-host, Regis Philbin, which is somewhat of a mixed tale.
Also Read: Doctors Scared for Kelly Ripa, $120M Rich TV Legend's 'Major' Medical Illness Reportedly Threatens Her 'Live' Career
When the TV host released her memoir last year, Philbin's former co-host, Kathie Lee Gifford will not be entertaining her memoir which revealed more about the tense relationship between the late TV host and the former. However, Ripa did not lose her calm and instead roasted Gifford for giving her free promotion.
Kelly Ripa Sets Records Straight Sharing She Was Never Close to Former Co-Host Regis Philbin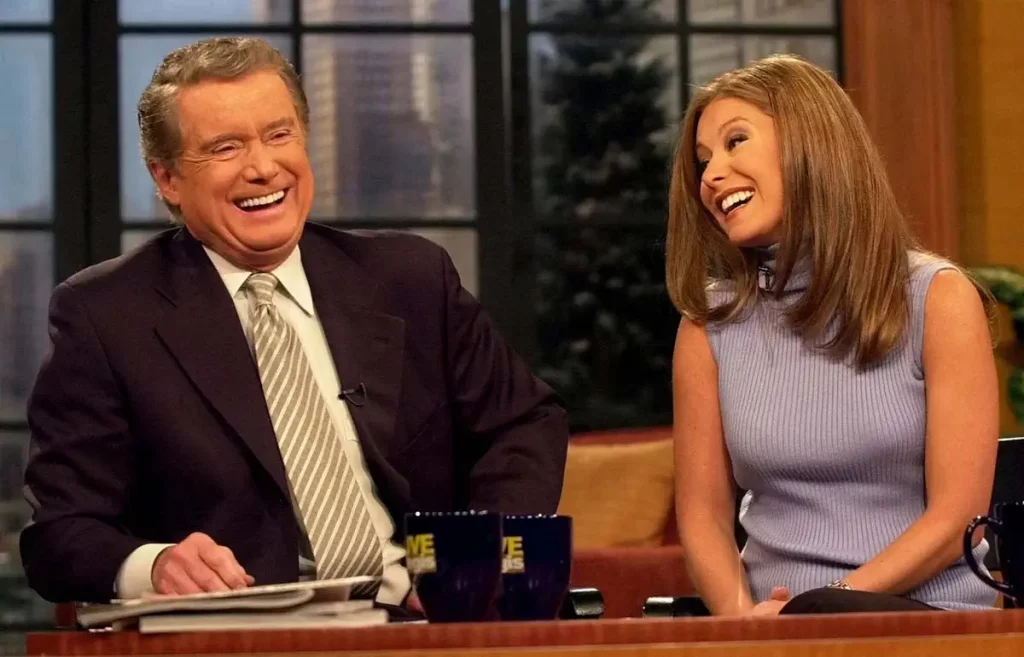 Also Read: Kelly Ripa's Bitter Rival Kathie Lee Gifford Reportedly Refused Co-hosting The View as She's Scared of Whoopi Goldberg, Joy Behar
The 52-year-old actress Kelly Ripa last year released her memoir, Live Wire: Long-Winded Short Stories, where she opened up about her professional life in some segments.
She shared her life with her former co-host, Regis Philbin, clarifying that the duo was not close to each other. When the latter left the show in 2011, the former was called out for losing touch with him while he "hand-selected me, guided me, and was my best friend, and then left, after which I never spoke to him again."
However, it was never the case, as the duo never had a friendship to begin with. Not just that, in a 2017 interview she shared that the late TV presenter "had a mandate: Absolutely no talking off-camera."
Things were definitely not on her side at the time, however, Kathie Lee Gifford had different views about the late TV presenter. Philbin, who died in July 2020 was "the best partner a person could ever" get, as per Gifford. This was one of the reasons why she was not interested in Ripa's book and rather slammed her for that.
Kelly Ripa is Unaffected by Kathie Lee Gifford's Rants
Also Read: Kelly Ripa Accuses Mark Consuelos of Being a Negligent Husband For Asking to Eat During Childbirth After Revealing He Made Her Pass Out During S*x
Gifford and Philbin hosted the Live! show together for 10 years until Ripa replaced her in 2001. She called out the actress for making the late host rather a bad person in her story, which is why she declared not to read her book.
She has always spoken highly of her former TV partner and shared,
"he was my friend. We were dear friends and after I left the show … for the next 20 years we became better friends. Dearer friends."
In an interview, Not Skinny But Not Fat, Ripa remained calm about the then-rants she received from Gifford and stated,
"I'm not gonna lie, I was not reading any headlines anywhere [at the time]. And suddenly all of these headlines pop up and there's all of this attention on my book."
Due to Gifford's rants, she made further headlines which helped the book in further promotions. She even added that she had supported her former co-host majorly in her memoir which would be cleared once one gets to read it.
Live Wire: Long-Winded Short Stories is available in bookstores.
Source: Not Skinny But Not Fat