Workplace romance has always been a tough thing to deal with, it usually lands people in danger of losing their job or reputation. The Good Morning America 3 anchors T.J. Holmes and Amy Robach are facing a similar situation where their jobs are at stake due to their budding relationship coming to light. The ABC network is currently investigating the graveness and accuracy of the situation in order to take a further step since racial discrimination is getting involved.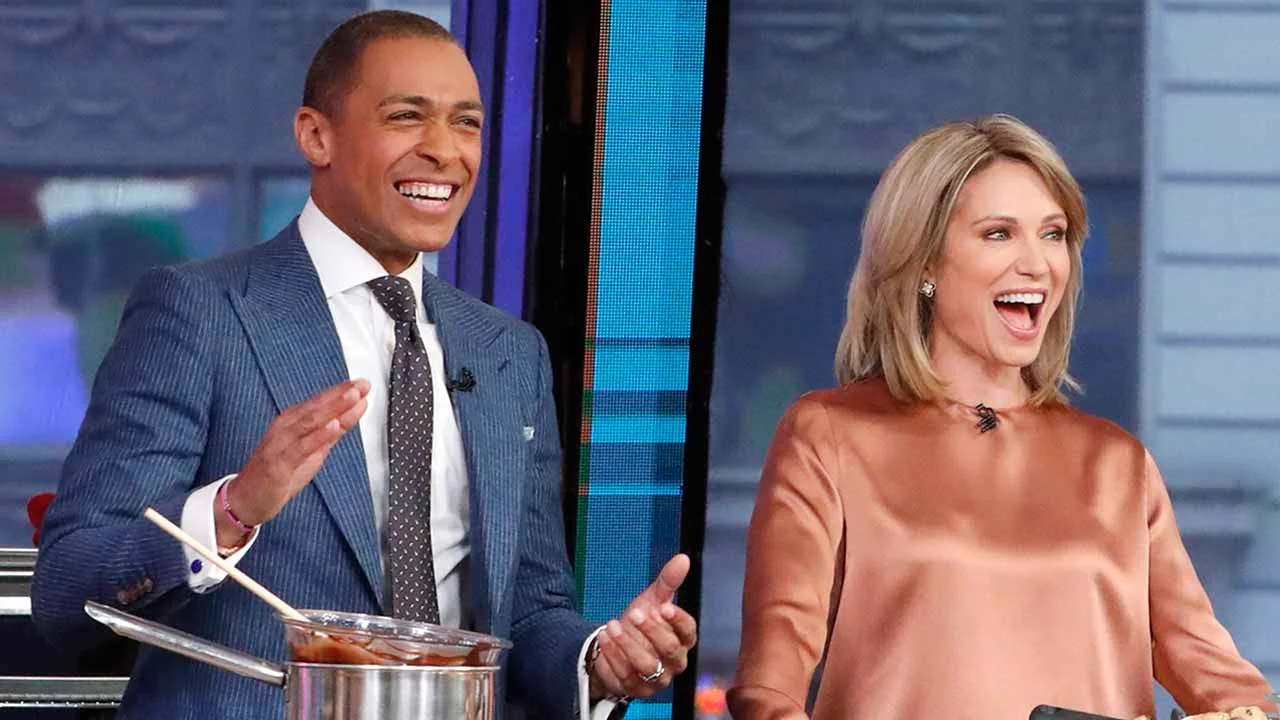 The decision of taking T.J. Holmes off the show is currently undecided due to the news of his sex scandal with a 24-year-old producer coming to the forefront. Apart from Holmes' alleged affair with Amy Robach, his sex scandal is making the network reconsider its decisions. However, Holmes and Robach appear to have lawyered up in case ABC decides to fire them.
Also read: "They aren't screwing on the weekend": T.J. Holmes Set To Lose Job After Amy Robach Affair As GMA Happy With DeMarco Morgan
T.J. Holmes' scandal with a 24-year-old and his extramarital love affair with Amy Robach
ABC network-hosted Good Morning America 3 anchors T.J. Holmes and Amy Robach were taken off the air due to their romantic affair coming to the forefront. Although their ultimate fate is still undecided due to several issues surfacing and causing chaos to the decision. Holmes' employment status is awaiting a decision from ABC network's end since they recently learned about his alleged sex scandal with a 24-year-old ABC intern. 
It was reported by an insider that "There's been little movement. [ABC brass] does not seem to [be] very competent in how they're handling this." Although the names of the co-hosts, Holmes and Robach are still hanging on the walls of ABC, their jobs might be over. With T.J. Holmes' sex scandal coming to the limelight along with his romance with Amy Robach, it doesn't seem like the case is going well. 
Sources informed about Holmes' alleged sexual affair in his own office, with a junior producer from 2015. "She was a nice girl, who probably developed a crush — seeking mentorship and he [T.J. Holmes] took advantage of it." sources claimed. 
Also read: "He was a predator…he was reckless": T.J. Holmes Reportedly Had S-x With 24 Year Old Intern While Maintaining Sleazy Affair With Amy Robach, Lured Young Girl With Mentorship
T.J. Holmes and Amy Robach lawyered up to handle their case
The ABC network seems to be quite concerned about their potential decision of taking out the Good Morning America 3 anchors since new cases are surfacing and they fear racial lawsuits from Holmes' end. Alongside T.J. Holmes' affair with Amy Robach, after both getting separated from their partners, the anchor's alleged allegations of sexually exploiting a young employee are taking a toll on the case. ABC is still undecided, although viewers don't understand the difficulty of the situation. 
On the other hand, Holmes seems to have lawyered up despite the smoking gun evidence against him. Is he up to something?
Holmes and Robach, the alleged pair are growing concerned about their positions as anchors on the show. It is believed that if the alleged couple is fired from the show, Holmes might file a lawsuit against the network based on racism. 
The anchors are planning on refocusing their punishment from a racial perspective. Although Holmes' and Robach's moves are unclear, it seems that the network might face a moral clause based on their mixed-racial relationship. 
Read more: Good Morning America's T.J. Holmes Reportedly Using Racism Card To Not Get Fired, Claims What If 'The 2 Consenting Adults Were White?'
Source: Page Six