Actor T.J. Miller has confirmed that he will not be reprising his role as Weasel in the third instalment of Deadpool. Although the actor had a prominent role in the first two films, his future with the franchise has now been placed under a lot of doubt. Miller was accused of sexually assaulting a woman in 2017 and was arrested earlier this year for calling in a fake bomb on a train.
The mounting issues have now made it seemingly difficult for Miller to stay around. Not only did his role in Deadpool 2 looked altered, but Reynolds also confirmed that he will not be playing a part in X-Force from director Drew Goddard. It seems like Miller has now moved on, as he will not be returning to reprise his role in Deadpool 3.
During an exchange on Twitter, the actor confirmed that he's not in Deadpool 3. Here's what he said: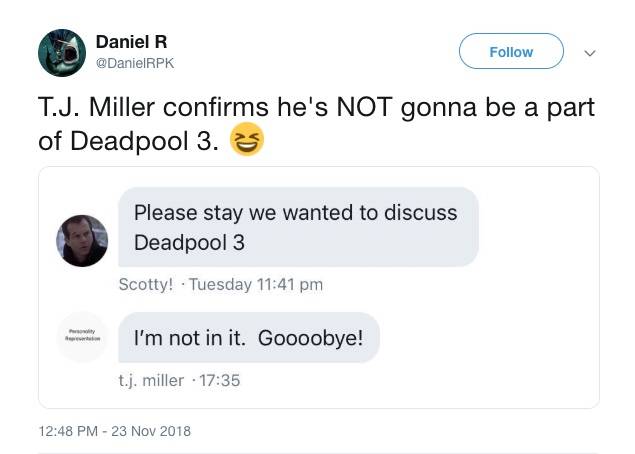 This shouldn't come as a surprise as Fox would like to avoid any charactersress that might come along with Miller's involvement. The character has had some really quirky moments in the first two films but now the Deadpool franchise has many other characters to play with. Since he was just a supporting character, it wouldn't be very tough for filmmakers to explain his absence.
Deadpool 2 director David Leitch will be helming the film but for now, X-Force is the top priority for the franchise and could possibly be the future.