The Avengers 4 Poster is Out! And It Reveals Hell Of A Lot About The Film!
June 6, 2018
News
June 6, 2018
The much awaited Infinity War released earlier this year. And it raised a hell lot of questions. Like
"What is there in the MCU future now?"
"Is Captain Marvel the key to everything?"
"Are the characters who are dead going to be resurrected?"
"If not, what is the purpose now?"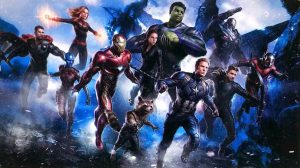 Thankfully for us, the fan art is leaked and it answers a lot of questions.
So, the fan art clearly says,
Captain Marvel is definitely there fighting alongside the Avengers.
We have got a clean shaved Captain America.
Iron Man is going to lead the Avengers once again. So Tony Stark might be the key in beating Thanos.
Ant Man is here and so is Hawkeye.
There is no crossover with Jessica Jones, Iron Fist or Daredevil.

However, there is still clarification awaited on whether the characters will be resurrected or not. But one thing is clear. Loki is gonna return. How?
If you a regular follower of our page, you must have a picture from behind the scene of Avengers 4, where we see Loki.
We are still in process to clarify whether this art is real or just a decoy. Whether it has been made by a fan or has been leaked from the MCU. Anyways, this art for now answers a lot of our queries and we are happy with that.