Antony Starr recently shared an erotica fan-made painting that shows his character Homelander (The Boys) giving a love bite to none other than Superman.
The fan-made painting created quite the stir as it showed Antony Starr's villain Homelander engaged in an apparent lover's quarrel with Superman. It shows Superman dipping in Homelander's hands while Homelander is either kissing or biting Superman's necks. 
What Antony Starr has to say!
Captioning the picture, he details, "Okidoke. It's not often I take a piece of fan art and repost on feed but this is something special…". He appreciated the fan art and cited it as special. Noting the obvious while writing further. He stated, "I can't tell but I'm pretty sure Homelander and Superman are locked in mortal combat…oooooor…very aggressive and combative flirting….".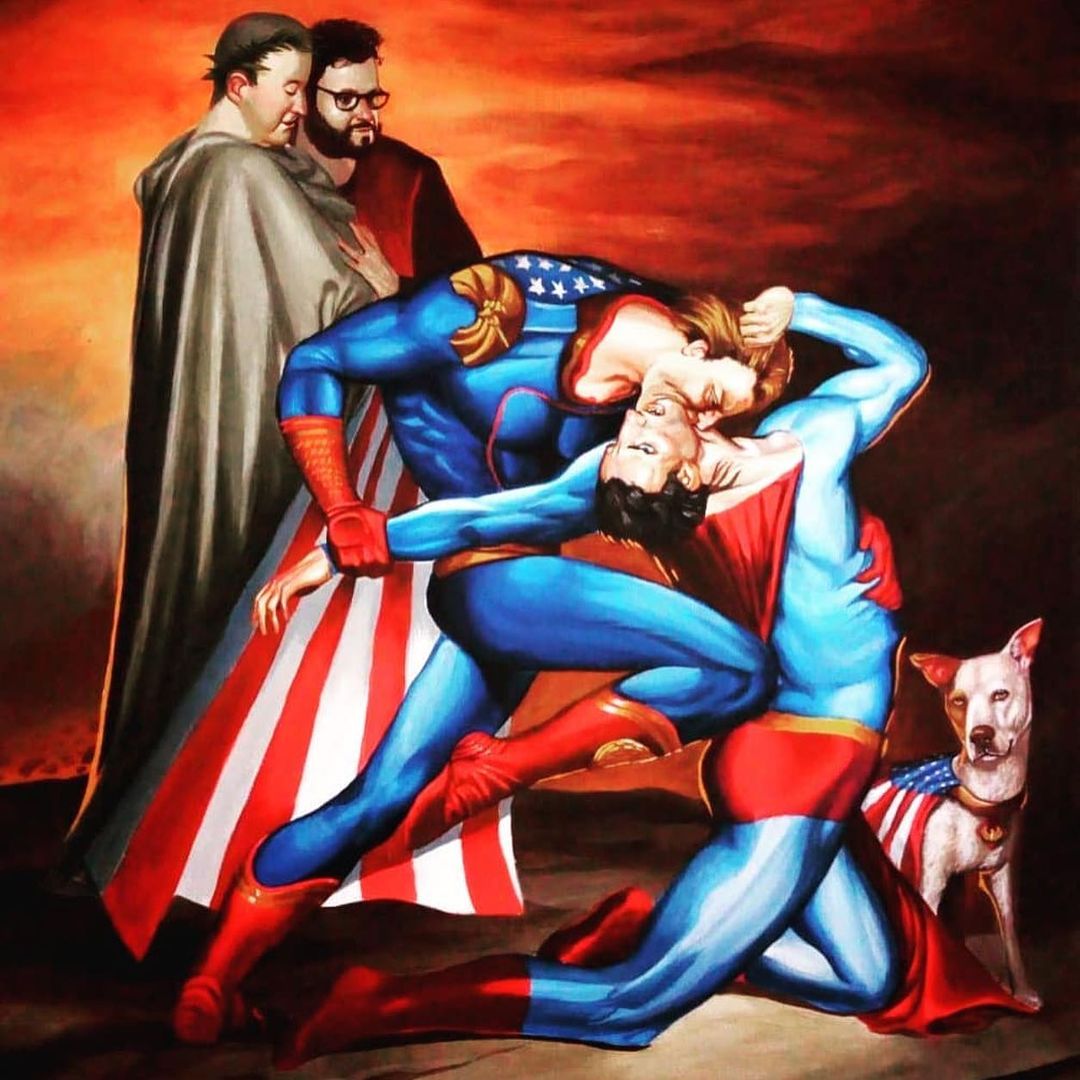 "So Homelander is either ripping the shite out of Superman's throat…or…giving him one hell of a hicky to commemorate the moment.
I'm thinking it's the former due to the angry facials…" Commenting further on what he thought was the possibility from the two given obvious options, biting the neck or aggressive flirting of Superman. He thinks it is the former. 
He appreciated the detailing of the fan-made painting as he took notice of the inclusion of his pet pup, Maxine Starr. You can see him in the far right corner. "And looksie down to the right…if it isn't Maxine Starr, perfectly mugging for the camera, as usual. Dashing wee cape she sports there…".
We also see two very familiar faces in the back of the painting. Here's what Antony Starr had to say about that, "Then if we peek o'er yonder…low and behold, if it isn't Seth Rogan watching on from a safe distance…probably has a buck on the line here in a wager with that monk dude."
He ended his elaborate post with a rant on the picture, "So all in all…one hell of a piece. I laughed til I cried and had to share.
Toodle-pip :)"
He did not forget to credit the artist at the end as he mentioned "Art : @vanguardiakitsch"
Look at Antony Starr's post here. 
In another The Boys news and updates, it was recently confirmed by Karl Urban that the production of Season 3 has been started.
The Boys stars Karl Urban, Jack Quaid, Laz Alonso, Tomer Kapon, Karen Fukuhara, Erin Moriarty, Chace Crawford, Antony Starr and Aya Cash. Seasons 1 and 2 are streaming on Amazon Prime Video.