The Boys Season 2, several new heroes could debut with a new set of photographs. In the backdrop, a film banner reads: "Dawn of the Seven," which could be a movie within the scene based on the original members of the Premier Superhero Team. This film features a location of Vought promotional products. The titles and pictures of several legends.
Came across this in Toronto last night. Looks like they were filming something for #TheBoys. Character posters and comics, ads for a Dawn of the Seven movie, action figures, Vought logo and signs. pic.twitter.com/z3BKhSMUMU

— Ryan Hancock (@ryanhancock9) October 30, 2019
The Soldier 
Soldier Boy is a hero who wants to be a part of The Seven with the comic book source material in , and the Character shares several resonances with Captain America of Marvel. So, Cold Snap is a member of the G-Force superhero team.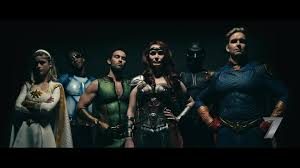 The New Character
The Boys will also introduce the protagonist Stormfront in season 2. Aya Cash, famous for her role in Fx's You're The Worst, portrays the storm front.
The Reveal of The Boys
The stars Billy Butcher with Karl urban, Hughie with Jack Quaid, Laz Alonso with mother's milk, Frenchie with Tome Kapon, Fukuhara with women, January with Erin Moriarty and Annie Chace Crawford and Deep, Homelander, and with Pegg with Hughie's father. There is still no date for the premiere of season 2.
Source- cbr, thehollywoodinquirer