The Arrowverse has made its presence through multiple series such as The Flash, Arrow and Supergirl. The latest Batwoman series starring Ruby Rose is the latest addition to the DC universe. Currently, The Flash season 6 along with Arrow season 8 and Supergirl season 5 is setting the stage for Crisis on Infinite Earths. But there have been teasers in different series for Crisis which may add some other DC heroes to the list. Even so, fans are excited for the easter eggs that are being dropped in the new seasons. Recently Season 6 of the Flash just gave us all the teaser for a major DC Hero we have all been waiting for!
The Flash Season 6 Teaser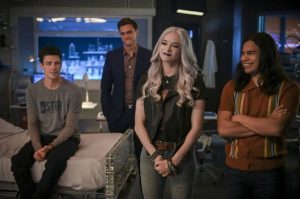 The Flash Season 6 just showcases us a teaser for a major DC Comics hero. Well, any guesses? The hero is none other than Mister Miracle. Mister Miracle is the latest addition to the team of Justice League. Along with this, it is rumoured that Mr Miracle might exist in the Arrowverse. Though this week's episode of Batwoman just reveals that Wonder Woman is missing from the DC Crossovers.
In the latest episode of the Flash, "Into the Void", Barry (played by Grant Gustin) decides to travel into the future. Barry wants to figure out what will in Crisis on Infinite Earths. Barry injures himself while time traveling and travels to Earth-3. While he's on Earth-3, he gets help from that timeline's version of the Flash, Jay Garrick (played by John Wesley Shipp). Jay uses a device to help Barry find out about Crisis. Barry then realizes how dangerous the Crisis is to the multiverse. The Crisis threatens to destroy all timelines which are seen in the Arrow season 8 premiere.
DC Comics: Mister Miracle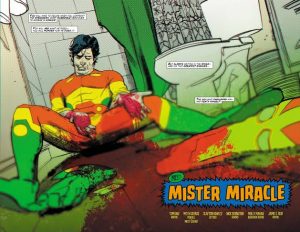 Jay Garrick has a map of the multiverse which plots the spread of the antimatter. He identifies certain Earths with the heroes that are there. One of the timelines in the multiverse is labelled "Thaddeus Brown". In DC Comics, Thaddeus Brown is a circus escape artist who wears a colourful costume and goes by the stage name of "Mr Miracle". Jack Kirby, the creator of Mr Miracle makes him a short-lived character who dies in the first issue. Over the years, Mister Miracle and his love interest Big Barda have developed ties to the Justice League. As part of the New Gods, Mister Miracle and Big Barda also have a connection to DC's most powerful villains, Darkseid. 
The Flash is pulling in other DC Comics characters into their universe. The Crisis on Infinite Earths is definitely not going to stop the expansion of the characters. But it seems unlikely that Scott Free's Mister Miracle will make an appearance in the Arrowverse at some point. But Mr Miracle might make an appearance in an upcoming film set in the DCEU, New Gods. 
Check out the teaser for The Flash 6×03 'Dead Man Running':
Source: WeGotThisCovered, ScreenRant