https://youtu.be/QvhaxNYuCFw
Writer Grant Morrison along with artist Liam Sharp's The Green Lantern #10 sees Hal Jordan assemble Green Lantern from all across the multiverse, to get them ready for a battle.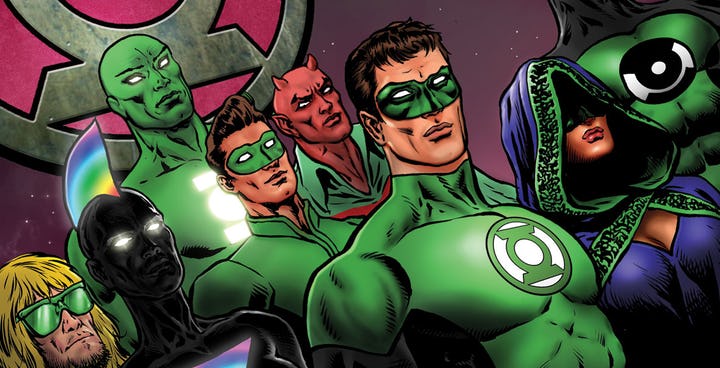 The issue's solicit teases a huge crossover between twelve universes. Hal Jordan will be joining the Multiversal Green Lanterns, which counts amongst its members Tangent Green Lantern, Bat-Lantern and others. Their adventures will put them in conflict with a relentless threat known as Anti-Man, all to save the dying multiverse and to embark on a quest for the Cosmic Grail.
Also Read: 7 Powerful Beings Who Can Easily Defeat Thanos (Even With The Infinity Gauntlet)
The solicit for the August issue of Green Lantern #10 states:
Written by Grant Morrison
Art and Cover by Liam Sharp
Card Stock variant cover by Kaare Andrews
Twelve parallel worlds! Twelve Green Lanterns! And one unstoppable menace! Hal Jordan joins the Green Lanterns of the Multiverse-including Bat-Lantern, Tangent Green Lantern and more- to save a dying Multiverse, defeat the relentless Anti-Man and embark upon their "Quest for the Cosmic Grail"!
Grant Morrison and Liam Sharpe's series have been pushing the limits of what one can do with the Green Lanterns. The issues have been both poignant and philosophical. They have also received both critical and fan acclaim. Each and every time people think it's not possible to make the Green Lanterns more Cosmic, Morrison and Sharp bring their writing and colours to make it happen.
Also Read: Has Miles Morales MCU debut set up by Avengers: Endgame?
The new quest for the Cosmic Grail does sound a lot interesting and will surely be setting up the Lanterns for further challenges in the future. But first they will have to defeat the Anti-Man before he can destroy the multiverse as we know it. We for one are really excited to see the multiversal Green Lanterns.
The Green Lantern #8 hits stores June 5. The Green Lantern #10 hits stores on August 7.
(Source: cbr.com and bleedingcool.com)