Even though people having a crush on celebrities is a common occurrence, however, it could become a little too much in some cases. And that is what exactly happened with Liam Neeson recently. His appearance on ABC's talk show,  The View was not a great experience for the actor as he revealed later. The interview was centered mostly on one of the hosts Joy Behar's long-time crush on Neeson. Although it sounded flattering, the things shared by Behar and other hosts were seemingly uncomfortable for the actor. And naturally, he had a lot of complaints afterward.
Liam Neeson left feeling uncomfortable after The View interview
Although The View hosts had no bad intentions, their words did end up making veteran actor  Liam Neeson very uncomfortable. He might be 70 now, but that does not permit other people to throw any words they like toward the actor. His recent interview on ABC's The View did not digest well for him. And it mostly had to do with the discussion about Joy Behar (host) expressing her huge crush on Neeson. She, along with Whoopi Goldberg, carried out most of the embarrassing confessions section on the episode. Behar had been all over the actor drooling on her Hollywood crush.
Also Read: "It's Just All This Bullsh*T": Liam Neeson Blasts The View For Pointless Conversations Like Asking Neeson To Sleep With Joy Behar, Said They're Wasting Their Platform With 'Unimpressive' Non Intelligent Conversations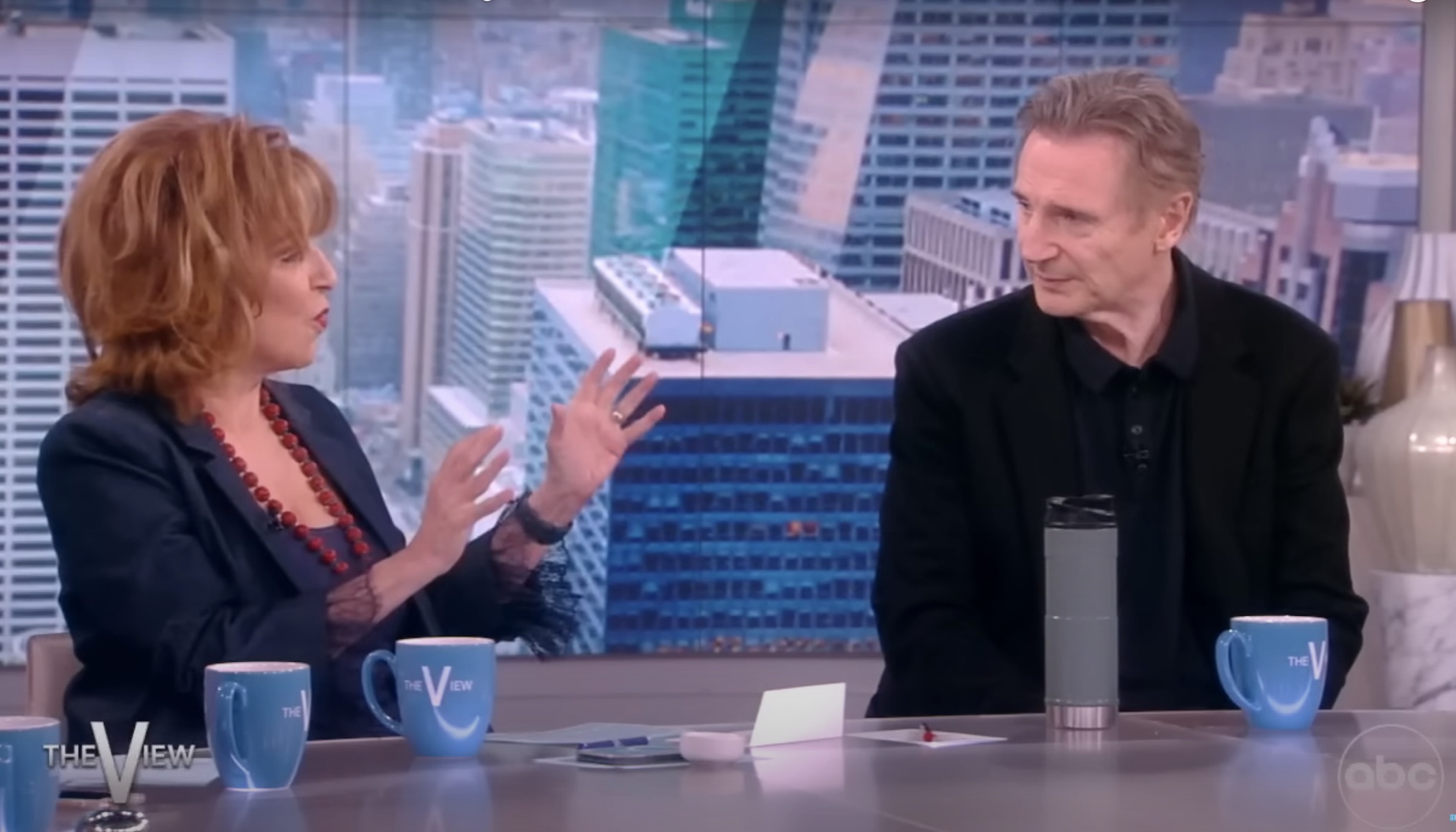 However, instead of their confessions flattering the actor, they ended up making him super uncomfortable. The Taken alum revealed his dislike for such situations with the Rolling Stones. According to the actor, he was not "impressed" at all by what Behar had to say or confess. It seems her declaration of desiring her ashes spread over Neeson made the 70-year-old actor uncomfortable. And according to sources, an insider warned the show and its hosts saying,
"The ladies have crossed a line and are creepy"
Moreover, the insider also added that if such treatment of guests continues, the show might go "extinct" sooner or later.
Also Read: "If You Play James Bond, We're Not Getting Married": Before Henry Cavill Entered 007 Race, Taken Star Liam Neeson Chose His Beloved Wife Over $10.2B Franchise
Liam Neeson's latest Film Projects
70-year-old veteran actor Liam Neeson has no lack of great movies in his career. The actor never fails to give his best in the role he takes on. From action-packed films to stories based on historical events, Neeson has it all. His most recent movie was Marlowe, a neo-noir crime thriller directed by Neil Jordan. It was released in theatres recently on the 15th of February. The movie marks Neesson's 100th film. The plot of the story is based on the 2014 novel Black-Eyed Blonde by John Banville. It is centered around a private detective who is hired to find a woman's love but ends up getting into a criminal case.
Also Read: Heartbroken Liam Neeson Revealed Gut-Wrenching Story How He Whispered To His Brain-Dead Wife Natasha Richardson He Will Always Love Her: "Sweetie, You're Not Coming Back From This"
Source: Radar Online