This month the 2021 Mortal Kombat movie wrapped up filming, which means that the post-production should begin very soon if it hasn't already. All that aside, New Line Cinema has still not made public the reboot's characters and castings. One of these unreleased characters is Shao Kahn, who is possibly one of the series' biggest characters and primary antagonists. 
Who is Shao Kahn?
Shao Kahn made his debut in Mortal Kombat II the video game and is a recurring character and antagonist of the video game series and extended franchise. Shao Kahn is portrayed as a vicious warlord who is the Emperor of the mystical realm Outworld. Shao Kahn returned in Mortal Kombat 11 as a pre-order bonus character and also bagged a role as an antagonist in the game's Story Mode, along with being an announcer for the game's Arcade. His character is the video game as well as the movies is supposed to be the embodiment of evil.
Who is going to bring Kahn to life on the big screen?
 There has been no official confirmation of the characters. But it's a safe bet to say that we will be seeing him on the big screen. The bigger, more pressing question remains: Who could be playing Shao Kahn the Konqueror?
 It seems that yesteryear WWE wrestler and actor Nathan Jones may be the one for the prominent role. For the uninitiated: Nathan Jones is a former WWE wrestler who has previously been spotted with either The Undertaker or Brock Lesnar. After making his way over to Hollywood from the ring, his most notable acting roles have included Rictus Erectus in Mad Max: Fury Road, Akhun in Conan the Barbarian, and T.K. in The Protector.
 A simple deduction from his previous castings shows that Jones would be a great fit for the character.
Why Nathan Jones?
So what makes fans so sure that Jones is the one who bagged the role? Well, for starters, he's a resident of Australia, where the movie was shot. Also, earlier this month he posted a photo with Daniel Nelson, who did stunts for the movie. And to the final nail in the coffin, he confirmed he's been doing weapons training, and in the process posted a video online of him swinging around a massive hammer, which is Shao Kahn's signature weapon.
Again, there is no official statement confirming this, however, there seems to be a lot of evidence for Jones's casting.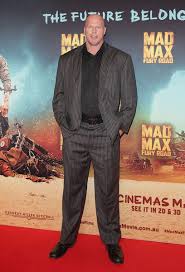 Mortal Kombat is set to premiere on January 15, 2021.
Source: Comicbook