It's Rihanna again! The pop star, who will appear at the Apple Music Super Bowl LVII Halftime Show in February, teased her fans on Friday with a her new video. A captivating teaser of the diva's highly anticipated performance was shared on Instagram by the user. As if to silence the crowd, the singer places a finger to her lips. As the video pans out with the Super Bowl halftime show logo, her 2016 single Needed Me begins to play in the background.
Wearing a black dress overlaid with an eye-catching yellow cape with feathers, Rihanna flaunted her ostentatious sense of style. Her look was further enhanced by a collection of large jewels. Oh, and her odd hairdo also demands your attention. Apple Music, the official halftime show partner for the 2023 Super Bowl, hinted at Rihanna's musical return in its teaser. 
Read More: Kylie Jenner Copies Rihanna Once Again as She Duplicates Wardrobe That Rihanna Made Iconic When She Was Pregnant Mere Months Ago
Superstar Rihanna is back, and fans can't keep calm!
The main event sponsor Apple Music revealed on Sunday that pop icon Rihanna will perform at the Super Bowl halftime show in February. The singer, who had previously declined the gig out of protest, is finally performing again after a long hiatus. The Barbados Grammy winner is seen walking down a lit runway as the 30-second clip begins with soundbites about her long break from music. The screen goes black as the voices start to overlap, putting Rihanna in the foreground. This amazed her fans and they couldn't help sharing their excitement on social media. One of her fans tweeted, "The production of this is going to be INSANE." Singer and actress Halle Bailey also gushed about Rihanna in a tweet that read, "Rihanna for halftime?? yasss."
The production of this is going to be insane!

— Kalen Allen (@TheKalenAllen) January 13, 2023
Rihanna at the superbowl: pic.twitter.com/OlyqntS0eO

— toss a coin to your witcher (@itsayosigns) September 25, 2022
when rihanna performs a 14-minute makeup tutorial at the halftime show instead pic.twitter.com/tIstDaGvNt

— crazy broke asian (@tribranchvo) September 25, 2022
welcome back into the fold ✨

— Rhammel (@Rhammified) January 13, 2023
✨✨ BACK BY POPULAR DEMAND ✨✨
VEM QUE VEM, MAMI ❤️

— Budweiser Brasil (@Budweiser_Br) January 13, 2023
I fu*ken love you RIRI 😩😫😩😫😭😭
You've made me wait too long, why, oh why?!!😭😢😭
Ok, I'm good ☺️😅😃
"I can't wait" 😂🤣🤪

— Jacky, the Starlet (@Jackystarlet) January 13, 2023
Robyn Rihanna Fenty, who was born in Barbados, has recently become a billionaire by converting her musical success into lucrative makeup, lingerie, and high-fashion brands. She created history when she became the first Black woman to lead a fashion house for the French powerhouse LVMH, which owns storied brands like Givenchy and Fendi. 
The singer behind the hits Diamonds and Umbrella has recently shifted her attention away from music to her businesses. Rihanna and rapper A$AP Rocky, 33, revealed their pregnancy in January with a set of glitzy photos taken in the snow.
Read More: 'She's trying to be Megan Fox': After Copying Beyoncé and Rihanna, Fans Convinced 'Unoriginal' Kim Kardashian is Copying Transformers Star for Fame
Rihana's super bowl halftime show teaser released
Since Rihanna hasn't put out a new album in almost seven years, her fans were impatiently awaiting it. Recent contributions from Rihanna include the song Lift Me Up for the film Black Panther: Wakanda Forever. There are hopeful rumors of a long-awaited new album to come after the NFL February 2023 show. Rihanna is one of the best-selling female artists, with more than 250 million records sold globally.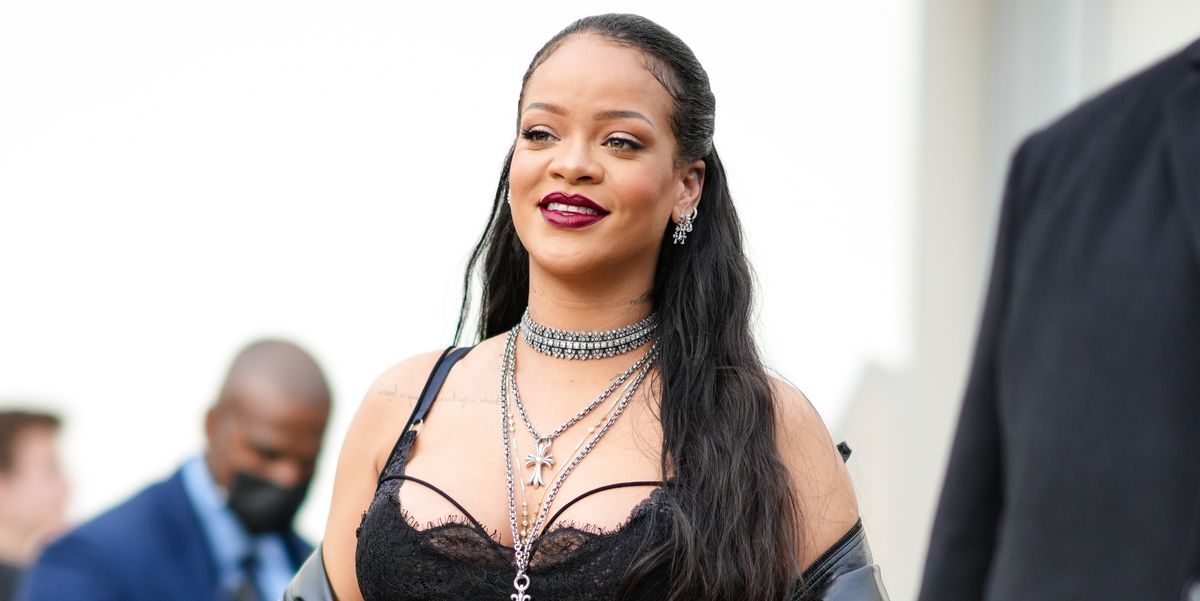 Rihanna turned down a similar big opportunity for the 2019 Super Bowl. This was though, grabbed by Maroon 5 and he took over. The singer will perform at the Super Bowl LVII halftime show on February 12 at State Farm Stadium in Glendale. 
Read More: Rihanna Nearly Went Completely Broke By Trusting Unethical Accountants Who Almost Flushed Her $1.7B Fortune in Career-Ending Move
Source: Twitter