Billy Batson is a boy (between the ages of 10-15, depending on which era of the character's history we're looking at) who says one magic word that transforms him into the World's Mightiest Mortal, wielding the power of six mythological figures: The wisdom of Solomon, the strength of Hercules, the stamina of Atlas, the power of Zeus, the courage of Achilles, and the speed of Mercury. What does that spell? 

SHAZAM!

Shazam: Movie poster
Also Read: Why Captain Marvel May Be 2019's Most Exciting Superhero Movie?: Here are 5 Reasons!
After the debacles of Batman V Superman: Dawn of Justice and Justice League, DC and Warner Bros are getting some positive turnaround from surprising properties in their DC Extended Universe.
Now they have their hopes pinned up on 'Shazam', which appears to be the funniest movie in the 'oh so dark' Universe, that even Marvel would find competitive. Asher Angel and Zachary Levi play the leads in the film.Shazam! is scheduled to release on April 5 and we can't wait anymore!
Shazam Trailer has recently been launched, here are the highlights.
Highlights from The Trailer: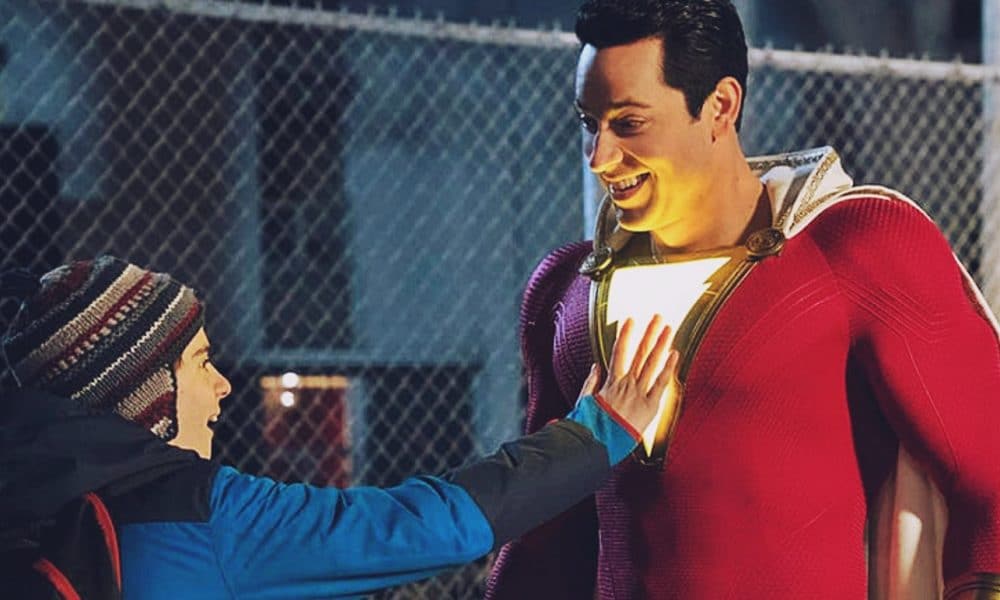 Also Read: 7 Things Fans Didn't Know About DC's 'Birds of Prey' Movie
The trailer gets us through the many of Shazam's misadventures as he finds out how cool his powers are, with the help of his friend, Freddy.
We also get a taste of Mark Strong's antagonist, Dr Thaddeus Sivana, who seems to be more powerful than Shazam.
There is also a Batman 'cameo' though it is not what you think!
Shazam! also stars Jack Dylan Grazer, Djimon Hounsou, Grace Fulton, Lotta Losten and Ross Butler. Lights Out fame David F Sandberg has directed the superhero film, and there are rumours that Dwayne Johnson's Black Adam could make a cameo in the movie. Shazam! is scheduled to release on April 5.
A shot in the new trailer, in which Shazam balances a bus in his arms prompted fans to draw parallels to a similar shot in the Superman movie, as well as Wonder Woman and Aquaman.
Another shot in the trailer shows Shazam in a shop, surrounded by action figures of Justice League members such as Superman, Batman, Cyborg, The Flash and Wonder Woman. The shot shows Shazam picking up a large Batman statue and flinging it into the air. While the statue does not bear any resemblance to Ben Affleck's version of the Dark Knight, his Batman can be seen in the background – although the face is largely out of frame.
Also Read: 'X-Men: Dark Phoenix' Trailer May Have Given A Fun Nod To MCU
Plot of the film:
Shazam! is based on the adventures of a kid Billy Batson who gets superpowers from a mysterious old man and becomes a fully grown man, after screaming 'Shazam!'. Shazam has most of the superpowers that anyone would vie for – hyper-speed, flight, super-strength and resistance to bullets. But he also retains the mind of a kid, which makes Shazam a really adorable and naughty superhero. Something the new trailer of the film harps on.
What is so-very different in the film?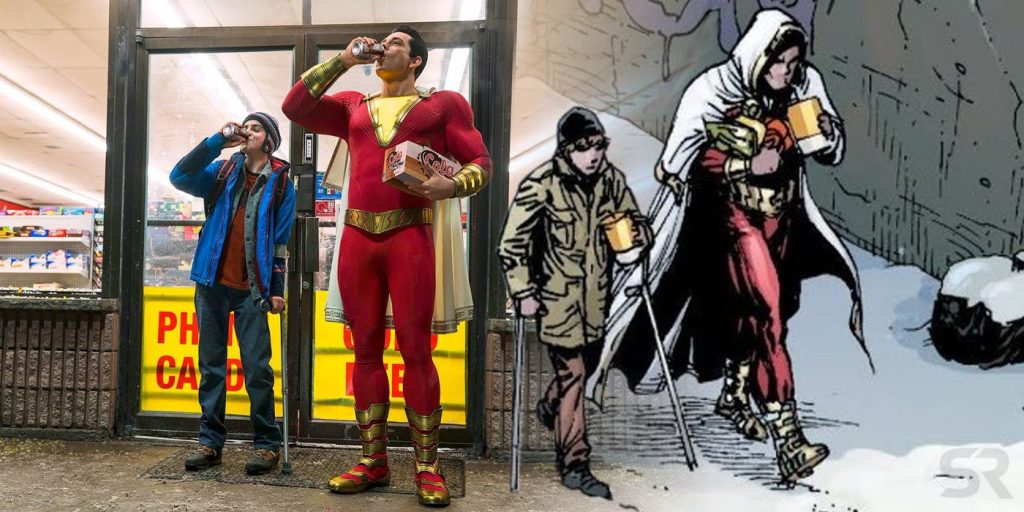 Despite rumors of a "no jokes" policy regarding DC Comics superhero movies at Warner Bros. (something which sounds kind of unenforcable to us), the idea of doing a "serious" Shazam movie just doesn't line up. Luckily, New Line's Toby Emmerich sees it the same way, promising that the film will have "a sense of fun," and that "Shazam will have a tone unto itself…the feeling of the movie will be different from the other range of comic book movies." I wouldn't be surprised if this means something that takes the recognizable real world of the DC and Marvel films, but adds just enough magical whimsy (something which has yet to be explored by either studio) to buoy the story.
Come to think of it, a tone similar to Warner Bros. recent mega-franchise, the Harry Potter films, might be exactly what the wizard ordered. If you look at Shazam screenwriter Darren Lemke's other credits (Turbo, Jack the Giant Slayer, the forthcoming Goosebumps movie), you can see that they chose someone who can do a mix of family-friendly humor and high adventure.
Dwayne Johnson as Black Adam !
In recent years, Black Adam has made the transition from out and out supervillain to a more complex anti-hero, becoming ruler of the fictional Middle Eastern nation of Kahndaq, and even joining the Justice Society for a period. It's more than likely that the version of Black Adam that makes it to the screen here will reflect these more modern takes on the character.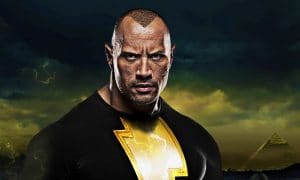 Dwayne Johnson has been quite vocal about not only his desire to play Black Adam, but about why he thinks the character is so vital.
"A complex psychology, motivated by a badass dominance with a devlish charm. This'll be fun," he tweeted. There's no doubt that he's perfect for the role, with New Line President Toby Emmerich saying, "You look at these comic book characters and they have this certain swag and charisma that Dwayne carries with him wherever he is so that's why this always made sense."

https://twitter.com/TheRock/status/507189313579122689
This does raise an interesting question, though. With a star as high-profile and charismatic as Dwayne Johnson playing the "anti-hero" (a word that Johnson has continually repeated while discussing this role), how can the more traditionally heroic Shazam hope to compete? Is it remotely possible that the Shazam movie is going to focus more heavily on Black Adam than his red-suited counterpart? It's unlikely. We imagine  we'll see the two team up against some common enemy (Dr. Sivana seems like a reasonable choice), but this is purely speculation.
References: denofgeek