Gisele Bündchen and Tom Brady prioritize their children regardless of their relationship status. Given the sensitive nature of certain subjects, the supermodel has always handled their children with the utmost care. She was concerned about the adjustments their children would have to make. Changing schools and cities can be challenging for any child, especially someone with celebrity parents.
In addition, Gisele Bündchen and Tom Brady have home-schooled their children under challenging schedules. Being a working mother, she still spent more time with the children as Tom Brady played, their careers did not allow for a normal childhood. In addition, they might also have to deal with comments made about their parents. Gisele Bündchen's book, Lessons: My Path to a Meaningful Life, addresses some of her worries for her children.
Also Read: Internet's Fascination With Male Divorcés Reaches Sky High Levels as Johnny Depp, Tom Brady Become Most Googled Celebs of 2022 – Amber Heard, Gisele Bundchen To Blame?
Gisele Bündchen's Important Priorities Than Being A Celebrity
Late last month, Gisele Bündchen and Tom Brady announced their divorce after 13 years of marriage, and agreed to co-parent their son Benjamin and daughter Vivian. She also cares about her stepson Jack as much as her children, whom Brady shares with Bridget Moynahan.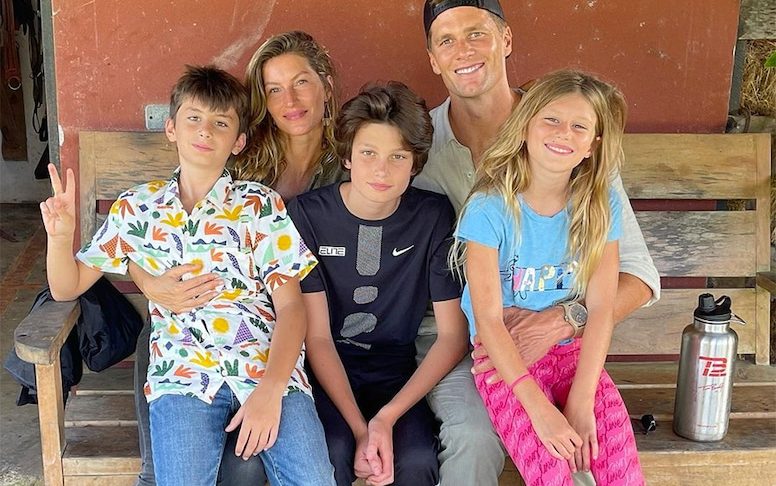 Bündchen wrote about her priorities and life importance in her book Lessons: My Path to a Meaningful Life saying,
"It made me think about what he might be hearing at school about Tom and me that he doesn't tell us about. I told him, that a celebrity is someone who works at a job that is more visible than other jobs. Doctors, dentists, teachers, farmers – they all do very important work."
According to reports, Bündchen's main reason for divorcing the NFL player is family, as she wanted him to prioritize kids over anything else in his life. However, after their split, Brady is more focused on his career and spending more time with his children. On the other hand, the 42-year-old supermodel recently purchased a beach house near Tom Brady's home in Miami, probably to stay close to her children.
Also Read: 'It rarely ends well when guys bring their girls to training': UFC Veteran Jake Shields is Team Tom Brady, Hints Gisele Bundchen's New 'BF' Joaquim Valente is Too Weak To Handle Her
Gisele Bündchen Shows Love For Stepson
Within a month of the former couple's divorce getting finalized, the supermodel commented an emoji of a red heart underneath a photo of Brady and her stepson, Jack, on Instagram. On Wednesday, the Tampa Bay Buccaneers quarterback shared a snap of the 15-year-old practicing with him on the football field on his Instagram account, showing the boy and the quarterback joking around.
Brady, who was in the picture's background, captioned it, "My Inspiration." There were thousands of comments, including one from a 42-year-old Brazilian model. Despite ending his 13-year marriage just a few days earlier, Brady said he was focused on being the best dad he could be. As the athlete recalled how his parents paved the way for his success, he expressed his desire to become the same for his children. Bündchen filed for divorce from the seven-time Super Bowl champion in October after they had gotten into an "epic fight" over his decision to "un-retire" from the league.
Also Read: While Gisele Bundchen Finds Love In Joaquim Valente Mere Days After Divorce, Tom Brady Does All He Can To Make Son's Thanksgiving As Wholesome As Possible
Source: Hola!