Hollywood actor-comedian Craig Robinson was recently evacuated from a North Carolina comedy club after a gunman opened fire at the venue. That situation was serious that the event was canceled however there are no casualties reported, with the comedian shared his experience in a video he shared on the social media platform.
You May Also Like: 5 Worst Things Jake and Rosa Did To Each Other
The 50-year-old actor-comedian is popularly known for portraying his roles as Darryl Philbin on the sitcom The Office, and Doug "the Pontiac Bandit" Judy on Brooklyn Nine-Nine. This year, he came back with Killing It, which was renewed for a second season in June 2022.
Craig Robinson Evacuated From The Comedy Club Event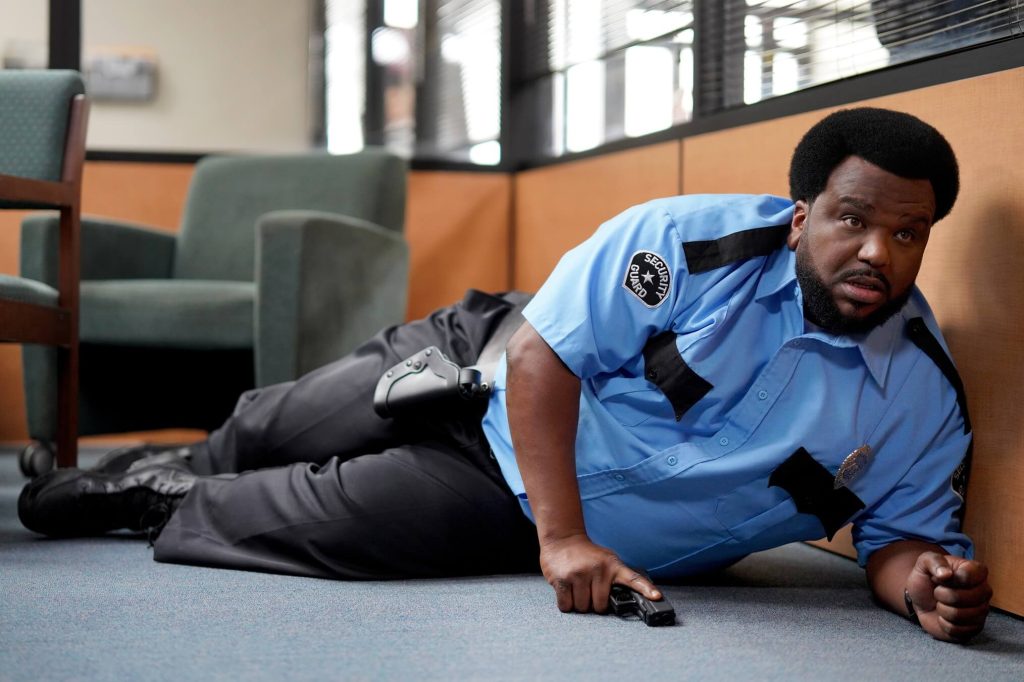 Also Read: Fans Are Freaking Out as Lego Unveils Cheap $120 The Office Set
The Office star was ready to perform at the North Carolina comedy club when a man entered the premises around 9 p.m. local time and brandished a gun. The venue was immediately evacuated after the alleged gunman discharged his weapon. According to the Charlotte-Mecklenburg Police Department, "there were no injuries and the suspect was taken into custody."
Robinson shared a video on Instagram showing his gratitude to the venue and local authorities for their quick action. He shared, "Thank you, everyone, for your outpouring of support and well wishes," adding, "Hopefully he gets the help he needs."
Also Read: Kim Kardashian Asks Pete Davidson to Shower With Her on Live Camera, Internet Hails Comedian's Reaction
He gave a further insight on the situation, sharing, "It's cool. We cool. It was just wild. I was in a green room and they [were] like, 'Everybody get out,'" he said later in the video. "It was a moment for sure."
Fans Reacting To Craig Robinson's Comedy Club Event Open Shoot Escape
You May Also Like: Fantastic Beasts 3 Projected To Fall Behind The Bad Guys In Box-Office Collections
In the same post, he explained that he was instructed by police to relocate to a nearby theater while authorities were handling the situation. He was sent to the Metro Credit Union Amphitheater where American Pop band Big Time Rush(consisting of Kendall Schmidt, James Maslow, Logan Henderson, and Carlos PenaVega) was performing a concert.
Fans were relieved that everyone there was safe as the open fire could have harmed people but thanks to the authorities' quick action, everyone was safe.
Also Read: 5 Reasons What We Do In The Shadows Is The Most Consistently Funny Show
Check out the tweets below.
not the "Pontiac Bandit" pic.twitter.com/SI4qbwzc3E

— Al Bundy (@4tds_bundy) July 17, 2022
Only one thing we can do – arm the comedians!

— Alan Smithee (@AlanSmitheeChi) July 17, 2022
That's a shame. Hopefully everyone was ok

— Hunter B-15's Memories (@Loki_The_Bussit) July 17, 2022
First off, I'm glad everyone is safe. Secondly, this guy is a comedian?!!!!!!!

— Dave (@00bigWaveDave) July 18, 2022
Oh thank god the most important life was evacuated.

— Rex Mantlepiece (@DerekP23) July 17, 2022
According to the reports, The Comedy Zone had canceled both of Robinson's planned events. While they are grateful that their staff took quick action and evacuated everyone from the scene.