Halloween may still be a few days away, but Kylie Jenner and Hailey Beiber seem already prepared. The 25-year-old beauty influencer posted pictures covered in green body paint in Hailey Bieber's bathtub on Wednesday night and Hailey Bieber posted snaps of Kylie Jenner laying in the tub, cuddling up to a fake skeleton.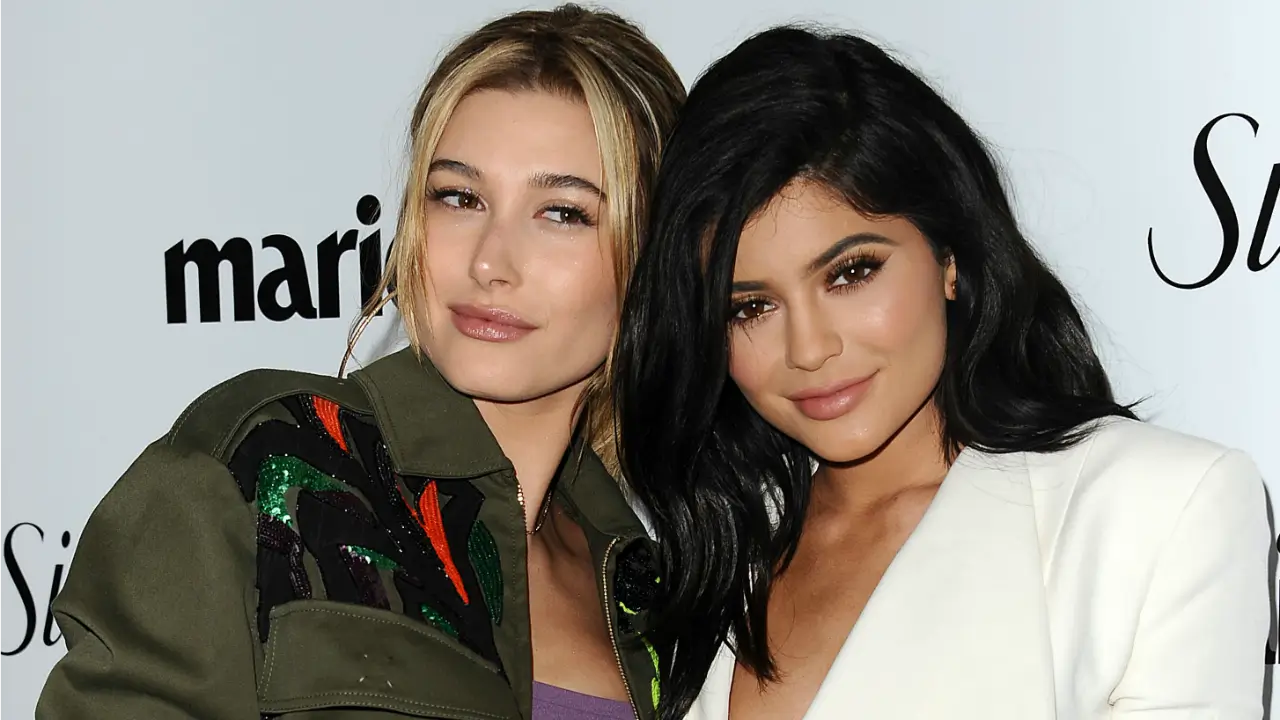 Also read: 'You're the brains behind the entire organization': Ellen DeGeneres Slyly Hinted Kylie Cosmetics Success Was All Kris Jenner's Doing, Kylie's Billionaire Status is Too Good To be True
It's clear that as a beauty icon they can rock any look and they were just having a little fun, enjoying the Halloween mood in a green tint. Hailey Beiber dressed up in a black witch's hat in the series of snaps that she posed in front of a mirror and captioned "SPOOKY SEASON COMMENCE." As soon the photos surfaced on the internet the viewers didn't step back from trolling these two.
Hailey Bieber's Green Halloween Look Gets Trolled on Twitter
The photo of Kylie Jenner cuddling a skeleton was posted without a caption and Khloe Kardashian didn't take so long to drop a comment writing "Wtf is happening." Even the mom, Kris Jenner seems confused and wrote "OMG what's happening over there????." These girls are both known to go all out for Halloween, especially Kylie Jenner often one of the first celebs to show off her massive decorations, and she always goes crazy with not only her own and  costumes, but her daughter, Stormi's, as well.
Related: "He crossed the line": Justin Bieber Reportedly Breaks Friendship With Kanye West After Brutal Attacks On Wife Hailey Bieber, 'Peaches' Singer Hurt With Nose Job Accusations
Twitter reaction:
Neither, they look like Shrek's wife Fiona.

— Jane Flowers (@jane_flowers_) October 15, 2022
Who'd I rather never haVe to see or hear from again?

— MADHATTER (@madhatterdtea) October 15, 2022
Kylie is kinda mid now.. too much work being done

— Ryan (@theReelRyan) October 15, 2022
Cringe AF

— StocksMakeMeRich (@StocksMake) October 14, 2022
neither. they're both dumpster fires ruining society. Find real women to support with good values, morals, and don't abuse men.

— 🫥👻 (@randixlynn) October 14, 2022
The model didn't caption the Kylie snap, letting the photo speak a thousand words, her comments were flooded by family and friends wondering exactly what the two were getting up to. Hailey Beiber has been always a target of online trolls, previously she hopped on TikTok to issue a direct message to people trolling her on social media but that's not stopping them. People have been pointing out her Halloween green look by saying it's not matching her standards and said "you're better than this."
Related: "I don't think that's something I would be comfortable with": Hailey Bieber Reveals Her Sexual Preferences With Justin Bieber, Says No to Threesomes
Hailey Bieber Teases Kylie Jenner's Spooky Halloween Costume
Considering Who's in My Bathroom is the name of Hailey's most followed vlog series on YouTube, followers quickly started speculating that the beauty influencer was an upcoming guest on the series. Kylie Jenner also posted their witchy dairies, sharing a TikTok of the two friends wearing green body paint and Wicked Witch costumes with black tights and black boots while out and about getting pizza. Justin Bieber also joined in the fun but failed to dress in the theme, instead decided to dress as a construction worker.
Source: Twitter