Rihanna and A$AP Rocky are parents to a beautiful baby boy since early last year. They were excepting a child when the singer showed her baby bump in January last year. The couple has been busy spending the festive season with their little bundle of joy. The new mother has shared her son's picture through a TikTok video revealing his face for the fans.
After the arrival of her son, the Barbadian singer and the rapper have been in the spotlight for taking their relationship one step further. Allegedly, they have thought of tying the knot and expanding their family. Their son, whose name hasn't been revealed yet by the singer, has changed Hollywood's most fashionable duos life.
Read More: Kylie Jenner Copies Rihanna Once Again as She Duplicates Wardrobe That Rihanna Made Iconic When She Was Pregnant Mere Months Ago
Rihanna and A$AP Rocky getting married soon
Rihanna and A$AP Rocky have been together since 2012, even though they had an on-and-off relationship since the beginning. The couple became parents to a beautiful baby boy last year and are currently enjoying parenthood. The Diamonds singer and her beau have reportedly thought of taking their relationship a step further by getting married but dropped the idea due to the singer's pregnancy. Now that they have welcomed their son, the couple is ready to get married and expand their family.
A source revealed that the Umbrella singer is planning a beach wedding next month. She has specifically chosen February since it collides with her 35th birthday. The source also confirmed that the rapper and RiRi are thinking of expanding their family. The couple also hinted at the 34-year singer walking the aisle with a baby bump, and they don't plan to stop on just two children.
The source added that becoming a mother has changed the life of the We Found Love singer in every way. The new parents are loving their parenthood experience.
"It's brought them so much closer as a couple. Ri wants a big family – she doesn't see any need to hang around and feels ready now her body has fully healed and recovered from the delivery in mid-May", the source revealed.
The couple has been thinking of getting married for a while but put that idea off since there were other things to focus on. But they have now settled with their little son. The singer wishes to be a mother of four children and she especially hopes to have twin baby girls.
Read More: 'She's trying to be Megan Fox': After Copying Beyoncé and Rihanna, Fans Convinced 'Unoriginal' Kim Kardashian is Copying Transformers Star for Fame
Rihanna and A$AP Rocky have a long history together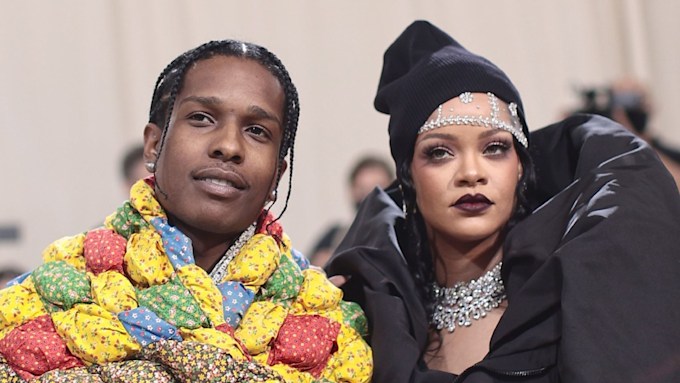 The couple were good friends for decades and have always been private about their relationship. They confirmed the news of them dating in 2020 and becoming parents in 2022. Their professional partnership started in 2012 when they sang Cockiness as a duet at the MTV VMAs.
Since then, the couple has been spotted together at various events but kept denying the news of dating. They even kept their pregnancy a secret until the singer showed up with her baby bump last year. Now they are ready to walk down the aisle and expand their family.
Read More: Rihanna Nearly Went Completely Broke By Trusting Unethical Accountants Who Almost Flushed Her $1.7B Fortune in Career-Ending Move
Source: Heat