British supermodel Kate Moss has recently shared about receiving a gift in a very unique way when she was dating American actor Johnny Depp back in the early 1990s. The duo was recently in the headlines when the latter was engaged in a publicized defamation lawsuit with his ex-wife Amber Heard. The supermodel testified in the support of Depp, which helped the latter in winning the case.
Also Read: 'I believe in truth and justice': Kate Moss Breaks Silence On Defending Ex-Lover Johnny Depp, Proves Once and For All Why Amber Heard Can't Be a Real Queen Like Her
The 48-year-old model rose to fame in the early 1990s as part of the heroin chic fashion trend and gained further attention by collaborating with Calvin Klein. She is also a contributing fashion editor for British Vogue who recently appeared in her Life in Looks video for British Vogue where the model was seen recalling her 20 memorable looks since the early 1990s.
Kate Moss Reveals Johnny Depp's Gift
Also Read: That Time Khloe Kardashian Showered Kate Moss With Praise While Amber Heard Calls Her a 'Rando'
Moss in the Life in Looks video recalled an interesting backstory when she saw her look for the 1995 CFDA Fashion Awards, where the model was seen wearing a John Galliano dress and Manolo Blahnik heels with a diamond necklace given to her by then-boyfriend Johnny Depp. The businesswoman shared that she uniquely received that gift from her then-boyfriend.
While talking about the diamond necklace, she shared, "And that diamond necklace Johnny gave me," stating how she got them, "They were the first diamonds I ever owned — he pulled them out of the crack of his a**."
Also Read: 'I grabbed my stuff and ran away': Kate Moss Recalls Harrowing Audition That Nearly Resulted in Sexual Assault and Comeback Story To Become Legendary Super Model
She went on to share that the then-couple were "going out to dinner and Johnny Depp said, 'I've got something in my b*m, can you have a look,' and I was like, 'what' and I put my hand down his trousers and I pulled out a diamond necklace. That diamond necklace."
A Brief Note on Johnny Depp and Kate Moss's Relationship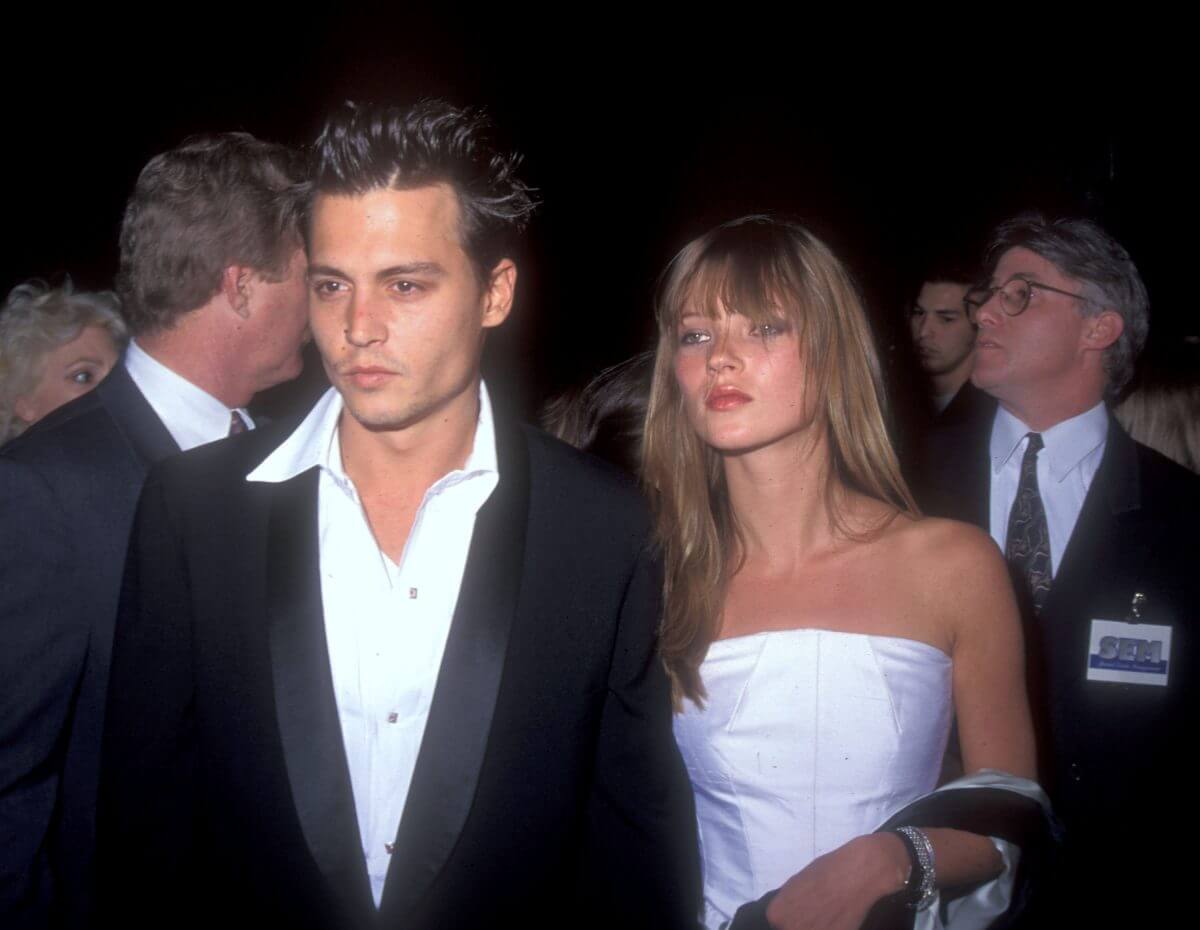 You May Also Like: Fans Target Ted Star for Letting Kate Moss Feel 'Vulnerable and Scared' in Topless Calvin Klein Photoshoot
The duo was involved in a romantic relationship and met for the first time in 1994 at a restaurant in New York, however, the couple broke up in 1998. During Depp's publicized defamation trial with his ex-wife, Moss also testified via video link in the trial, defending Depp from his ex-wife's claims.
Amber Heard, during the lawsuit, claimed that Depp pushed model Kate Moss down a staircase while they were dating each other. Moss denied those claims and shared during her appearance in the BBC radio interview show Desert Island Discs, that the actor has "never pushed me, kicked me, or threw me down any stairs."
Depp won the lawsuit with the judges awarding him $10.35 million while the Aquaman actress was compensated with $2 million for her claim.
Source: YouTube