Kylie Jenner was recently called out for flaunting her private jet on Instagram. She and her partner, Travis Scott, were termed as 'climate criminals' for using jets for a journey of less than 20 minutes from Van Nuys in Los Angeles to the nearby town of Camarillo. She was heavily criticized because her small journey would have emitted tons of carbon dioxide, causing a lot of damage to the planet, which is already experiencing the devastating effects of climate change. However, the Kardashians star is not the only celebrity who is damaging the environment.
Also Read: 'Why Do People Worship These Climate Criminals?': Kylie Jenner, Travis Scott Flaunt New Private Jet Pic Amidst Another Mountain of Fan Uproar
Kylie Jenner is not the only one who uses private jets to travel short distances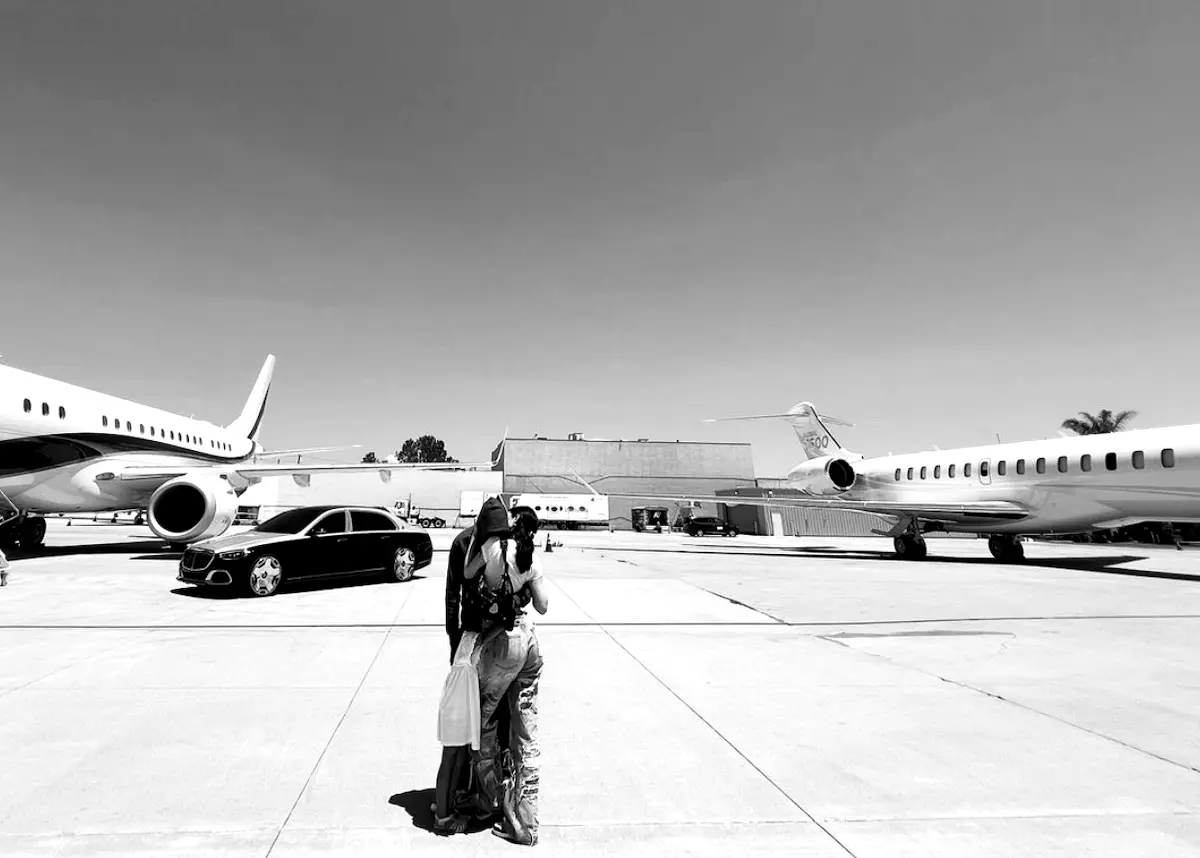 Recently, the Celebrity Jets Twitter account, which keeps track of celebrity flights based on transponders and tail fin marking, revealed big celebrities' flight times and subsequent carbon emissions. The account's information revealed that stars such as Floyd Mayweather, Kim Kardashian, and Drake tend to take flights that last less than 30 minutes and have significant CO2 emissions.
Also Read: 'Reconstructed My Face? Completely False!': Kylie Jenner's Hypocritical Comment on Never Going 'Under the Knife' Defy Science
Climate Law Institute's attorney calls out Kylie Jenner for high CO2 emissions
Scott Hochberg, an attorney at the Center for Biological Diversity's Climate Law Institute, criticized celebrities for using flights to travel short distances and stated,
"These startlingly short flights show the immense impact of the wealthy on overall aviation emissions. The problem starts at the top with Kylie Jenner and other celebrities with private jets, which have a much larger impact than commercial aircraft on a per passenger basis. But it also includes many others, as the US constitutes the bulk of the wealthy elite that have the luxury of flying."
Also Read: 'Lying For Attention Rubs Me The Wrong Way': Kylie Jenner Slams TikToker For Attention-Seeking After He Claims He Heard Kylie's Son Crying
Drake receives criticism for high CO2 emissions
Amongst all the names, rapper and singer Drake's CO2 emissions were the highest due to which he received criticism online.
Canadians will complain about climate change then pay thousands to go to the next Drake concert, acting like he isn't taking his private jet on flights from Hamilton to Toronto.https://t.co/jtISJI6kLB pic.twitter.com/n5lEdSDNNQ

— Temur Durrani (is on vacation!) (@temurdur) July 22, 2022
— Temur Durrani (is on vacation!) (@temurdur) July 23, 2022
Drake just flew 14 minutes on his private jet and made 4 tons of CO2 emissions. That's the same amount of emissions the average person makes in a year. It would have taken an hour to drive the same distance. This is criminal.

— Sommer Ackerman (@lifewithsommer) July 22, 2022
So @drake consumed 5 tons of CO2 on a 18 minute commute from #Hamont to #Toronto?
Is all his generous supply of "plant food" making up for all the heat and lack of rain, @OntarioFarms? #ClimateEmergency https://t.co/8sOMoRBTZ7

— Climate Lens (@climate_lens) July 21, 2022
However, some users also pointed out how Drake was exempted from the criticism due to his gender.
Kylie Jenner:
– 17 min flight Camarillo -> Van Nuys,
– CO2 emissions: 1 ton

🇺🇸: She's a climate criminal!!!

Drake:
– 18 min flight Hamilton -> Toronto
– CO2 Emissions: 5 tons

🇨🇦: He's really busy and the traffic is bad!!!

— Stephen Punwasi 🌋 🚀 (@StephenPunwasi) July 21, 2022
Fuck Kylie Jenner and all rich people that use a private jet as their car. Just so yall know Drake is responsible for 5 times more tons of co2 emissions. Let's keep the same energy for all of them.

— Jam (@mindermannen) July 22, 2022
Hopefully, the online criticism will make the celebrities realize that their actions are causing immense harm to the planet. The realization might stop some stars from using their jets to travel short distances.
Source: The Guardian
Also Read: Despite Astroworld Tragedy Crippling His Public Image, Travis Scott Bags Lucrative Exclusive Performance at Major League Baseball All-Star VIP Party