On the latest episode of Hulu's The Kardashians, socialite Kim Kardashian boasted about how she thinks she is a "shapeshifter" as she wore Marilyn Monroe's famous "Happy Birthday Mr. President" dress for the 2022 Met Gala. The original dress was purchased by Ripley's Believe It Or Not in 2016 for a whopping $4.8 million. The socialite revealed that when she approached them for the dress, they first gave her a replica in order to check if she will even fit in the dress. When she didn't fit in the original dress, she decided to lose over 10 pounds before the 2022 Met Gala. The socialite wore the dress at the event and was later accused of damaging the dress, however, she later denied all allegations.
Kim Kardashian did not fit in the original dress
In the episode, Kim Kardashian explained that before wearing the $4.8 million Marilyn Monroe "Happy Birthday Mr. President" dress for the Met Gala, she was asked to wear a replica, to check if she would fit in the dress. Unfortunately, she didn't fit in the replica, so of course, she wasn't getting her hands on the original. This left her enraged and she then set out on a journey to lose over 10 pounds just to fit in the dress. The famous dress was worn by late Hollywood legend, Marilyn Monroe, when she sang for President John F Kennedy on his 45th birthday. The socialite also said that she had no plans of attending the Met Gala this year as it "would have been difficult to beat last year's Balenciaga-inspired event."
Also read: 'She will leave Kim behind': Fans Claim Kylie Jenner Will Dethrone Kim Kardashian After $750M Fashion Mogul Wears Plunging Halloween Dress To Show Off Her Goddess Curves
The socialite lost over 10 pounds
The iconic dress could not be altered, which means the only way to fit into the dress was to lose weight. That is exactly what Kim Kardashian did as she went through extreme weight loss. She reportedly gave up eating sugar and started eating clean, healthy food. She managed to hit the goal as she lost over 10 pounds in roughly three weeks and managed to wear the dress to the 2022 Met Gala.
Also read: "Is she really sexualizing children characters now?": Kendall Jenner Dresses Up as Jessie From Toy Story For Halloween, Gets Blasted By Fans For Not Even Sparing Children
Kim Kardashian was accused of damaging the dress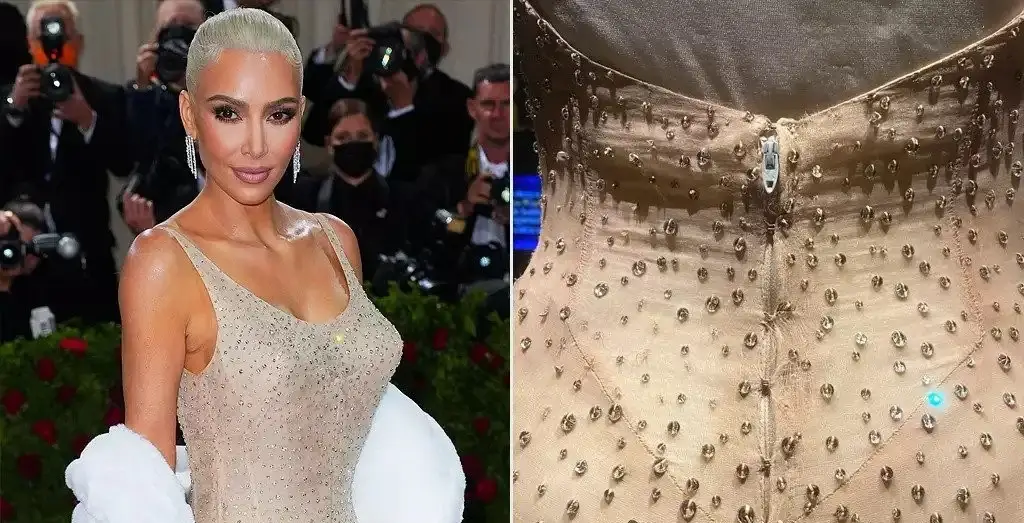 Scott Fortner, who works to authenticate and verify Marilyn Monroe's memorabilia, claimed that Kim Kardashian permanently damaged the dress. He shared some photographs on his Instagram page to show what appeared to be a stretched and buckled fabric as well as missing crystals on the back of the dress.
However, the socialite said she wore the dress for a total of four minutes, after which it was carefully taken off her by professionals, implying that it was impossible to damage the dress in such a short period.
Related: 'Had It on For 3 Minutes': Kim Kardashian Claims It Was Impossible For Her to Destroy Marilyn Monroe Dress
Source: Marca