Thor: Love and Thunder official trailer dropped and we got the first look of Gorr The God Butcher played by Christian Bale. In case, you thought that white creature was Voldemort or Vision who is just painted white, you are wrong! The trailer starts off with Korg narrating the story of Thor Odinson to Interdites. Chris Hemsworth gets to put his abs on display along with Jane Foster's Mighty Thor showing off her new moves.  In the trailer, Chris Hemsworth's Thor is seen "From dad bod to god bod" and there are many other references and easter eggs that you might have missed in the trailer! 
King Valkyrie with a Zeus lightning bolt
In the trailer, Valkyrie played by Tessa Thompson is seen wielding a Zeus Lightening bolt against fighting with the Gorr The God Butcher. To defeat, Gorr, Thor takes the help of Korg, Valkyrie, and Foster in his mission and teams up: It looks deadly and wholesome!
Related, Is Thor: Love And Thunder Hinting at Valkyrie-Jane Foster Thor Romance
Gorr's The God Bomb
To make all the gods throughout the timelines feel Gorr's wrath, The God Butcher uses a God Bomb. In the trailer, it looks like a moon-sized explosive built by Gorr the God Butcher using the designs of Shadrak the God of Bombs to kill all gods across time and space. The Godbomb is the foremost weapon that Gorr uses against all gods which makes it a diabolical threat to the likes of Thor and the Asgardians.
Related, Can Doctor Strange Defeat Thor?
Thor's tribute to Loki through a Tattoo
As the trailer ends, Zeus played by Russell Crowe accidentally removes all Thor's clothes in front of everyone including Jane and Valkyrie. With Thor completely naked and his hands tied, a big tattoo is seen on the back in honor of Loki. With "RIP Loki" written on the back of Thor it also shows the horned helmet that Loki is known for donning in the comics and on-screen.
Checkout, Every Thor 4 Character Confirmed To Return
Thor and The Living Tribunal
When Jane Foster's God of Thunder raises her hammer to the sky to summons lighting, statues of various larger-than-life figures: Death, The Living Tribunal, Infinity, and Eon are seen. The Watcher did technically make an appearance in GOTG Vol 2 which felt like an actual introduction. However, The Watchers, and Uatu in particular, were clearly meant to be put into the spotlight and would be interesting to see what they bring in Thor Love and Thunder. 
Thor's Helmet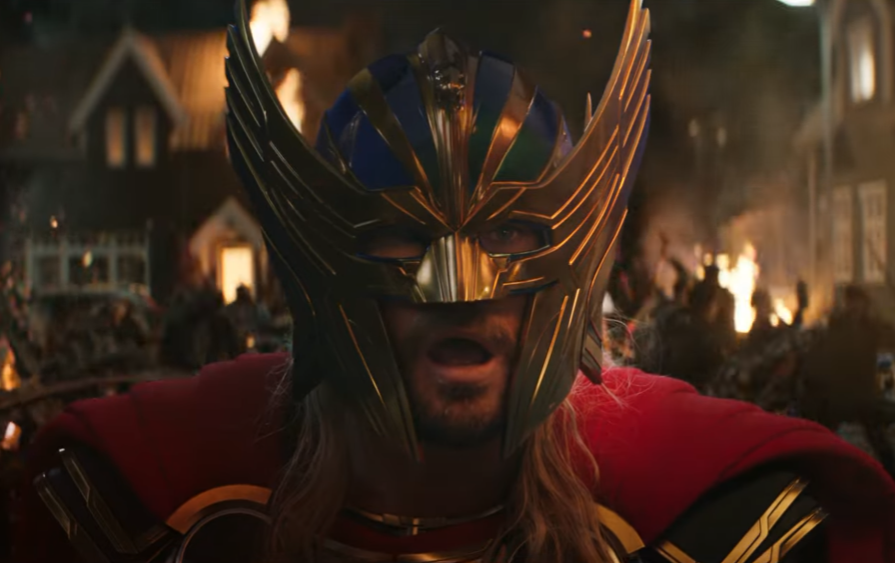 Fans have been a big fan of Thor with his helmet in the past but watching Natalie Portman's Mighty Thor with the same helmet is amazing. In a scene, the helmet seems to be retractable and it vanishes when Thor wants. As the fans spotted the helmet they started comparing it to the helmet from the Peacemaker.