As Titans Season 2 is underway, DC Universe is not wasting any time to put on the flagship as they have no interest to fall the superheroes of new generation in danger as we all know the ultimate villains, Dr. Light and Deathstroke have returned. There are several questions occurred regarding the safety of some characters like Jason Todd and Aqualad and the former Robin Dick Grayson is placed at the center of the series for whom many questions regarding his future. It is heard that He had abandoned his identity and burned his old costume what was sidekick. And also he has left the side of his mentor, Batman. But after all of these things, he still wants to stay as a crime fighter. 
Grayson embraces his identity as Nightwing
It was shown by actor Brenton that, Dick Grayson is a man who wants to train the young generation heroes to shape their future so that they can be prepared for Villains like Deathstroke. But he is still not sure about his own direction. It seems like he would soon embrace his identity as Nightwing for sure. As the new set photos what we were shown, that glimpse of his costume exactly accurate like comic costume. 
Part of the development of his own identity as Nightwing, it might come down as involvement of Bruce Wayne who will be playing an important role in the new series of Titans 2.
What was told to the Fans of Comic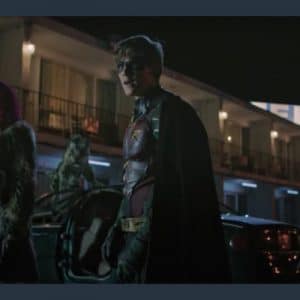 Walker said that it was in the shadows so fans should stay tuned if they really wanted to see Nightwing in this season. And he thought that they would be satisfied by the end of the year.
And Titans showrunner also teased to Comicbook that if fans are really interested, they should expect to have information about Nightwing in the new series sooner rather than later for their own interests. 
So, Walker revealed more details regarding the role of Batman in the Titans Season 2. 
Didn't you catch the trailer yet?
Source: ComicBook, HeroicHollywood