Crisis on Infinite Earths is on the verge of happening across all of the DC Comics TV shows on The CW network. This could quite possibly be the largest crossover event in television history. The event will connect the shows Supergirl, Arrow, The Flash, Legends of Tomorrow, and Batwoman. Many heroes will be making their return during the course of this crossover, including Black Lightning.
Fans were already beginning to speculate whether or not Superman, played by Tom Welling in the series Smallville, would be making an appearance during Crisis on Infinite Earths, when the actor dropped a tease that might be a hint regarding his participation in the crossover event by The CW. This was done under the comments of an Instagram video posted by Tom Welling himself.
Will Superman really cameo in Crisis on Infinite Earths?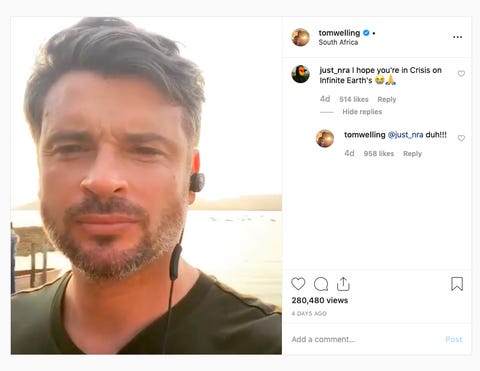 Tom Welling posted a video commenting about the shooting location. A comment was posted under this post that reads, "I hope you're in Crisis on Infinite Earths" and Tom Welling replied, "duh!!!"
This excited his Instagram followers and fans of the show. Most people assumed that this meant that he was indicating that he would obviously be in the show due to the "duh!!!" At the same time, this could just be a joke and might not actually mean anything.
According to reports, he has affirmed that he would be appearing in the season finale of Arrow. The final season of Arrow will concur and run along with Crisis on Infinite Earths.
Hence, it is feasible to assume that Welling would make an appearance as Superman in his costume during the crossover, thereby, quenching the desire of Smallville fans to finally see Superman in costume.
Tyler Hoechlin and Brandon Routh, who both play Superman in Supergirl and Superman Returns, respectively, have been confirmed to return to their roles for the crossover.
The once-in-a-blue-moon occurrence of having three Superman, played by three different people, on screen, is enough to thrill most DC Comics fans.
It is a crossover of truly epic proportions. Crisis on Infinite Earths is set to feature on The CW in December, 2019.
Source: ComicBook, HeroicHollywood