CARNAGE has always been one of the scariest super-villain in MARVEL COMICS. It has always inspired the artist to create something new out of the original character. He's usually depicted as an adversary of Spider-Man and archenemy to Venom. No doubt carnage is the worst and fiercest symbiote to ever exist and Cleatus Kasadus served as the best host for this parasite, they both made a dangerous combination. This character has also made a huge fanbase from around the globe.
Here are few artists who have created amazing fanarts inspired this character –
1. THE ATTACKING CARNAGE BY SEBASTIANSX BUSLOWSKI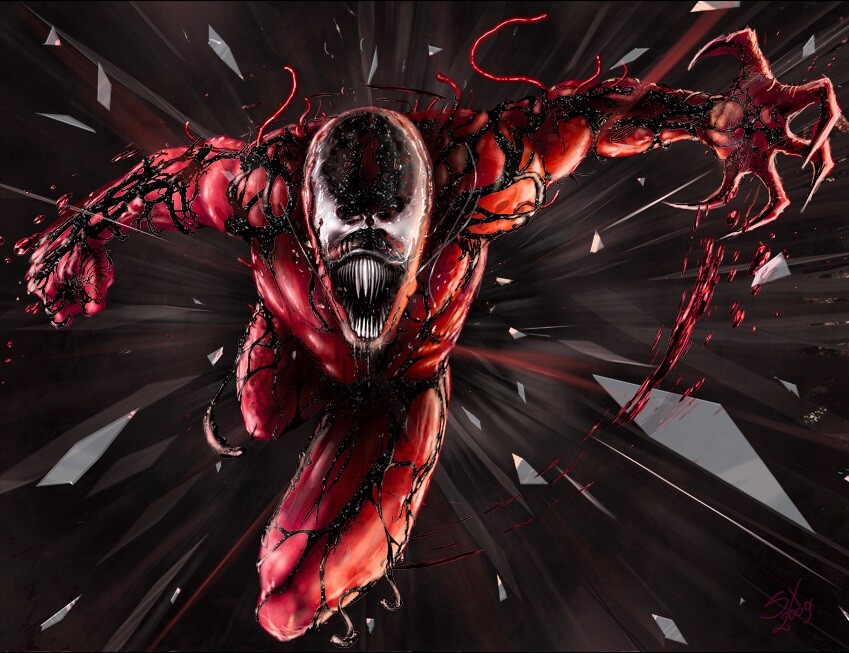 In this fanart you can feel carnage coming towards you, it seems like he's about to attack you. Even the smallest details of this artwork reveal how creative the artist of this fanart would be, no doubt Sebastiansx Buslowski is a talented artist. He has created an amazing masterpiece in the form of this artwork. Everything is so perfect about this artwork, the artist has shown an awesome depiction of art with scales, Hats off to this artist.
2. CARNAGE LOOKING FOR A HOST BY JACKSON CASPERSZ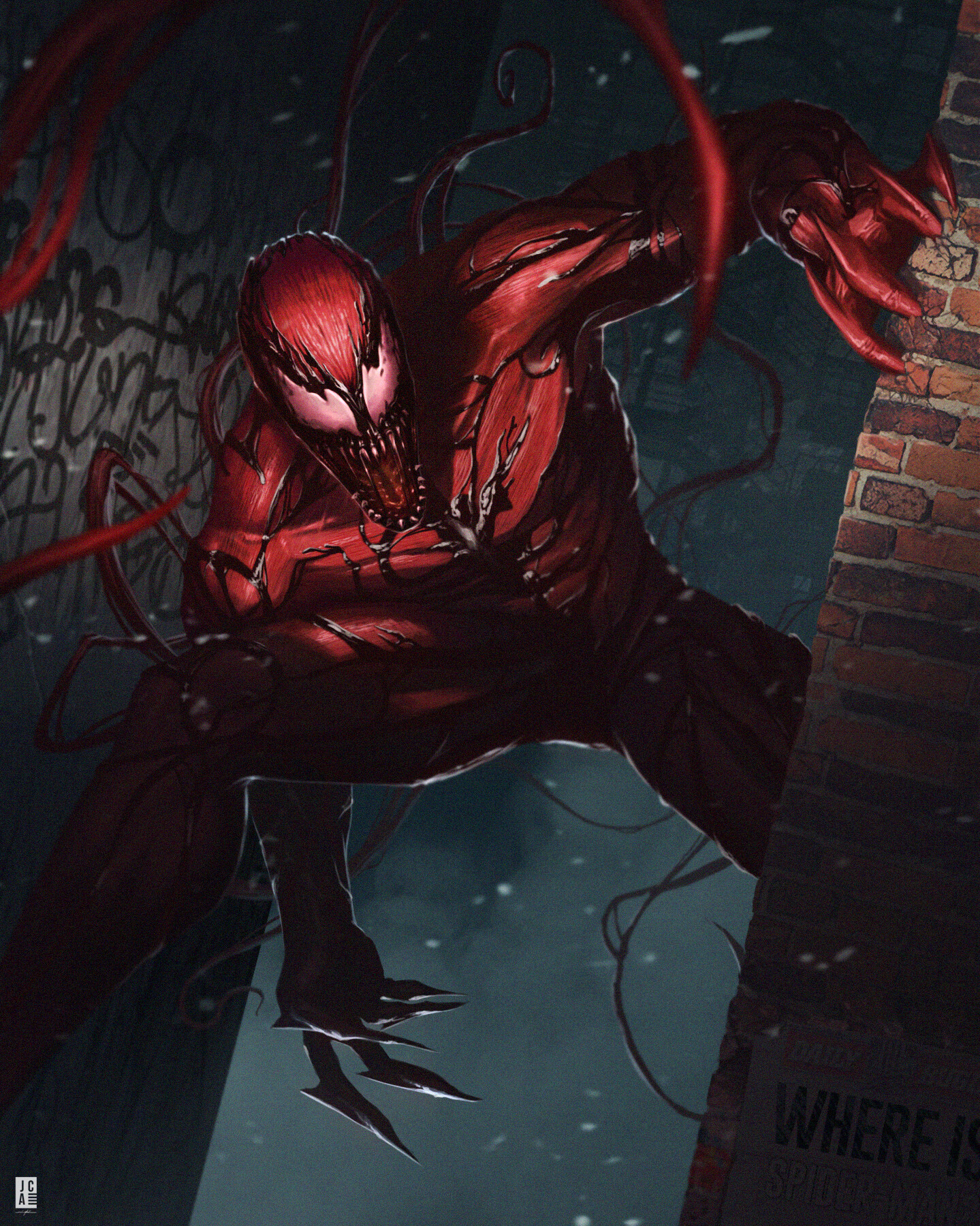 In this artwork carnage seems to be stalking streets, looking for a new host or he's about to attack his enemy. He's hanging on the wall, in the dark which makes it look so scary. The artist of this artwork has worked on every detail so well you might feel afraid to walk alone in the dark, it can even give you nightmares. This artwork is proof that Jackson Casperz is an unremarkable artist.
3. TEOFT'S ABSOLUTE CARNAGE
Here the artist Teoft shows how absolute Carnage would look like, depicting him as the most powerful version of carnage. His only weakness is electricity, making him one of the most powerful and the toughest symbiote to fight out there. This artwork can serve best as a cover photo for any latest marvel comic.
4. ROB BRUNETT'S ARMED CARNAGE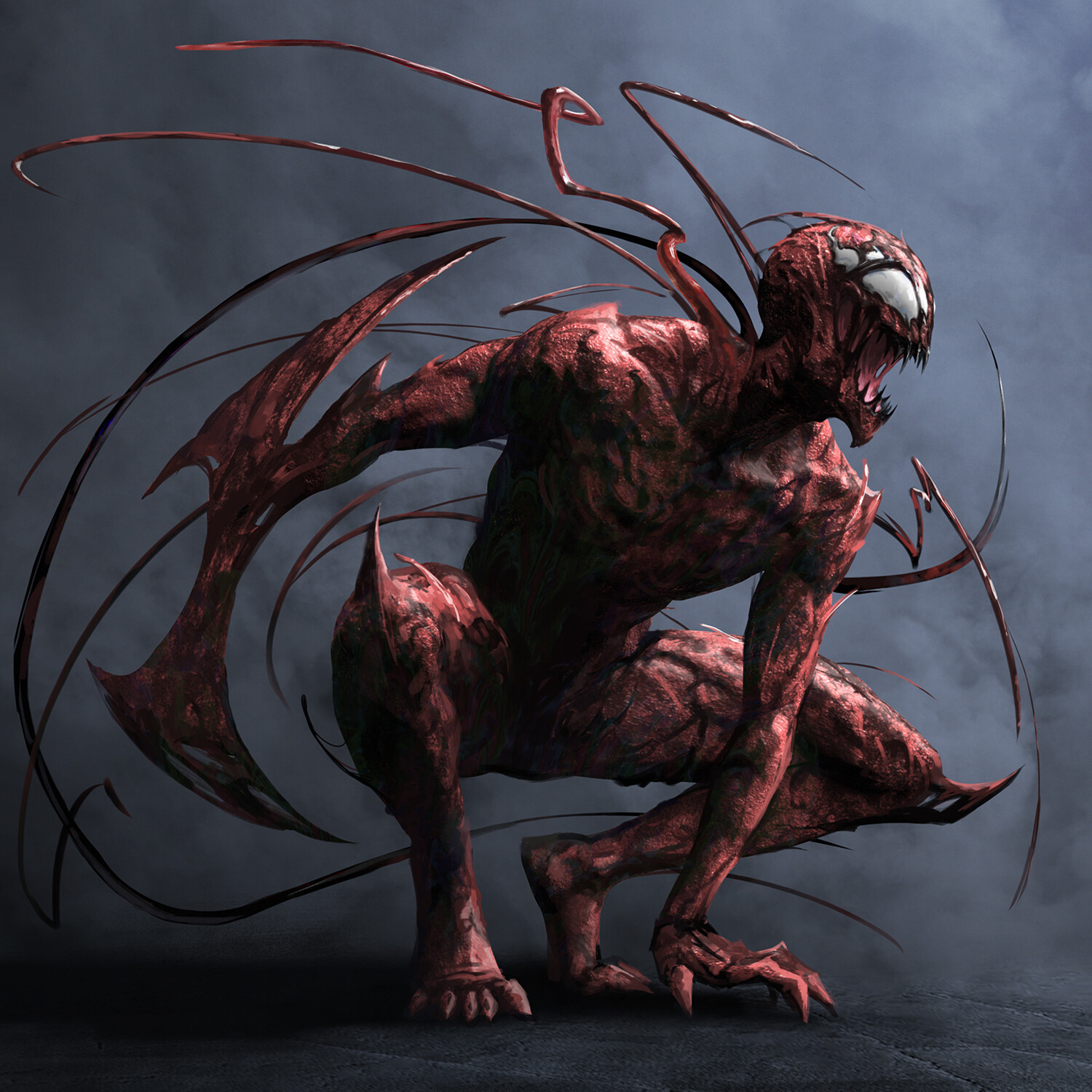 This piece of artwork is created by a very talented artist Rob Brunett. The pose and features of this artwork are what make it look so different from others. It seems like he's about to slaughter someone with his right arm transformed into his signature weapon. It gives action/thriller/horror vibes.
5. EDUARDO SILVA CREATED CARNAGE ENSLAVED DEMON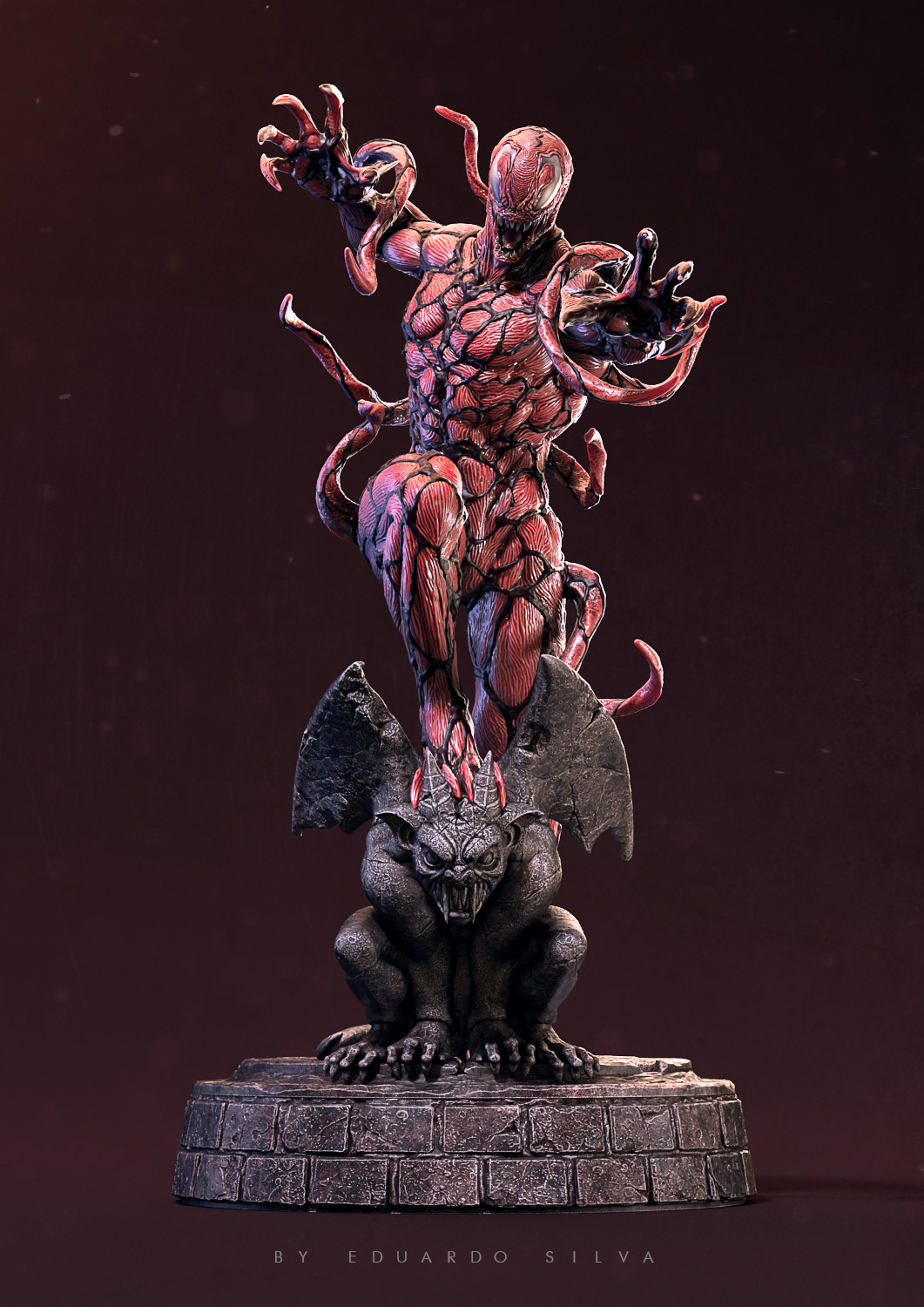 In Eduardo Silva's artwork of carnage, he's standing over a statue of Gargoyle. He looks so terrifying in this one that it seems like Carnage is controlling the Gargoyle, it seems like he has enslaved that statue. This is a tremendous piece of art, words aren't enough to compliment this great artist. Based on ideas and creativity this artwork deserves much more recognition.
6. WOLVERINE CARNAGE BY BLADE OF GOTH
If carnage was a part of the X-MEN series we would have surely seen him in this version. It looks like carnage has found a great host in Wolverine, after Cleatus Kasady. Now, this deadly parasite has possessed wolverine and is certainly a great threat to planet earth. We are speechless on the imagination and creativity of Blade Of Goth. On the appearance, the artist has shown his great knowledge about colors and textures, which makes it a surreal piece of art.
7. SPIDEY VS CARNAGE BY ERIC NGUYEN
This artwork shows, that Spiderman is trying to escape away from the clutch of Carnage. Carnage has been depicted in his vast form and seems like he's about to capture Spiderman to possess him. The artist has perfectly used perspective, kinetic force, and detailing. This artwork deserves to be as a posture for Marvel's upcoming movie about Carnage and Spiderman.
8. THE HAUNTING CARNAGE BY JASPER SANDER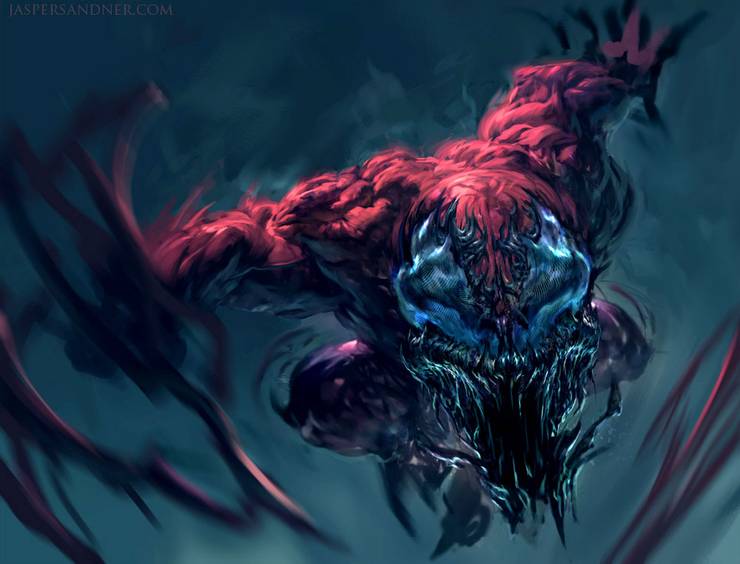 The carnage might haunt your dreams, after watching this artwork of Carnage by Jasper Sander. In this artwork, the artist has drawn viewers' attention in such a way that it will certainly give them nightmares. The artist has finely worked with details, textures, and lighting. the artwork looks so real, that it looks like he might jump out of the picture. Even the venom might feel the chills after seeing this work of art, for instance.