Travis Scott recieved a lot of criticism last year due to the tragedy that took place at his Astroworld concert. During the show, ten people died, including a 9-year-old boy, after fans rushed toward the stage, causing panic and distress among the crowd. Now, months later, the rapper, who has two kids with Kylie Jenner, organized another concert, but it seems like Travis Scott's fans did not learn their lesson the last time.
Fans climb light poles at Travis Scott's latest concert with Meek Mill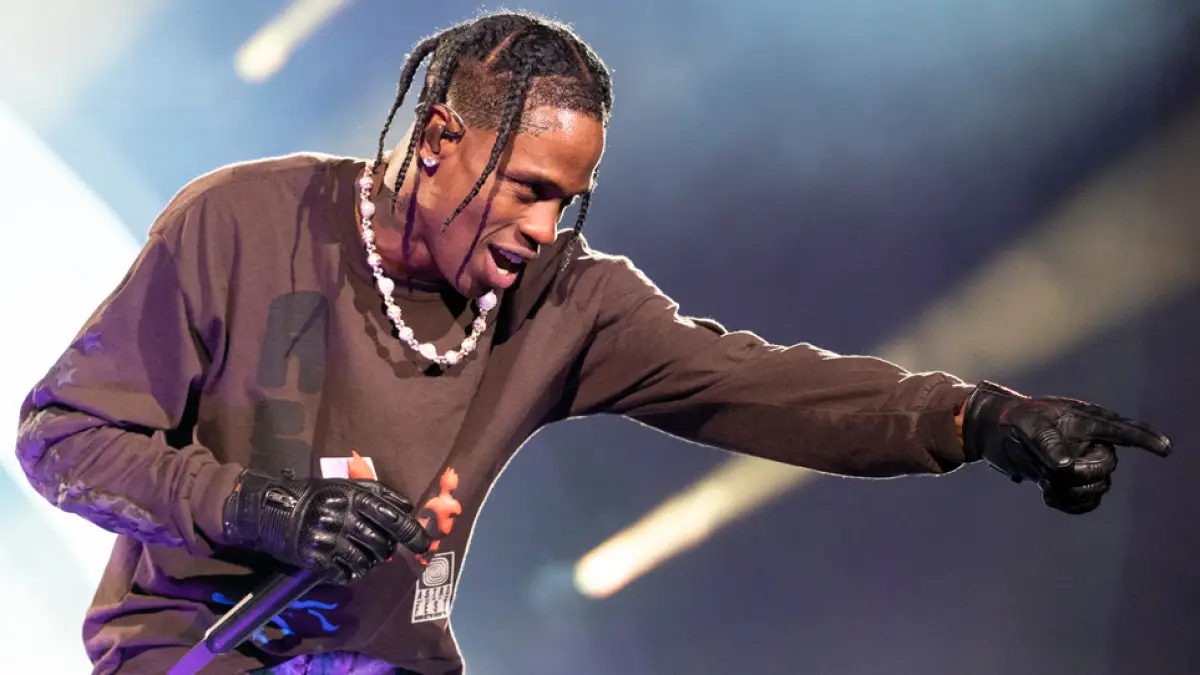 The rapper's concert was held at the Coney Art Walls in Coney Island. The singer performed with Meek Mill and took the stage around 8 pm. Before starting his performance, the singer DJ'ed for a while. However, during Travis Scott's performance, some of the fans climbed on the lighting poles to get a better view of him.
WE LITTT ON THISSSIDEEEE SPIDEY SHITTT pic.twitter.com/KquUzLGQmu

— KEVTHESPIDEYVAMP (@TheTrillpreneur) July 5, 2022
Also Read: 'In Other Words, Ticket Sales Are Low': Fans Troll Travis Scott Citing 'Production Issues' as Reason for Cancellation of First Concert After Astroworld Tragedy
Travis Scott stops concert in order to avoid another disastrous event
Due to the fans' dangerous move, the rapper decided to stop the concert since he did not want another situation like the Astroworld to occur again. The singer had previously been criticized after he did not stop his concert at Astroworld despite the chaos that ensued, but Travis' recent move shows that he has learned his lesson. Moreover, since the arena was fully packed, the event would have turned into a disaster if even one of the fans fell off the light pole.
Also Read: 'Learn from Adele': Fans Troll Travis Scott's Canceled Concert After His Infamous Astroworld Tragedy, Claim It's Divine Intervention
Twitter users make fun of Travis Scott and his fans in light of the recent incident.
Twitter users have been reacting to the recent concert incident and criticizing Travis Scott's fans.
If he's not careful he will end up with same problem as pantera. People need to learn… sometimes fans be crazy.

— josh holt (@josh_holt89) July 6, 2022
He probably played the whole situation back in his eye like Raven did

— 🐻 (@SantanMinaj2) July 5, 2022
his fans selling his shit

— ᴡᴏᴏᴅᴢʏ 💫 (@Woodzy31) July 5, 2022
Though Travis did the right thing I will not be surprised if this causes a decline in his fanbase

— Gareth harriott (@Garethharriott1) July 5, 2022
Him seeing a fan dangling from a light pole: pic.twitter.com/RKVYJtN9uw

— JJ 🪬🪐 (@enterglaticgod) July 5, 2022
Hopefully, the rapper's fans will realize that they must follow the safety protocols to avoid being injured or killed during his concerts. Moreover, he needs to equip his shows better to prevent such dangerous incidents from happening again.
Source: Marca
Also Read: 'Not Even Allowed To Spend His Own Money?': Travis Scott Fans Defend Him After Astroworld Victim's Family Blasts Him For Purchasing Bugatti