Good news Horror fans, the saga of Michael Myers isn't over yet. At San Diego Comic-Con fans got an interesting announcement, Two Halloween Movie's will be released 364 days apart, yes that sounds familiar as Avengers Endgame done the same. Let's discuss the upcoming sequels.
HALLOWEEN KILLS
In October of 2020 'Halloween Kills' will be released, Jamie Lee Curtis is set to return. It's a sequel of the 2018 sequel/reboot and SPOILER ALERT! Something tells me Michael Myers didn't die.
https://www.facebook.com/361696707711288/posts/459884581225833/
(Teaser Trailer)
Fans of the franchise are more likely excited and nervous about the two upcoming final chapters, Halloween Kills will be released on October 16, 2020 (USA) we just hope it doesn't loose it's quality as the 2018 installment had the second biggest opening weekend for a horror movie.
And then in 2021 the conclusion will happen (until he returns) with 'Halloween End's' this is said to be the more exciting film, Jamie Lee Curtis is returning and hopefully she won't be killed off!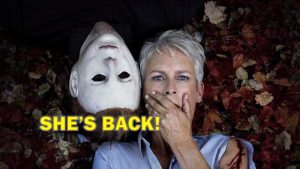 Will it actually end?
The most asked question is will the franchise end? Our answer is absolutely no. Although this is just an estimated guess why would Blumhouse end a successful money making franchise? Although people may get tired of Michael Myers slashing babysitters it's easy to make changes to the franchise! Blumhouse should make a completely different movie – not like anything before, and call me odd but a Halloween movie with a Christmas setting sounds like a strange must see for me!, Are you excited about the sequels? Let me know down below.
Halloween 2018 synopsis:
40 years ago Michael Myers murderd six people, but one teenager made it out alive, Laurie Strode (Jamie Lee Curtis) is now a paranoid grandmother, isolating her daughter from the town of Haddonfield and raising her to do one thing and survive, now three generations of women will face off against the boogeyman!