Game Publisher, Rockstar Games is reportedly avoiding issuing refunds for the Grand Theft Auto: The Trilogy – The Definitive Edition. The customers who are affected are now coming up front to voice their frustrations on online platforms. As many GTA fans would remember, there was a certain hype around the modern remastered versions of Vice City, Grand Theft Auto III, and San Andreas, that excitement got perturbed when The Trilogy's release got blasted by players and critics for its glitches, visual style and lack of some overall polish.
Customers Are Asking For A Refund For Grand Theft Auto: The Trilogy – Definitive Edition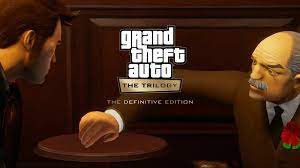 Grand Theft Auto: The Trilogy – Definitive Edition players went on to social media to express their distaste, also going on to post videos of poor rain effects, camera glitches, and much more. Midst all this backlash, an accidental code leak also took place in its PC release. The game was temporarily removed for PC players a few days after its release. However, the game has been restored with some new updates. A few customers who had bought the remastered version had even requested refunds, however, one user report hints that getting their money back will not really be as easy as one might think.
Redditer Rapier1990 wanted a refund for the PC version of GTA: The Trilogy, and posted the same on Reddit on r/GTA. The user also messaged Rockstar Games about the refund on their official customer support website, but a representative from Rockstar Games informed that the trilogy has been updated and if they still want the money back, they may contact the company again. This response came in two days after the user had posted on the platform. Rapier1990 was left amused at this low attempt at the delay and even threatened to take required legal action under the Australian Consumer Law, if the gaming company refuses to provide a refund.
Here's the thread:
This move by Rapier1990 was encouraged by many others who kept pressing Rockstar for a refund, with one even comparing Rockstar's situation with the controversial launch of Cyberpunk 2077 in 2020. However, unlike the situation with Rockstar Games and Grove Street Games (which is the developer), CD Projekt Red eventually offers its customers with a refund for Cyberpunk 2077 after the game found its release in a rather unstable state – which is still seen as an act of goodwill by many – but ended up costing the company dearly.
On the other hand, Thomas Williamson, who is the CEO of Grove Street Games stated that the is currently "enjoying" the certain scrutiny his company has found itself under, in the recent events of GTA remastered version backlash, focusing on the updates that Grove Street Games has in slate for the remaster rather than the current outrage shown by players. While GTA: Trilogy can get improved over the years, thanks to these updates, some users who bought the game at its release are now demanding their money back.