The trend of a post-credits scene is something that's really hot these days. Sony's Venom was no different and it did offer a couple of post-credit scenes.
The first one, ie. the mid-credits scene features Brock visiting a prison on a request and when he gets there, we find out that the serial killer has to tell some important details to the FBI about the murders but he has only on one condition, he wants to confront Eddie Brock.
Eddie is led down the hallway by a guard who warns him about the prisoner, named Cletus Kasady. Eddie then enters the room where Kasady was already waiting for him. The character is played by Woody Allen, wearing a weird red wig and warning Eddie of the terrible things to follow. It ends with Kasady promising Brock that he's bringing Carnage with him.
For all those who don't know, Carnage is another symbiote who has all abilities if Spider-Man and Venom. Like, super strength, insane stamina and what not. And on top of all this, Carnage is crazy. He's like Joker getting superpowers.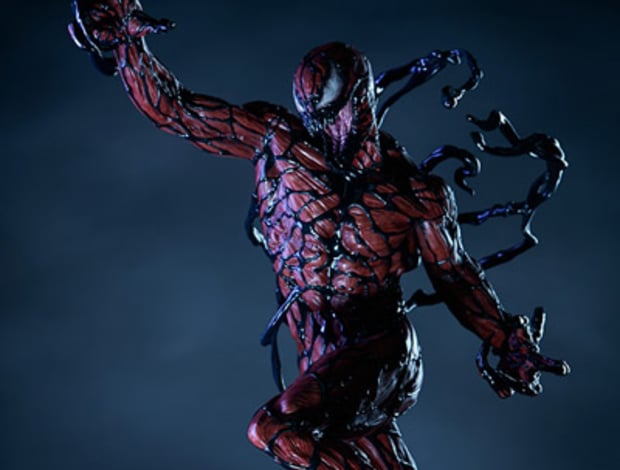 Carnage was born out of Rapture in the comics, which is a way to reproduce evolutionarily. This means that the offspring will be different and more advanced than the parent symbiote. Carnage is also known for using his body parts during combat, as the make lethal sharp-edged weapons.
So, probably with this, Sony has teased a sequel, if it happens at all, with Carnage as the villain. Now, Venom is powerful but Carnage is CRAAAAAZY powerful and his greatest asset isn't his suit or speed or strength, it's his host. Kasady has been a psychopath since he was 8. For Kasady, peace is just an illusion, as he was a physically abused child which later prompted him to take the wrong road.
Carnage has also been killed on numerous occasions, but he always comes back to life in the comics. For now, the possibility of a sequel largely depends on how Venom fares at the box office. Hardy has been signed for a three-film deal with Sony in order to build Sony's Universe of Marvel Characters. Here's what Hardy said:
"I'm open to whatever you want to do with it. We've signed up for three of them. So it's very much an open case. We'll see what people's responses are to it. I think it's an awesome character. I love playing both of them. It's an amuse-bouche, and for Sony, it's the Venom-verse launched in isolation, as it were. We all prepped for it to be a standalone universe. So whatever Sony want to attach to it at a later date, it's a fulcrum piece. But let's see what happens when it lands".
Venom is out in theatres now.