Leon Edwards and Kamaru Usman faced off again at UFC 278 and this time the outcome was different. Leon Edwards went on to end the unbeaten streak of Black Panther star. The former UFC welterweight champion finally has a loss on his record since he joined UFC. Last Saturday, Usman lost to Edwards in round 5 when the latter landed a stunning head kick against the Champ and took his title.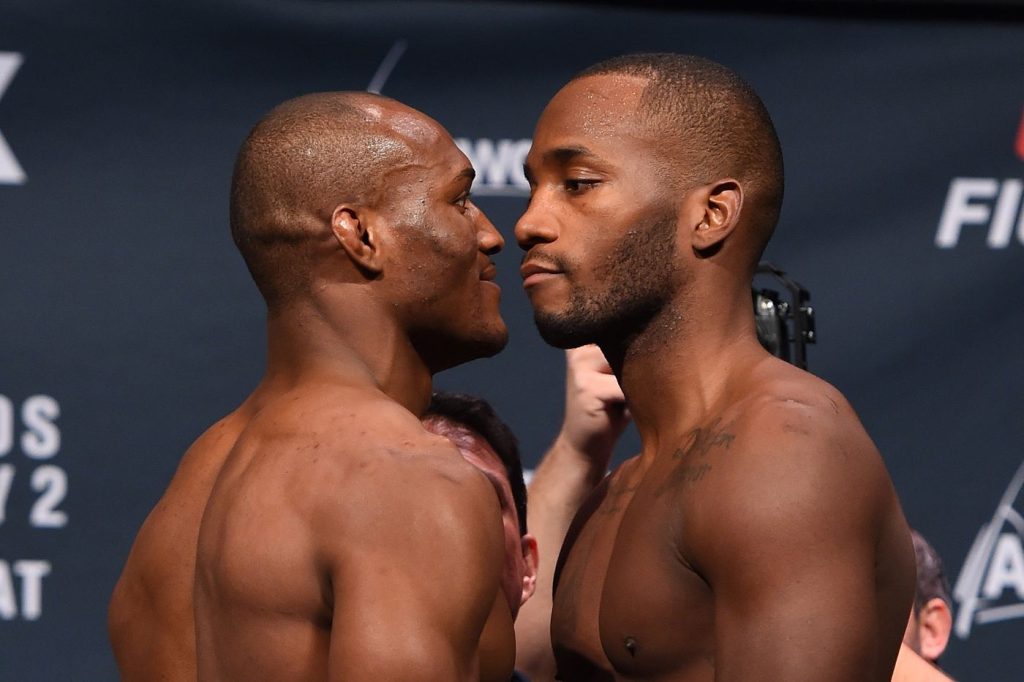 Also read: 'If He Identities as a Woman, Go Ahead': UFC Champion Michael Bisping Blasts Brad Pitt
The Legendary Fight between Leon Edwards and Kamaru Usman
The fight in itself between Rocky and Usman was nothing short of surprises, to say the least. It does not happen in every sport that players can dominate their opponent throughout the match and then lose at the last minute. In an extremely climatic fight, Rocky was about to lose in less than a minute by decision had it not been for that knockout kick. The kick that changed the lives of both the competitors forever.
Also read: Justin Bieber Once Taunted Top Gun Star Tom Cruise For a UFC Fight With MMA Legend Conor McGregor As Host
Many big names in the sports world congratulated Rocky for pulling off the greatest upsets in UFC history. Amid celebrations by fans and UFC enthusiasts, an edit of the fight's highlights made it to Twitter and went viral. A fan made an edit with the Edwards' coach talking to him and overlayed the Rocky Theme song with it.
Chamatkar Sandhu shared the Legendary edit on his Twitter
The famous Social Media producer Chamatkar Sandhu shared the edit on his Twitter and the fans went wild.
I've lost count of how many times I've watched this. Chef's Kiss on the edit.
Leon Edwards x Rocky soundtrack 🤌pic.twitter.com/kakZ4USBBi

— Chamatkar Sandhu (@SandhuMMA) August 22, 2022
The edit is 'Chef's Kiss' indeed. Fans reacted to it wholeheartedly and it was welcomed by the community quite well.
One of the hardest edits this year https://t.co/vwe4hKTm3a

— muckleman (@txJokR) August 23, 2022
"There is no tomorrow!!"
What a video, some moment @Leon_edwardsmma 👑 https://t.co/yUaQnUCv50

— Skinny (@JamieBritton10) August 23, 2022
Some fans are well, just hooked to it.
I watch this every other hour of my day 🥹 https://t.co/34LrSKbniT

— Josh (@uhhhjosh21) August 23, 2022
The speech by Leon Edwards' coach was enough to send chills down everyone's spines.
The coaches talk after round 4 gives me chills https://t.co/dRqviXwVvk

— Eric B (@EricB_2495) August 23, 2022
Half of the world is still in shock that this has actually happened and well that is understandable indeed.
I still can't believe this happened https://t.co/l4Id3lQ5Mc

— Harrrrrrrrrrrry (@HarrisonJames94) August 23, 2022
Kamaru Usman is reportedly in 'Good Spirits' after the match and looking for a trilogy with Rocky.
Source: Twitter