This Christmas season, Demi Moore and her family gave a rare glimpse into what the holidays look like for her, her ex-husband, Bruce Willis, and their respective families. This holiday season, the actor is blessed to be surrounded by the love of his blended family. When the couple was married in 1987, they became one of Hollywood's most influential pairs. Though Bruce Willis and Demi Moore ended their marriage more than two decades ago, the two Hollywood couples still maintain a close relationship.
Later, the Die Hard star married Emma Heming Willis through a private ceremony held on the island of Turks and Caicos in March 2009. Fans can feel the warm Christmas vibe from the trio as they pose with their kids. Even though Bruce Willis suffers from aphasia, he has always emphasized the importance of family and unity, as shown in this recent picture.
Also Read: Bruce Willis Reportedly Plays Favorites – Revises Will to Leave Only $3M for His First Three Daughters With Demi Moore While Emma Willis' Kids Get $250M
Bruce Willis' Family Reunion For The Christmas Season
60-year-old Demi Moore shared a family photo on her Instagram handle on Tuesday with her ex-husband the Die Hard actor Bruce Willis and his family. With Christmas just around the corner, Moore and Willis gathered their kids-Rumer Willis, 34, Scout Willis, 31, and Tallulah Willis, 28-as well as Willis's second wife, Emma Heming Willis, and their daughters Evelyn Willis, 8, and Mabel Willis, 10.
Despite Bruce Willis revising his will to leave only $3 million for his daughters, the actress put on a brave face, and Moore supports her ex-husband and sets to celebrate Christmas together as a family.
Moore Captioned the rare family picture, "We are FAMILY!! Getting into the holiday spirit!"
Willis holds Tallulah's dog, Pilaf, as the blended family poses in front of a garland-adorned staircase. Willis' now-wife Emma Willis commented on that picture and wrote alongside a heart emoji, "What a fun evening."
Earlier this month, Tallulah shared a picture on Instagram of her pet locking eyes with her mom Moore while she posed next to her father, Willis.
Also Read: 'I'd have loved to kiss her but Brad was my friend': Bruce Willis Refused To Kiss Jennifer Aniston in FRIENDS Because He Knew Brad Pitt Would Feel Bad
Bruce Willis Leaves Little For Daughters With Demi Moore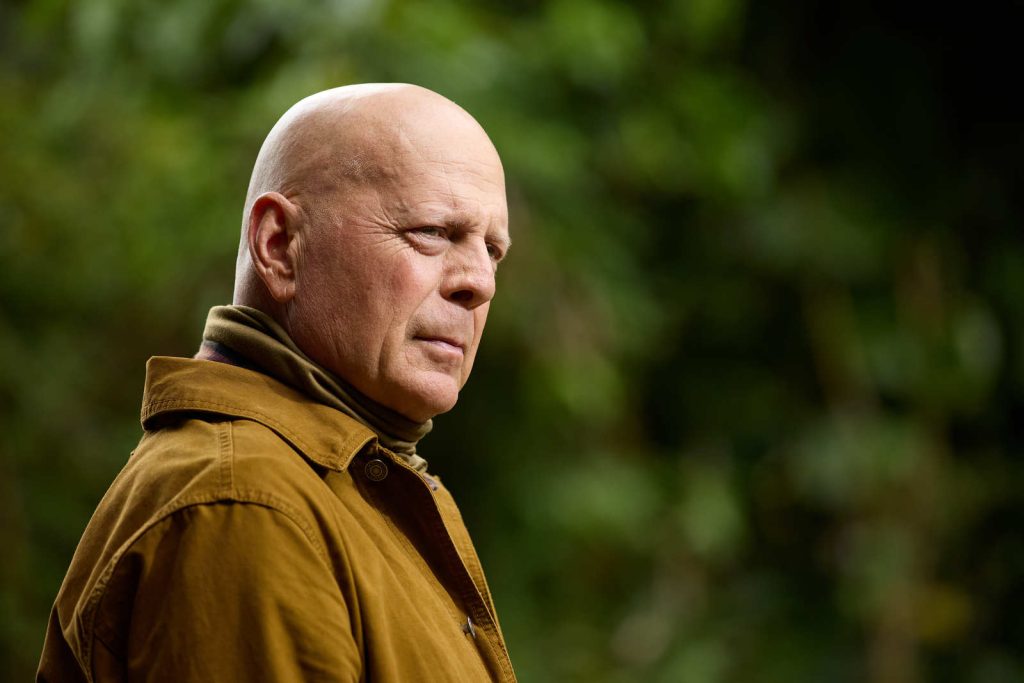 In a revised will he made before his Aphasia diagnosis, Bruce Willis reportedly left very little to the daughters he shares with ex-wife Demi Moore from his $250 million fortune. It has been reported that he left just 1% of his wealth to his three older daughters, Rumer, 34, Scout, 31, and Tallulah, 28, giving them a share of just $3 million collectively.
According to the source,
"Bruce wanted to ensure his young family was taken care of. He believes Rumer, Scout, and Tallulah have gotten the best of what he has to offer financially throughout their lives."
The insider added,
"Bruce's will was redone years ago after he married Emma in 2009, was amended after the children were born, and then again when it was clear Bruce's health was failing."
The source added,
"Bruce also believes Demi, worth an estimated $200 million, will always be there for Rumer, Scout, and Tallulah."
Even though his elder daughters can cope without his help, Bruce Willis believes that the younger ones and his wife, Emma Willis, depend on his wealth to live a better life.
Also Read: "Please take a moment to mourn for Demi Moore": Jennifer Lawrence Insulting Hollywood Legends and Calling Herself the First Action Female Lead Leaves the Fans Confused
Source: Instagram