There is no doubt that Kelly Ripa and Mark Consuelos are one of the sweetest Hollywood couples ever. It is a constant delight for her fans to see the Live! host's life unfold, whether it is a s*x talk or a silly Instagram post. Despite being America's favorite host, she revealed in her memoir Live Wire: Long-Winded Short Stories how hard she worked for her 25 years of marriage. However, having become a mother, she found her life more challenging and felt her partner seemed unsupportive. Whether it's about her professional or personal life, Kelly Ripa has experienced the rollercoaster ride of a lifetime.
The couple met in 1995 while Mark Consuelos was filming a screen test for All My Children with the TV host. The chemistry between the couple was instantaneous, and their relationship blossomed after she joined the daytime drama. They eloped to Las Vegas in 1996 and were married within a year of dating.
Also Read: "We shouldn't be doing this": Kelly Ripa Nearly Broke Her Marriage With Mark Consuelos Over Bad Omen, Was Consoled After Iconic Talk Show Host Assured Her
The Secret To Kelly Ripa's Long-Lasting Marriage
Aside from being an incredible television host and actress, Kelly Ripa is one of Hollywood's most beloved stars because of her bubbly personality and friendly demeanor. It was lucky for Ripa that her husband and in-laws supported her during her difficult time, and she managed her responsibilities as a wife, mother, and family member very well. On the other hand, when talking about her marriage with Mark Consuelos, she revealed that the s*x life between the two had been one of the most consistent aspects of the relationship.
She said in an Interview with PEOPLE when she was asked about her beautiful marriage's spark,
"the one part of our life that has always been very good. Even when we're arguing, it's good."
The Live! host added,
"Mark was too young to get married! On paper, it should not have worked, and when it didn't work, we really worked at it. We fought for our marriage when it was easier to quit and throw in the towel. Listen, my parents have been married for 61 years, and Mark's parents have been married for 55 years. We didn't know any other way."
Ripa also discussed the possibility of becoming empty nesters and the adjustments that would have to be made as their kids have already chosen their career path, but it's just a phase of life. Nevertheless, being a couple, they faced and dealt with every challenge with patience and love.
Also Read: "He's a very persuasive person": Kelly Ripa Broke Her One Rule to Marry Mark Consuelos, Didn't Believe She Was Actually in Love With Him
Kelly Ripa And Mark Consuelos Nearly Broke Up Their Marriage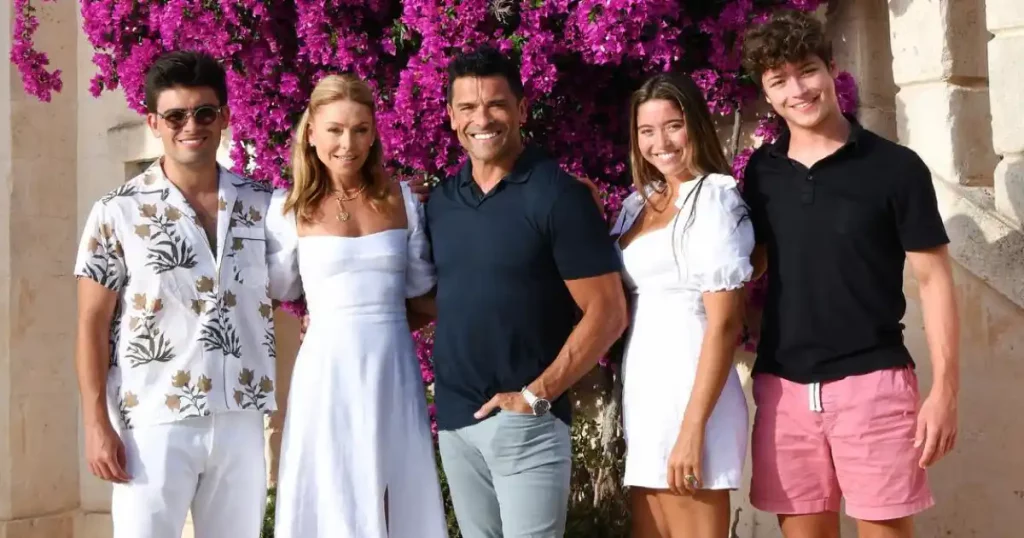 It took the sweet couple just a year to decide to get married after meeting in 1995. In 1996, however, there was a pause in their relationship as they separated temporarily. Before achieving a happily ever after, these two had to face some relationship issues as any other couple.
Ripa revealed on an episode of the Comments by Celebs podcast,
"Right before we got married, we broke up. We broke up and got back together the day before we went off and eloped. Yeah, we eloped. We went to Vegas and got married."
During an interview, Ripa said that Consuelos proposed to her after they reconciled from their short split and asked her to fly to Vegas and marry him. Their wedding occurred at the Chapel of the Bells in Las Vegas the following day. Later, they welcomed their three beautiful kids, Lola Consuelos, Michael Joseph Consuelos, and Joaquin Antonio Consuelos, all of whom have now grown up and chosen their own career paths.
Also Read: "I made him beg for my forgiveness": Kelly Ripa Made Mark Consuelos Get on His Knees For Breaking Up With Her, Eloped With Him Next Day
Source: People