Even though Tom Brady and Gisele Bündchen have parted ways but their children remain a shared source of joy for them. The pair have mentioned their kids being a priority for both. They agreed to joint custody of their two children aged 12 and 10. Brady also has another son whom he welcomed with his ex-fiancé, Bridget Moynahan. People magazine first confirmed the divorce on October 28th. Since then the ex-couple are focusing on their own personal lives.
Recently on daughter Vivian's 10th birthday both Brady and Bündchen took to their social media accounts to post pictures of the birthday girl. The model replied to her ex-husband's post which proved that their children are a common source of happiness for them.
Tom Brady and Gisele Bündchen Interact on Daughter's Birthday after Divorce
After their split a few months ago, Tom Brady and Gisele Bündchen are focusing on their own personal life. The NFL star is concentrating on his game while the supermodel was spotted having a vacation with her kids in Costa Rica a few weeks ago.
Also Read: "In life, you reap what you sow, literally": Gisele Bündchen Gave Up Fashion to Restore 16000 Acres of Amazon Basin While The Kardashians and Taylor Swift Destroy The Planet With Private Jets
And recently on daughter Vivian's 10th birthday, the Brazilian fashion model decided to celebrate it with a visit to Disney World in Florida. Benjamin's 12th birthday is also around the corner and the visit was also in the name of his upcoming birthday. The trip included Bündchen, her two kids, and various friends of hers. Later the mother of two posted pictures of the visit in which she looked happy while having fun with her kids. In one of the snaps, she was seen enjoying a choco-covered Mickey Mouse-shaped ice cream bar. They also took some rides in Disney World.
On his daughter's 10th birthday, the NFL quarterback also showed his love for Vivian by posting a picture of himself with his two kids. He captioned it with,
"Happy 10th Birthday Vivi!"  "We adore you and your beautiful heart ❤️!" and added,  "You bring so much joy to our life!" "We love you 🥰"
The 45-year-old model replied to the post with a red heart emoji. And on one of her own posts of her daughter, she captioned, "We love you so much!❤️❤️❤️"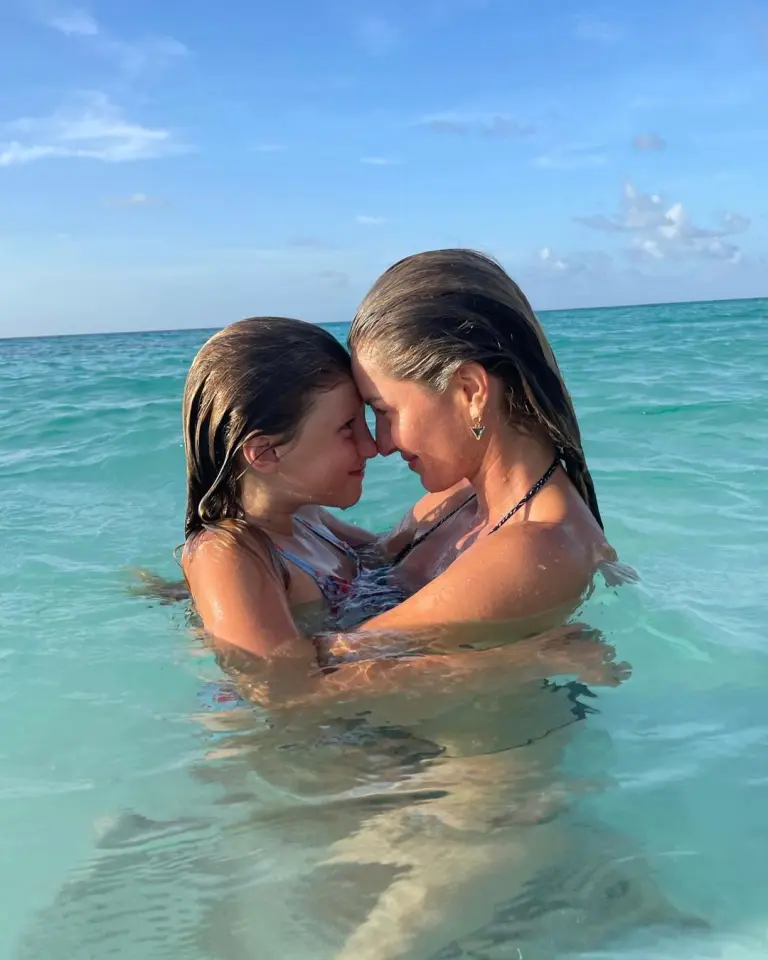 This shows that although they are divorced their children will always be a source of attachment for them.
Also Read: "It wasn't the ideal situation for anyone": Gisele Bündchen Did the Ultimate Sacrifice For Tom Brady Just 2 Months Into Dating, Accepted His Son Jack as a Blessing From Ex-Partner Bridget Moynahan
Why did the two decide to Divorce?
After clear consideration, Tom Brady and Gisele Bündchen decided to part ways after 13 years of marriage. According to them, they arrived at the decision mutually and amicably. Before their official divorce was confirmed on the 28th of October by People magazine, both of them released a joint statement via their social media accounts.
The Tampa Bay Buccaneers quarterback wrote, "We arrived at this decision amicably and with gratitude for the time we spent together". And Bündchen also wrote a similar statement,
"With much gratitude for our time together, Tom and I have amicably finalized our divorce."
Both of them mentioned their children as their priority and source of happiness. Many sources reported that the primary reason for the split had been Brady's decision to un-retire from NFL.
Also Read: "Oh my god, she is my queen witch": Emily Ratajkowski And Mia Khalifa Hail Gisele Bündchen As Their Role Model After Leaving Tom Brady Despite Ratajkowski's Current Lover Pete Davidson Being Favorite To Date Brazilian Supermodel
Source: Page Six