For over three decades, Kelly Ripa has been an integral part of the entertainment industry as a host of Live With Kelly And Ryan. Throughout her career, she built one of the most iconic careers in television entertainment. With her bubbly personality and friendly demeanor, she is not only an incredible TV host and actress but one of Hollywood's most beloved stars. As a member of the cast of All My Children in 1990, she got her first big break in show business.
Following Kathie Lee Gifford's departure from Live With Regis and Kathie Lee in 2001, Kelly Ripa appeared on the hit ABC soap opera for over a decade before landing a hosting gig alongside Regis Philbin. She became America's favorite host but reaching this milestone was challenging. In both her professional and personal life, she faced many challenges.
Also Read: Kelly Ripa Felt Disrespected And Nearly Resigned From Live After Backstage Politics, Reportedly Was Upset With Her Co-Star Leaving
Kelly Ripa Opens Up About Her Life Struggles Before Live
In Bustle's Q&A series 28, they ask successful women about their lives at age 28, what they wore, where they worked, what stressed them out most, and what they would do differently. Back in May 2021, Kelly Ripa also appeared in Bustle's Q&A series 28 interview, where they asked her about her achievements and challenges at 28. It was the year she became a working mother.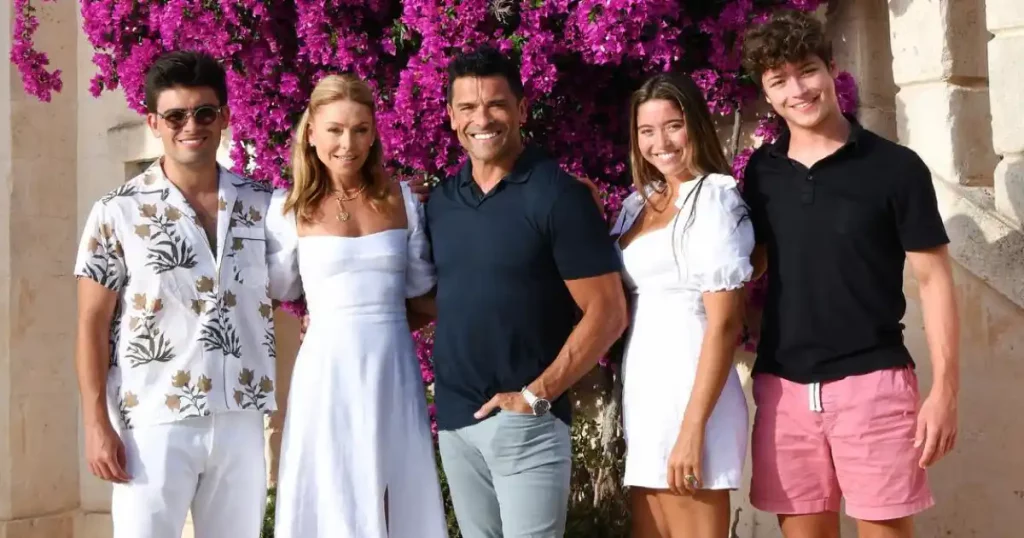 When Ripa was asked what did she like about being 28, she replied,
"My life changed dramatically, only it's taken me until now to realize how isolating it was. I was working full-time on a soap opera. I don't think people understand the hours that it takes to shoot a one-hour drama each day. We used to routinely work 12 to 14 hour days. That wasn't a long day. That was just your basic day."
She added,
"Mark and I got married two years prior in May of '96, and we had our first child in June of '97. By the time I was 28, I had a 1-year-old son, and I was working long hours. I would bring him to work with me. I was the only one of my friends that was married, and I was the only one of my friends with a kid."
Later, she was asked how she felt isolated after becoming a mother then she replied,
"Mark's life stayed exactly the same, and my life changed. And it was just something I don't think I really appreciated until right now, just in thinking about it."
Ripa added,
"When you can't make it to brunch, or you're not going out to dinner at 10 p.m. anymore, your friends lose interest in asking. Not that they lost interest in me, because I still have the same friends now that I had then, but I stopped getting invited to things because it was like, 'Well, Kelly can't come because she's got a kid.' And Mark was still going, he was still traveling."
Ripa also agreed on the fact that she got good support from her husband and in-laws during her hard time, and she tried to manage her responsibilities very well as a wife, a mom, and a family member. The couple first met in 1995 when Mark Consuelos filmed a screen test with Ripa for All My Children, and they got married in 1996.
Also Read: "I labored under the delusion that I looked OK without makeup": Kelly Ripa Was Forced To Host Live Without Any Make Up Because Of George Clooney
A Brief Look At Kelly Ripa's Career
Aside from local TV gigs, the New Jersey native gained her first national television exposure in 1986 on Dancin' On Air, which led to Dance Party USA. Her career goal at the time was to become a newscaster, and she often reported the casting news.
She was discovered by her manager when she appeared in the Ugly Duckling production at her high school. As Hayley Vaughan, a troubled party girl in All My Children, Ripa played her first significant acting role in 1990. While her 12-year tenure ended in 2002, she returned to the soap opera in 2010 for two episodes for the soap opera's 40th anniversary. She has also appeared in Marvin's Room, Hope & Faith, and American Housewife.
She joined the talk show Live With Regis and Kelly in 2001, and before Regis announced he would be leaving the long-running show in 2011, the Hope and Faith alum hosted Live alongside the TV icon. After 30 years in Hollywood, Ripa has co-hosted Live With Kelly and Ryan with Ryan Seacrest for over two decades. Currently, Ripa has not mentioned leaving Live but has expanded her horizons. The TV host also launched her memoir Live Wire: Long-Winded Short Stories in 2022, where she shared her personal and professional experiences.
Also Read: "It's selfish, and I don't operate well under that": Kelly Ripa's Co-Host Michael Strahan Never Wanted to Be Her Side Kick, He Longed For a Partnership
Source: Bustle