It seems kind of awkward. Right? But yes it has happened. When Superheroes are kind of bored dealing with their own universe, they decided to hop into other's world and create destruction or save lives. Because, let's admit it, these two are the only things they know. So let's have a look at 8 times when Marvel and DC superheroes invaded each other's universe.
Note: All pictures credits to CBR
6. TEEN TITANS BURNING DOWN THE XAVIER'S SCHOOL
This happened in 2011, the New 52. And this storyline was developed by one of the most famous X-men writer, Scott Lobdell. Although, it was written in the DC comics with the help of Lobdell. Things start off with a bang and a Westchester mansion, burns down to ground. When the things are cleared it has been recognized by the fans to be the Xavier School of Gifted Youngsters.
5. HULK SMASHED THE DOOMSDAY
The 1992 Death of Superman was a turning point in DC comics. And why not, it gave boost to one of the most terrifying villains of all time, The DoomsDay.
However, this one was copied by Marvel. In 1994, Bruce Banners was smart as anything and was having a training session of a VR setup. It has been shown that Hulk smashed a Doomsday look-alike alien in the setup.
4. THE FLASH BEATS EVERY MARVEL'S SPEEDSTER
This has been quoted from CBR.
" one of Marvel's Elders of the Universe, the Runner, gathered every speedster in the Marvel Universe for a great Race. One of the competitors, an amnesiac blond man wearing a tattered red and yellow costume, breaks through dimensional barriers to join the race. He wins, and is deemed the fastest man alive. When asked his name, he says he remembers it sounded a bit like "Buried Alien."
3. DOCTOR DOOM AND WOLVERINE KILLED BY THE LEAGUE
It happened in 1996, JLA. White Martians try to take over the world, and the JLA tries to stop. However, only two of the villains are executed who are later found to be Wolverine and Doctor Doom.
2. MANTIS SHOWS UP IN JLA
Before going into the space to be a part of the Avengers, Mantis was a part of the JLA too.
1. DEADPOOL VS DEATHSTROKE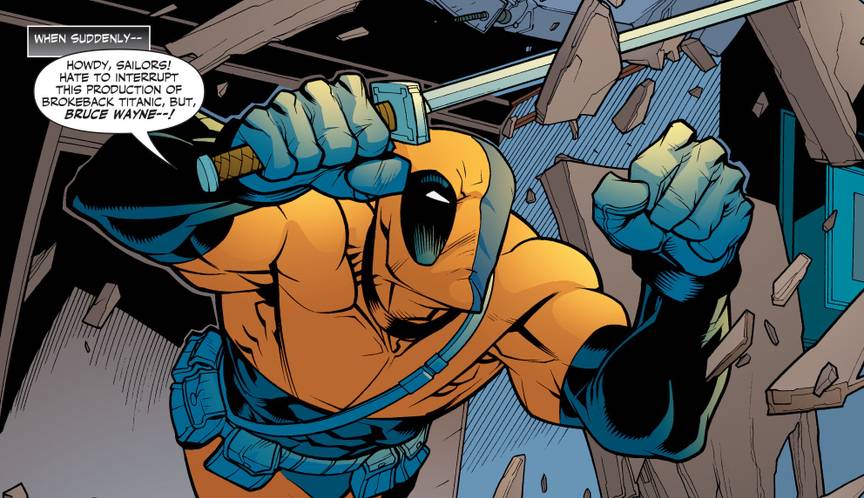 The most famous of all crossovers was that of Deadpool and Deathstroke. In 1996, Kelly wrote a Superman/ Batman annual, where Superman fought with Deathstroke. However, this Deathstroke possessed the tendency of healing and was also a breaker of the fourth wall. So, was it Deathstroke actually?