Fans who notably kept up with the Kardashians seem to be outraged over Kylie Jenner's insensitive birthday decoration for her son and daughter. Critics came at Kylie Jenner after she decided to throw a joint birthday for both of her kids on 2nd February 2023, with a giant Stormi head that looked similar to Travis Scott's Astroworld music festival. Travis Scott's concert was a massive tragedy that faced backlash in 2021, after nearly 10 people died and more than 300 people faced critical health conditions. Fans were upset after they found a similarity in Jenner's idea of birthday decoration.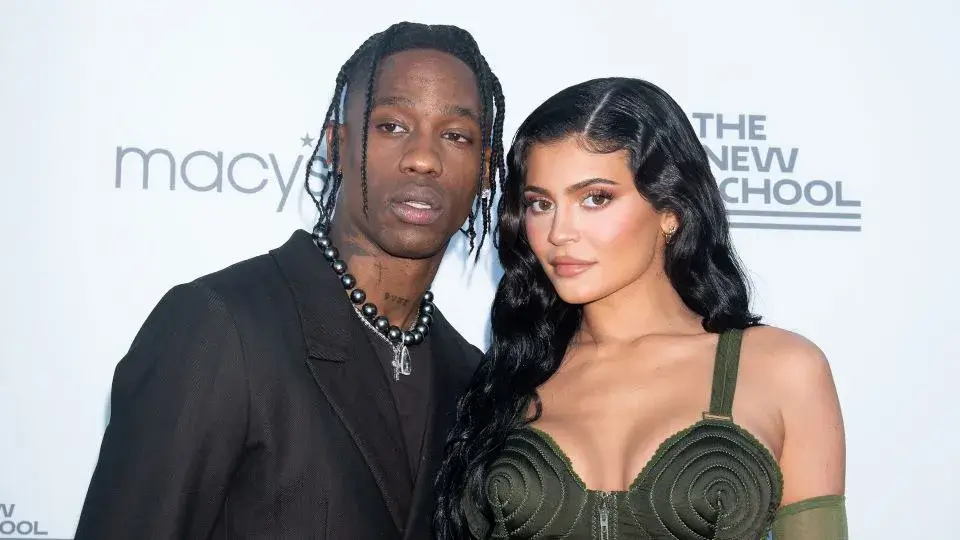 Jenner shared videos and photos of her son and daughter's lavish birthday party, which featured a giant inflated head similar to the one at the entrance of Travis Scott's 2021 music festival based on his Astroworld album. 
Also read: 'This woman has black children. So disgusting': After Lion Head Dress Scandal, Attention Seeker Kylie Jenner Shocks Whole World With Racially Offensive Noose Inspired Necklace
Kylie Jenner was accused of being oblivious to the Astroworld tragedy
In November 2021, Travis Scott hosted a music festival for his Astroworld album, which ended up in a disaster. The 30-year-old rapper's second installment of the music festival began on a joyous note, however, soon turned into a tragedy. The unruly crowd went forward on the stage and ended up crushing and suffocating several concert attendees. 
It was later reported that 10 lives were lost in the chaos, suffering from cardiac arrest and suffocation. More than 300 people were given immediate aid in the concert ground. The rapper denied any and all obligations and responsibilities for the events, although he and Jenner were reported to be "broken and devastated" by the terrible incident.
Kylie Jenner skipped her daughter's birthday in February 2022, four months after the Astroworld tragedy occurred. Although in February 2023, nearly less than 2 years after the tragedy causing unfathomable loss occurred, Jenner and Scott were slammed for throwing an Astroworld-themed birthday party. The 25-year-old makeup mogul was accused by fans of being oblivious to the tragedy and representing her callous behavior. 
Also read: Shocking Difference Between Kim Kardashian With and Without Make Up Photos
Kylie Jenner's concept of Stormiworld faced backlash from fans and critics
Kylie Jenner shared snippets from her son Aire (1-year-old) and daughter Stormi's (5 years old) joint birthday celebration on Thursday. People noticed the infamous tunnel decoration which featured Travis Scott's Astroworld concert's inflated head. Thereafter, fans and netizens took to social media to bash the reality star for her "tasteless" concept. 
The Kardashians are known for throwing expensive parties for themselves as well as their children. Since Stormi's birth, Kylie has been using the Stormi world concept of using an inflated head for her birthdays, however, this year it faced backlash due to the 2021 music festival tragedy, which killed 10 people.
What do you expect from a kardashian – tasteless.

— EmmaJeanKitty 🐱💙🇺🇸🌻🇺🇦😎 (@EmmaJeanKitty) February 2, 2023
Critics took to Twitter, "Kylie, babe, we need to retire the "Stormiworld" theme for Stormi's birthday. After the Astroworld tragedy, I think it's time to find Stormi another birthday theme…,". Some even suggested Jenner "try something new" rather than recycling the inflated head for her kid's birthdays, especially when she owns millions of dollars. 
"Astroworld world" tunnel? Wtf? Where's the respect Kylie?
Kylie Jenner pulls out all the stops for Stormi's 5th birthday https://t.co/FuxKRUsWWW via @DailyMailCeleb

— Tuesday (@Tuesday44753242) February 2, 2023
A few comments from critics read "Wtf? Wheres the respect?" while others simply stated the Stormi-head is "a bit scary", especially after the Astroworld tragedy.
kylie using astroworld branding for her children's birthday party is a bit scary to me

— j (@gucciandior) February 1, 2023
Reddit users seemed to have been taken aback by Jenner's audacity of continuing to promote Travis Scott's namesake album Astroworld, especially after the concert caused the death of a 9-10-year-old boy. 
Fans, critics, and netizens slammed Kylie Jenner on every social media platform for her Astroworld-themed birthday party. Calling out her callous nature was not enough, since few fans even took the initiative of cancel culture against Kylie Jenner and Travis Scott. 
Read more: "Never Forget the Victims": Fans Accuse Travis Scott of Using His Family for Publicity After the Rapper Brings Kylie Jenner and Stormi to His Concert Amid Astroworld Accident Backlash
Source: Page Six