Scream season three has been in production for almost four years, MTV left the previous installment on a cliffhanger but fans were extremely interested and excited to explore the story of Brandon James. Season one of the series wasn't adored by critics, only receiving 48% on Rotten Tomatoes, but MTV didn't lose hope with season two receiving 86% on Rotten Tomatoes. That was a great accomplishment for a horror series. Unfortunately they certainly got fans attention when they announced that an all new cast would be featured for the third installment of the series, although some were outraged there was still hope for a potential crossover with the original cast and the rebooted cast. Speaking of the cast it's extremely impressive.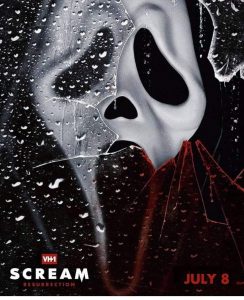 The cast includes:
Swamp Thing and Power Rangers star RJ Cyler will portray Deion Elliot in Scream season 3, but plenty of other young actors and actresses will join him. Such as Mary J. Blige (Mudbound), Jessica Sula (Split), Keke Palmer (Scream Queens), Tyler Posey (Teen Wolf), Giullian Yao Gioiello (Iron Fist), Giorgia Whigham (The Punisher), and the recording artist Tyga. Scream season 3 will also feature the children of pop culture icons. Michael Jackson's daughter, Paris Jackson, is featured in the new trailer, and the son of the late Notorious B.I.G., CJ Wallace, has a recurring role as well. Surprisingly that's just the tip of the iceberg, a certain cast-member from the movie franchise will be making a voice appearance.
Roger L. Jackson, who voiced Ghostface in the original franchise will be making a comeback, alongside Ghostface! MTV weren't granted the rights to use the classic slasher mask for the first two seasons, thankfully VH1 who is picking the show up as MTV reportedly shelved it, will use the Ghostface mask. VH1 also changed the title of the series, they're now calling it "Scream Resurrection" this name has two meanings, the first is that the show has been Resurrected with a new network picking it up, secondly Ghostface and Jackson are both making comebacks.
Scream Resurrection will air as a 3 Night Special Event starting Monday, July 8. Two episodes will run a night.