Hobbs & Shaw is part of the Fast & Furious franchise but you shouldn't expect other cast members, like Vin Diesel as Dominic Toretto, to show up. This is the second time the Fast & Furious franchise has diverted from its main arc (the last time this happened was in 2006 with The Fast and the Furious: Tokyo Drift) to serve up a story focused on two relatively new franchise characters, Luke Hobbs and Deckard Shaw.
Dwayne Johnson and Jason Statham return as Hobbs and Shaw, respectively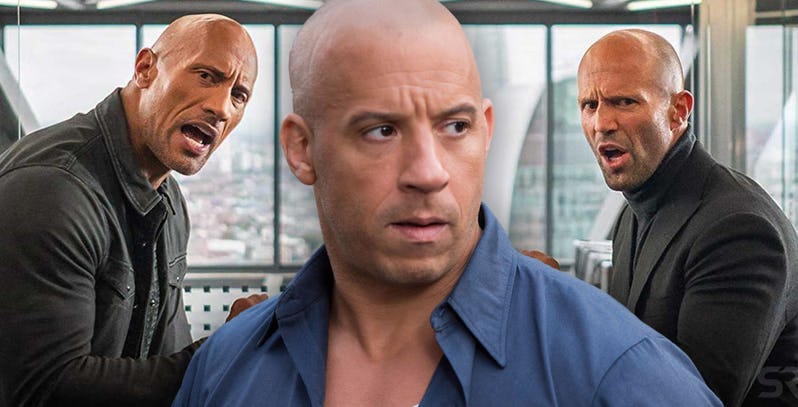 This time, they team up with Shaw's sister, Hattie (Vanessa Kirby), to take on a cyber-genetically-enhanced criminal named Brixton (Idris Elba). Brixton proves to be a formidable new villain with a seemingly endless supply of stamina and the ability to stay one step ahead of Hobbs, Shaw, and Hattie. While the trio does rely on back-up at various points in the film, neither Hobbs nor Shaw call in any members of their Fast & Furious team. At first glance, it's weird to see Hobbs and Shaw mostly relying on each other, especially since they don't exactly get along. They've been at odds ever since they faced off against each other in Furious 7 and later became uneasy allies in The Fate of the Furious.
In spite of this, neither Hobbs nor Shaw call in an old friend like Dom Toretto, who has worked with both men in the past and possesses a similar skill set which would be useful in taking Brixton out. This is most likely because of an ongoing feud between Vin Diesel and Dwayne Johnson. A few years ago, Johnson made a social media post towards the end of filming The Fate of the Furious that called out his "candy ass" co-stars, which sparked debate online amongst fans as to whom he was referring to. Ultimately, theories landed on Diesel.
So when the cast was doing press for the movie a year later, Diesel addressed the rumors saying that the reported feud between him and The Rock had been blown out of proportion. However, that didn't seem to be the case, as the apparent issues between the two stars has continued in recent years – up until the release of Hobbs & Shaw. In fact, it was reported that Diesel and Johnson didn't film together during The Fate of the Furious. It wasn't until 2018 that Johnson clarified (via Rolling Stone) that their feud was due to a difference in opinion on the process of filmmaking. They simply disagreed with each other, professionally.
But to add fuel to the flames, Hobbs & Saw ended up releasing in 2019 which meant that Fast & Furious 9 had to be delayed to 2020, which Diesel reportedly wasn't happy about, nor was Tyrese Gibson. And so, it made sense that Diesel wouldn't appear in the film, even for a cameo to set up the next installment in the long-running franchise. The problem is, this feud extends to the mainline series as well, seeing as Johnson won't appear in Fast & Furious 9, despite the fact that he's been in every installment – including Hobbs & Shaw – since 2011's Fast Five. It wouldn't be the first time that two stars haven't gotten along together, and for the Fast & Furious franchise, it shouldn't be too big of a deal now that spinoffs are a new avenue for the studio.
KEY Release Dates
Fast & Furious Presents: Hobbs & Shaw (2019) release date: Aug 02, 2019
Fast & Furious 9 (2020) release date: May 22, 2020
https://www.youtube.com/watch?v=2ECEtPqqr_4
Sources: screenrant , youtube