Earlier this year, actor Will Smith slapped comedian Chris Rock on stage while he was hosting the Oscars. The comedian made a joke about the actor's wife, Jada Pinkett Smith, which led to the infamous slap incident. A lot of celebrities shared their views on the incident, including former world heavyweight champion Mike Tyson. The actor has always been a fan of the former boxer and even said Mike Tyson is his hero. The former boxer talked about the slap shortly after the event and said that Will Smith needs to "chill out."
Mike Tyson said he would've punched Chris Rock
Shortly after the incident, Mike Tyson talked about it on Hotboxin with Mike Tyson with Ric Flair. Ric Flair said that he felt like it was staged and added,
"I can speak for myself, and I'm pretty sure I'm speaking for Mike: If I didn't like a remark, for any reason whatsoever, that somebody said about my wife, I would be punching them, not slapping them."
Mike Tyson then agreed and also added that it will be a lot more than one punch. He continued, "I think Will needs to eat some of these Mike Bites and just chill out." Mike Bites is his brand of cannabis-based gummies.
Also read: 'Hope he doesn't put his mask back on': Chris Rock Trolls Will Smith Yet Again, Says Smith's 'Ugly' Who Fooled Everyone For 30 Years With His 'Perfect Person' Mask
Mike Tyson is Will Smith's hero
In 2019, when Mike Tyson had a sciatica flare-up, Will Smith shared a video of Mike Tyson's sparring session and revealed that he is his "hero." At the time, Mike Tyson was using a cane as he struggled to walk. The condition involved throbbing pain through the sciatic nerve near the lower back, hips, and legs.
Also read: 'F*ck your hostage video': Chris Rock Blasts Will Smith Over Viral Apology Video, Says Making Fun of Jada Was the "Nicest joke he ever told"
Will Smith slapped Chris Rock on stage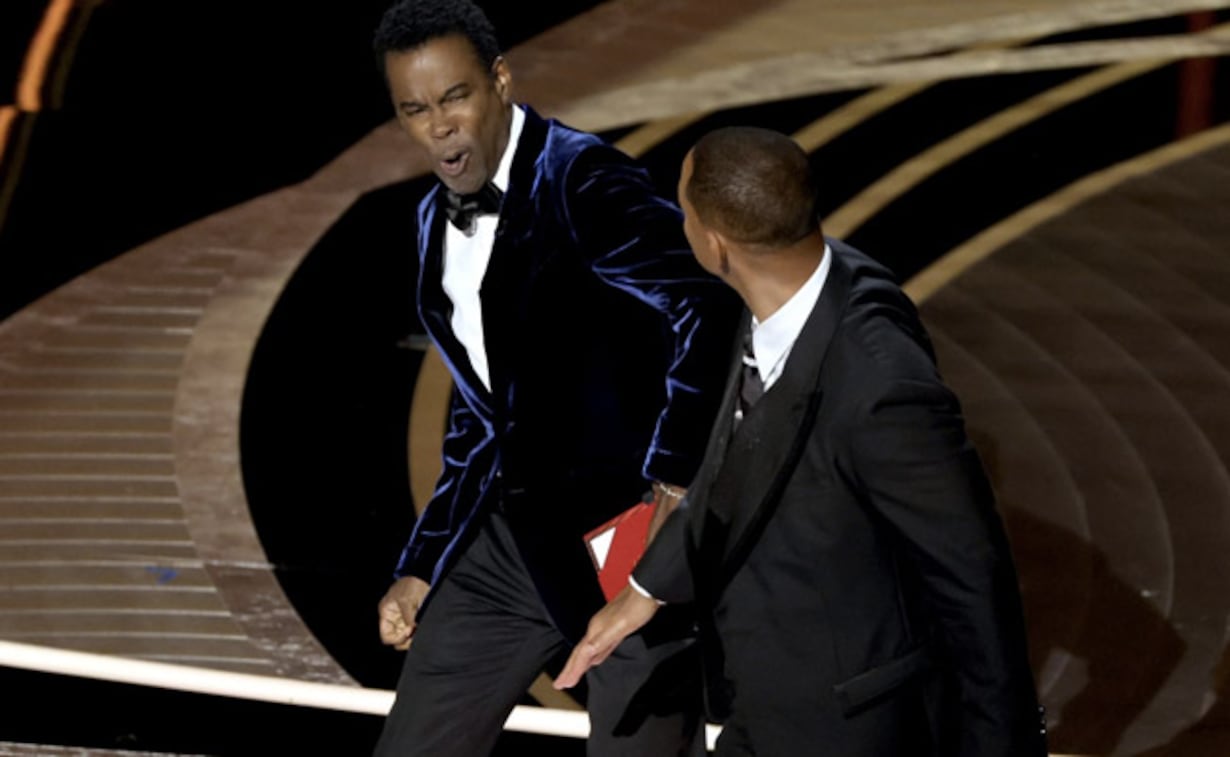 Chris Rock made a joke about Will Smith's wife, Jada Pinkett Smith's bald head while hosting the 2022 Oscars. Will Smith then went up to the stage and slapped the comedian and ordered him to "keep my wife's name out your fu**ing mouth." Shortly after this, Will Smith was given the Best Actor Oscar at the event. The comedian later said he was unaware of his wife's medical condition.
Will Smith apologized to Chris Rock on Twitter on the same day and also recently posted an apology video on his YouTube channel. In the video, he apologized to Chris Rock and his family. Chris Rock previously revealed in a comedy set, that he was offered to host the next Oscars but he declined it. He even called out Will Smith after Dave Chapelle asked him about the slap. He said that Will Smith was wearing a "mask" all this time and is "just as ugly as the rest of us."
You may also like: 'However I'm feeling, I like to do that, love to be free': Willow Smith Says Shaving Her Head Bald To Look Like Her Mom Jada Is the Most "Radical" Beauty Decision She Ever Made
Source: The Sun