Ben Affleck's appearance at the 2023 Grammys became the hottest topic of discussion on social media once it went viral. The Argo director's face quickly became a meme after cameras captured him and his wife, Jennifer Lopez at 'Music's Biggest Night.' 
Many people commented on Affleck's distressed expression on Twitter, Instagram, and TikTok. He was asked if he was bothered by the memes in a new interview with The Hollywood Reporter. The actor also discussed what he and his wife were conversing about during a viral video moment, as well as his reaction to those who claimed he was "drunk" at the show.
During the ceremony, the actor's dull expression went viral, quickly becoming a social media meme. Several times during the show, CBS cameras caught Affleck watching the stage with his 53-year-old wife, where he appeared uninterested, sad, and even miserable.
It didn't take much time for fans to post photos of the actor's expressions online, as well as an interaction with his wife that some mistook for a fight between the two.
Also read: Ben Affleck Bows Out Of Multi-Million Dollar Batman Project Right After Shelling Out $64M For Jennifer Lopez's Pacific Palisades Dream Home
Ben Affleck Had a 'Good Time' At 2023 Grammy Awards
While Ben Affleck appeared dissatisfied as he accompanied Jennifer Lopez to the 2023 Grammys, he insisted that the evening was enjoyable. Jennifer Lopez was there to present the award for Best Pop Vocal Album at the February awards show. (The gold gramophone was eventually awarded to Harry Styles for his album Harry's House.)
The camera panned at the Waiting for Tonight singer several times during the ceremony, who was smiling and dancing while sitting beside her husband. Affleck, on the other hand, remained unimpressed throughout the evening, giving rise to a slew of amusing memes created by online trolls.
"My wife was going, and I thought, 'Well, there'll be good music. It might be fun,'" the Air star added. "At movie award shows, it's speeches and, like, sound-mixing webinars. But I thought this would be fun."
In the past, the 50-year-old actor did admit to being "pissed off, bored, and drunk" during the events. Thus, it wasn't until he appeared at the Grammys that some on the internet speculated that he might be drunk at such a big event again.
Also read: Amidst Reported Marriage Troubles Inevitably Pushing Them Into Downward Spiral, Jennifer Lopez And Ben Affleck Skip Oscars 2023
What Did Jennifer Lopez Warn Ben Affleck About? 
Why did Ben Affleck look so downcast with Jennifer Lopez at the 2023 Grammys? Was he exhausted?
Jennifer Lopez made her first appearance at the Grammys when she took the stage to present the award for Best Pop Vocal Album, which went to Harry Styles for his album Harry's House. The couple was sitting in the front row and couldn't get away from the camera. They were seen dancing and singing, but there was one moment when Grammys host Trevor Noah was performing a skit and the couple was seen arguing.
In The Hollywood Reporter's March profile of Affleck, he finally revealed the actual conversation he and his wife had at the Grammys.
"I saw [GRAMMY host Trevor Noah approach] and I was like, 'Oh, God.' They were framing us in this shot, but I didn't know they were rolling," he explained. "I leaned into her and I was like, 'As soon they start rolling, I'm going to slide away from you and leave you sitting next to Trevor.' She goes, 'You better f*cking not leave.'"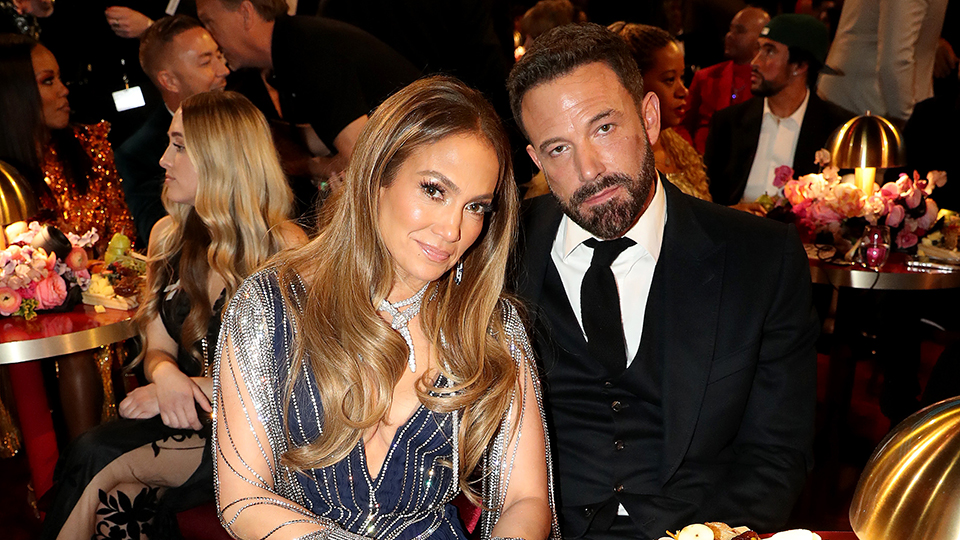 On August 19, 2022, the couple married for the second time at The Tender Bar actor's estate in Georgia. Lopez and the Good Will Hunting star have merged their families since their reunion. 
Affleck has two daughters, Violet and Seraphina Affleck, and a son, Samuel Affleck with ex-wife Jennifer Garner, while the Hustlers actress has twins, Emme and Max Muñiz with her ex-husband Marc Anthony.
Also read: Amidst Reported Marriage Troubles Inevitably Pushing Them Into Downward Spiral, Jennifer Lopez And Ben Affleck Skip Oscars 2023
Source- The Hollywood Reporter